Mixing it up with MINX-MINX
Since she was a child, Monique Yowell always has had a creative eye and a flair for fashion. But it wasn't until 2009 that she finally entered the fashion world with her own jewelry line.
Yowell created a luxe bohemian line of handmade bracelets, MINX-MINX, that exhibits a modern take on accessories, with multiple types of beads, colors and charms offered in each collection.
"There was a point where I would pile as many things on my wrist as humanly possible and when I couldn't find the things I was looking for in stores, I just started making my own. A few weeks later, my friends started asking me to make them. I would give them as gifts and began selling them out of a small yellow Fendi shoebox I could fit in my purse," Yowell said.
MINX-MINX bracelets are great accessories to pair with any outfit because you can mix and match them to create any look or suit any occasion.

"Minx is a sort of slang English term for a bold, flirtatious, sexy woman, and I thought it would be fitting for a jewelry line. I think it's quite chic but also has a little edge to it, which I think describes the line well … I like that the (bracelet) sets are interchangeable and they add an unexpected finishing touch to any look without being too 'put together'" Yowell said.
After travelling to Europe, Australia and Southeast Asia for her twenty-first birthday, she brought her newfound inspiration and artistic ideas back home to Newport Beach, Calif., and continued to incorporate them into MINX-MINX.
"I love Paris. There is just something in the air that is inspiring and so romantic at the same time. All the (bracelet) sets are named after places in France or have French names … When I was in Bali, I took note from their Mala beads and a sense for their culture, which is reflected in many of the charms like the Buddhas, Om symbols, the Tree of Life and hand-tied silk tassels," Yowell said.
Each handmade bracelet makes a statement, whether worn by itself or in a set.
"I usually start by picking a gemstone that has multiple colors and really strikes me as unique. From there, I experiment by mixing different colors, textures and sizes to see what works best. I can usually nail it on the first try," Yowell said.
The designer uses semiprecious beads and stones including tourmaline quartz, obsidian, onyx, magnesite, coral, garnet, jasper, turquoise and Swarovski crystals.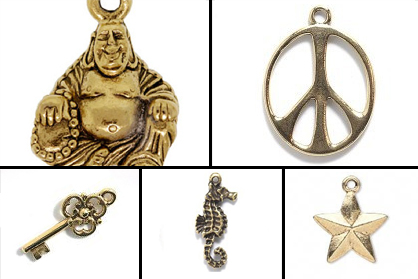 via MINX-MINX
Many of the bracelets feature gold or silver iconic charms that reflect the various cultures and religions Yowell has encountered in her travels, such as the Buddha, peace sign, key, skull and the Hasma hand.
Although the MINX-MINX line boasts many exotic looking collections, for a more simple statement, Yowell creates collegiate collections for students who want to show their school pride.
MINX-MINX is not only reserved for women. Men can join in the fun by wearing a single Matte Black bracelet, which can be paired with a cool skull bead or a single Matte Red Coral bracelet with a Madonna and child charm.
Yowell strives to slowly alter MINX-MINX collections to take into account new accessory styles as trends change.
"I have started on some big, chunky, faceted agate necklaces. I'm still trying to get the wire wrapping down to a science. I'm hoping to start doing things with pave diamonds and precious gems as well," the designer said.
MINX-MINX is geared toward "someone who isn't afraid to experiment with (her) style, whether it be rocker chic or structured and classic. I have a wide range of clientele that have made MINX-MINX part of their style. Just last week I made a custom bracelet out of African jade for a really cool older man covered in tattoos who was traveling from South America," Yowell said.
Although MINX-MINX appeals to many daredevil fashionistas, Yowell's collections have also graced the wrists of several stars. Celebrities seen wearing MINX-MINX bracelets include OC Housewife Tamra Barney, Lindsey Lohan, Victoria Beckham and even Michelle Obama.
MINX-MINX is currently sold in various boutiques throughout Orange County and at Fred Segal in Los Angeles. Yowell plans to continue to travel to find other boutiques that will carry her line.
Check out all of Yowell's collections at MINX-MINX.
Be sure to check out the MINX-MINX giveaway on LadyLUX!
Tagged in: jewelry, accessories, collection, giveaway, bracelets, beads, stones, minx-minx,