Nancy Gonzalez and son Santiago make special appearance at Neiman Marcus
Displays and shelves were full of handbags, from clutch-size purses to carryall totes, in reds, oranges, purples and greens. On Aug. 10, Neiman Marcus at Fashion Island in Newport Beach, Calif., buzzed from excited fans that had turned out to see Nancy Gonzalez make a special appearance and to get a first look at her new Fall 2011 collection. The power duo behind Nancy Gonzalez – Nancy herself and the president of the company, her son Santiago Gonzalez – are always ready to spend time with their loyal following.
Poised, calm and elegant as always, Nancy mingled with her fans, engaging them as if she had known them for years. They talked about the new Fall collection, her home country Columbia, and the straps and details on the bags. She listened intently, mentally taking note of their opinions to possibly use next design season. Her customers mean everything to her.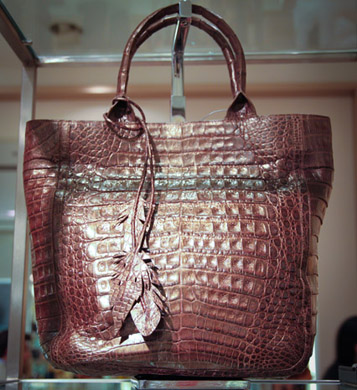 Classic crocodile shopper with metallic finish, fall 2011
It was clear her fans appreciated every aspect of the collection. The colorful bags were classic, intricate and detailed. Shoppers admired the bags with smiles – exactly what Nancy strives for. "No one needs a handbag, but we all need something to make us smile," she explained.
Nancy draws much of her inspiration from the company's dual-city approach. The label is based in Columbia and New York, where Nancy and Santiago live, respectively. Nancy's love for color comes from her Columbian roots. Passionate about the orchids, birds, fruits and natural beauty of the country, she brings that vibrant color to the design of her handbags. And how does New York play its part? She described the city as "all the best for the best of the best. It's the world and I work for the world."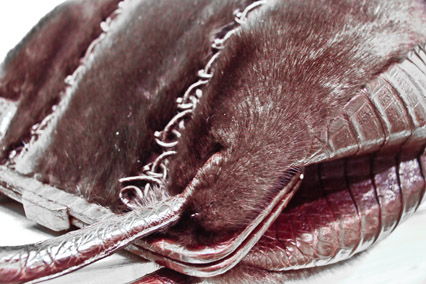 Sable and crocodile handbag for fall 2011
When designing the Fall 2011 collection, Nancy went with her heart. Luxurious fur from foxes and minks, as well as bright crocodile skins, was used to create one-of-a-kind handbags.
"Fall is supposed to be dark, but I love incredible colors. The colors are new and different. My favorite color for the season is purple, but it's not just purple. It's a range of purple shades. The new colors are mixed with metallic for something new. I like to feel fresh and make colors that feel fresh again," Nancy said.
Looking at her collection, this statement rang true. The clutches and handbags looked fresher than ever. Gray crocodile pattern with hints of silver, whites with gold finishes, and browns with deep gold created luxurious looks. Santiago described the colors as "delicious and yummy."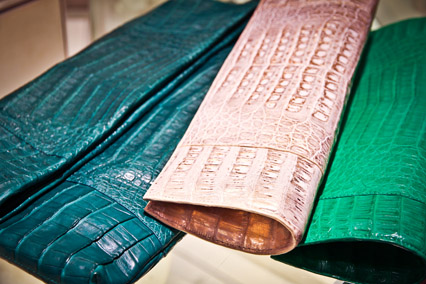 Colorful crocodile clutches
Not far from Nancy, Santiago chatted with customers who were debating which colors and styles to buy. He was completely honest, which they appreciated. He always recommended timeless colors: "It is forever, just like luxury. Just like a Nancy Gonzalez handbag."
Santiago knows a thing or two about luxury. He is his mother's son, after all. Despite the economic downturn, Santiago wasn't worried about the luxury market or the company.
"Luxury is about quality and design, but it is also about the experience of how you bought it and where you bought it. Those moments are forever in your memory, and those moments are necessary. Luxury existed since the times of Cleopatra and will always exist. Maybe people will experience it less during bad times, but it will always be there," Santiago said.
Currently, Santiago's personal idea of luxury is choice and time. He explained that those two things are the most intangible. "Everything else you can acquire. These are not readily available," he declared.
Time is definitely not something he has to spare. With his ever-evolving role at the Nancy Gonzalez label, he constantly has his hands full. During any given day, Santiago manages to be the art director, marketing director, merchandiser, strategic planner, advertising director and any other role that is thrown in his direction. Although he wears so many hats and believes his role evolves as the day goes on, Santiago insisted his business card doesn't even feature a title.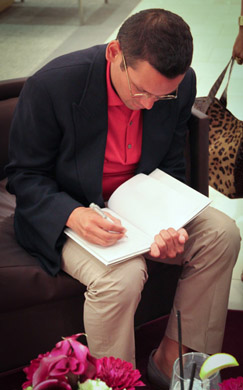 Santiago Gonzalez autographing a book for a fan
Recently, there have been two other roles keeping this modest man busier than usual. Santiago has been industriously jet-setting the world to work on opening more retail stores in Asia and Europe. In 2010, the first Nancy Gonzalez store was opened in Korea, and this year another will follow. Other stores in the works include two in London, to be opened by the end of 2011; one in Paris, opening in spring 2012; and possibly one in Taiwan. Even with the expansion, Santiago still holds firm with the U.S. market. It is still a solid market and solid markets need attention, he declared.
Santiago claimed his second role happened indirectly. Last year, he launched his own line of men's bags, appropriately titled "Santiago Gonzalez." The collection includes crocodile-skin briefcases, wallets, money clips, duffels and more, all in "manly" colors. The line came about when the fashion director of Harrods noticed Santiago's personal pieces, made for him by his mother. The director was so impressed that she wanted to sell them in the men's department.
Santiago's collections are personal; all the pieces are tried and tested directly by him. Playing with slight details here and there, he has made each piece more functional over time. Santiago expressed his items are perfect to give as a gift, as he often does himself. A particularly great gift for the man that has everything is a cuff link box with four sets of crocodile cuff links in four different colors.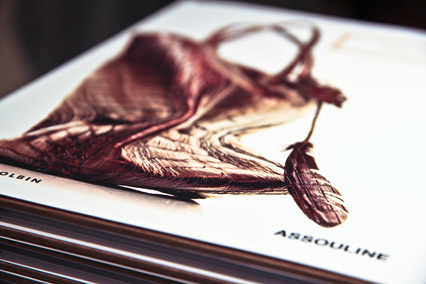 The Nancy Gonzalez book from Assouline
With so much on their plates, the mother and son still manage to be all smiles and laughs at customer events. It must be genetics. Anyone could tell that they clearly love working together, and they described each other with the utmost respect.
Santiago said of his mother: "She is very brilliant and a very solid person. It's a privilege for me and for anyone that works with her to have her as a role model."
In working together so closely, they must rub off on each other, because when asked about a possible expansion or rumored shoe line, both Nancy and Santiago replied in unison, "It's a surprise!" Same tone, same laugh.
And it truly is all laughs with these two. Nancy said Santiago is hilarious and makes her laugh all day. "He has the best sense of humor, and I love that. What I love most in life is to love," she maintained.
And that's what Nancy Gonzalez is about, in the end.
This article was contributed & photographed by Annette Tang of the VersaStyle. You can follow Annette and her fashion adventures on Twitter at @theversastyle.
Tagged in: lux exclusives, neiman marcus, handbags, fashion island, purses, nancy gonzalez, santiago gonzalez,