Neiman Marcus Fall 2011 Trend Preview
With the Fall season fast approaching, it's time to pull out the coats, put away the bikinis, and update your wardrobe. Lucky for you, Neiman Marcus has all the latest trends and an amazing selection that will let you create new looks for every occasion. At its Fall preview fashion show on Aug. 10 at Fashion Island in Newport Beach, Calif., Neiman Marcus showed off the new fashion must-haves and how to wear them.

Lady chic. Imagine perfectly polished looks and sophisticated glamour. To achieve this look, pair pencil skirts with pumps, long gloves with coats, or go head-to-toe winter white with fur accents.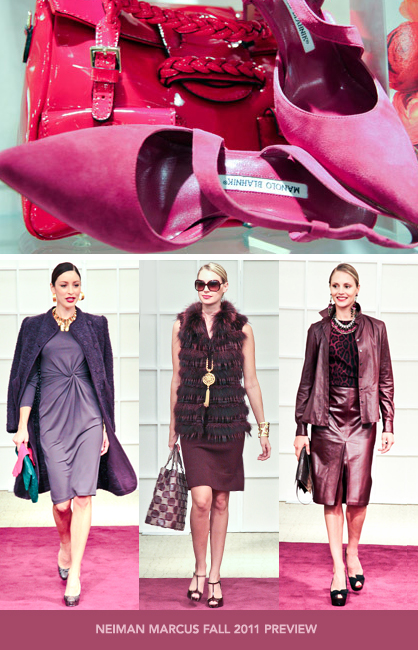 LadyLUX via Annette Tang
Bordeaux. From rosé to claret, shades of wine are this season's color for apparel and shoes. Bordeaux looks fresh mixed with bold pinks or matching monochromes. Combine a leather aubergine skirt and jacket with a claret blouse for a punchy statement.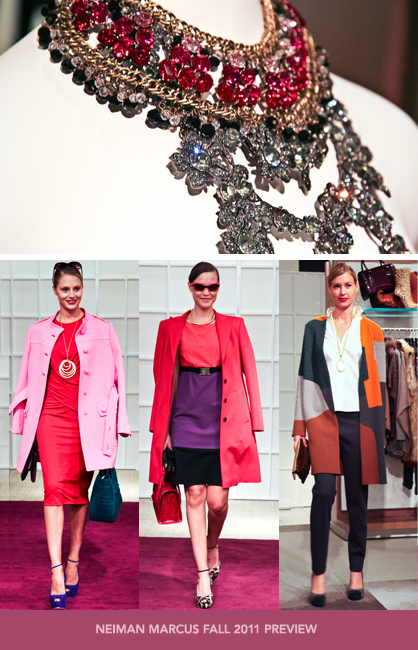 LadyLUX via Annette Tang
Colorblocking. Infuse fun and exciting colors into any outfit with colorblocking. Coats, shoes, jewelry and dresses are perfect canvases on which to create colorblocking possibilities or mix colors by pairing pieces. Orange, green, gray and wine blocked coats stood out against classic white button-ups and cigarette pants. Pair a red dress with a fuchsia coat and eggplant ankle-strap pumps for an all-over blocking style. Constrasting black and white makes for easy, classic looks.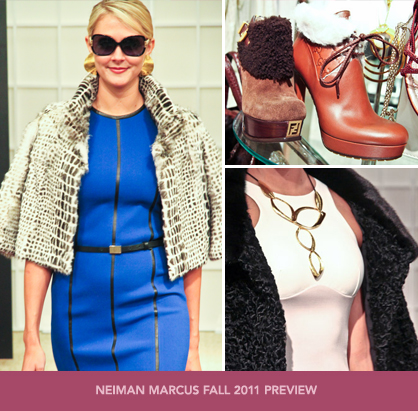 LadyLUX via Annette Tang
Fur. There is nothing more luxe this season than fur. Fur vests, booties and handbags are simple, versatile pieces to incorporate into any outfit as a bold statement piece or a soft touch. This season, fur looks mix short hair with long hair in a range of colors, and jackets go cropped with three-quarters sleeves.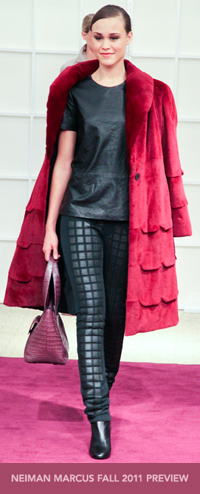 LadyLUX via Annette Tang
Leather. It's not just for jackets anymore. Both in black and colors, leather is trending this season in shirts, dresses, skirts and pants, giving chic looks an extra edge. Pair leather pants with a leather shirt and colored fur coat for an edgy look.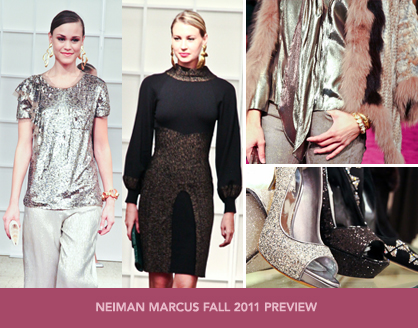 LadyLUX via Annette Tang
Shimmer. Shining this fall isn't about the obvious bling, but the understated sheen. Look for matte sequins, lurex and lame in brilliant metallics on apparel, scarves and shoes. Fresh this season, gold and silver pants and tops make for a striking modern outfit, especially if styled together.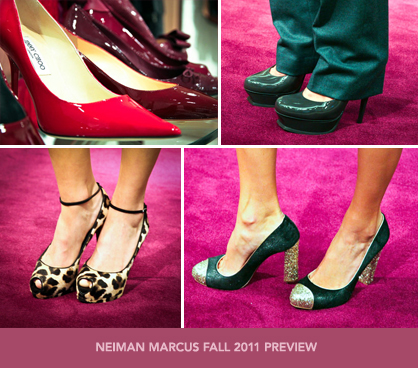 LadyLUX via Annette Tang
Pumps. Pumps are the perfect shoes for lady chic looks. They are back again in single sole or platform options, with rounded or pointed toes. Paired with skirts or pants, pumps give a classic feel. For more feminine styles, try T-straps, mary janes or ankle straps.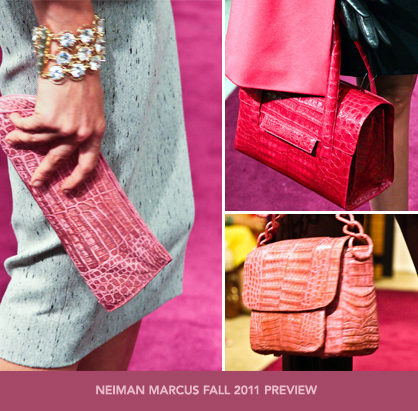 LadyLUX via Annette Tang
Hand-held handbags. Proper and polished, hand-held handbags complement every feminine look. Top-handle bags, frame bags and satchels in bordeaux, leopard, white, crocodile and fur add style to any outfit. Clutches this season are the must-have bag, perfect for day or night, and pop best in sharp colors.
LadyLUX via Annette Tang
Bold gold. Every outfit this season needs some bold gold. Oversized statement necklaces are always memorable and perfect as a signature piece. Gold cuffs, earrings and rings bring this trend to life – the chunkier the better. Gold is easily paired with other shimmering pieces or with bright, colorblocked options.
This article was contributed and photographed by Annette Tang of the VersaStyle. You can follow Annette and her fashion adventures on Twitter at @theversastyle.
Tagged in: lux exclusives, trends, neiman marcus, fashion, fashion island, fall 2011, trend preview,