New York Fashion Week Fall 2012: Alexander Wang
Alexander Wang has become one of the shows at New York Fashion Week that everyone is dying to see and can't wait to tweet about. But regardless if fashion's boy wonder knows it or not – how can he not? – he wouldn't deliver anything less than his best. For Fall, Wang continued his trompe l'oeil theme that began in Pre-Fall. But this time, he took "a surrealistic approach to fabric manipulation," reported Style.com.
The collection exposed a more mature side of Wang. It wasn't about his signature downtown chic looks anymore but about robust, structured silhouettes shown in lavish materials and textures – Wang's idea of luxury. And to perfectly achieve his vision, the designer custom-developed 90 percent of the fabrics by shrink-wrapping, laminating, covering up or lacquering.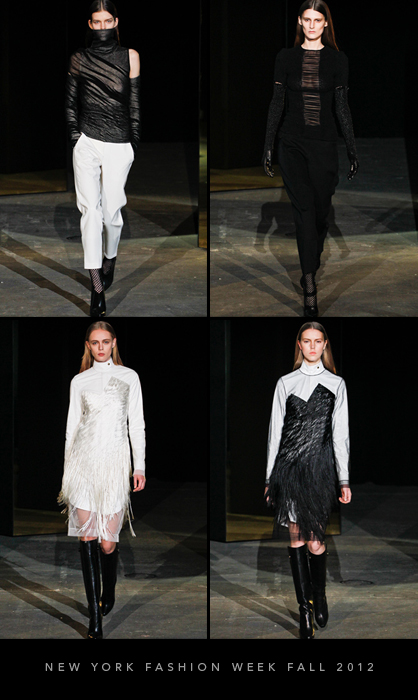 LadyLUX via Style.com
The outcome was a slick showing of glossy, lacquered tweed coats; hooded jackets; and wool sweaters. Suede pants and high-neck jackets were displayed with wax panels. Chunky sweaters were formed from chainlink and fishnet mesh turtlenecks wrapped around the models like plastic wrap. Mid-calf skirts with thigh-high slits were crafted of glossy leather, showing a more grown-up angle. Shiny, hairy fringe embellished an asymmetrical corset overlay on high-neck, button-up dresses, creating a "polished-meets-edgy" appeal.
Amid the textural play, Wang didn't forget about his must-have body-con jersey dresses. This season's sleeveless version was simple in all white but incorporated opera-length gloves and sturdy, black, knee-high leather boots, which were both exhibited on the majority of the looks.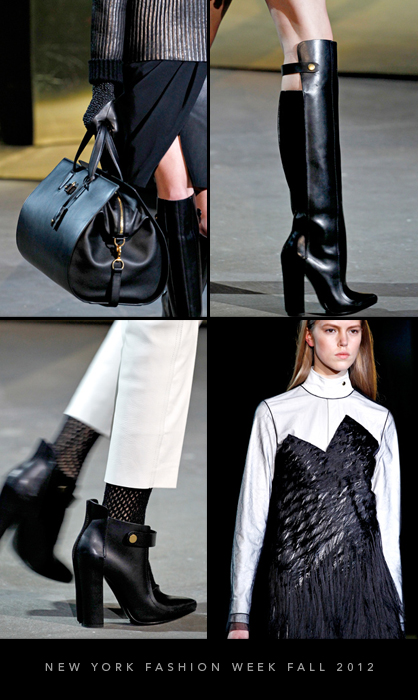 LadyLUX via Style.com
Since the famous Rocco, Wang's handbags have also become sought-after pieces every season. And surely with this new Pelican bag in vachetta leather, the tradition will continue. Inspired by industrial metal crates, the architecturally structured bag featured slick lines and a modern, sophisticated feel.
The New York designer may be moving toward a more refined aesthetic, but it isn't the refined that we are accustomed to. Wang's version still has his cool edge, and this collection proves it. Slick jackets and netted turtlenecks is where the downtown girl is heading to this Fall.
This article was contributed Annette Tang of the Versastyle. You can follow Annette and her fashion adventures on Twitter at @theversastyle.
Tagged in: new york, new york, alexander wang, new york fashion week, runway, fall 2012, ready-to-wear, new york fashion week fall 2012,