New York Fashion Week Fall 2012: Derek Lam
When you think of Derek Lam, you may call to mind sweet, feminine materials accompanied by clean, streamlined silhouettes. He's already started off the Pre-Fall season with exactly that, plus a Japanese menswear inspiration from photographer Scott Schuman's street-style shots, as reported by Style.com. For the Fall 2012 season, though, it was a different story: a slightly '60s rebellious story with a modern twist of simplicity.
Lam's collection "The Library" unfolded with boxy leather silhouettes and Persian floral prints that drew inspiration from an old book, reported Style.com. The mini-floral jacquard started off the show appearing in matching pencil skirts and squarish tops as well as belted coatdresses.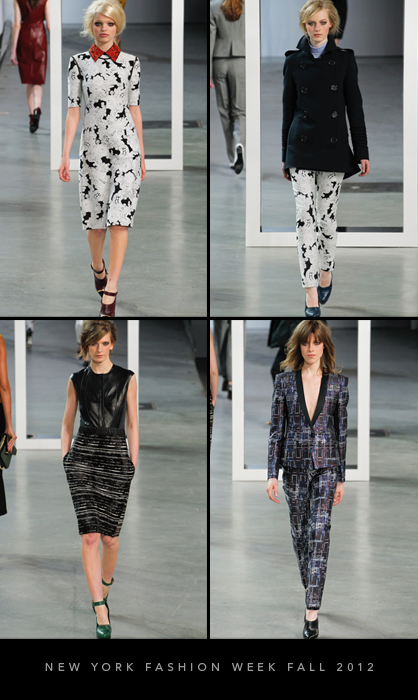 LadyLUX via Style.com
But these monochrome looks were Lam just getting warmed up. The designer worked in leather separates of fitted pants, knee-length sleeveless dresses, pencil skirts and long-sleeve shirts with rib-trimmed collars and cuffs. These were paired with tailored contemporary paisley print pieces. Flowing, cropped trousers were styled with sophisticated Aran sweaters and chic blouses. The fresh pant shape was also shown in an eveningwear version that boasted all-over floating paillette embroidery. Lam also had other textural notes that captured the essence of the season, including wool boucle skirts and a melange wool suit.
The Aran sweaters also proved to be an unexpected but elegant option for eveningwear. Made from twisted nylon tulle, sleeveless and long-sleeved sweaters were paired with long chiffon skirts with trains for a cozy, romantic feel. Lam also created lighter, breezier alternatives with slip-dress style chiffon gowns that featured sheer elements, pleated bodices and short, leather-capped sleeves.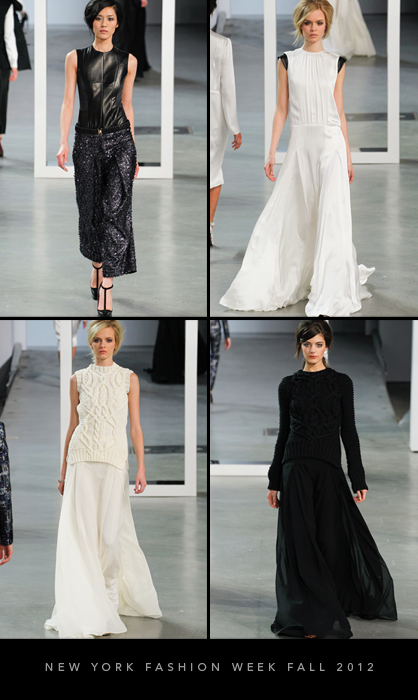 LadyLUX via Style.com

This collection might possibly be Lam's most cohesive showing to date. He was concise with his strict palette of black, white, oxblood, navy and marigold, plus his similar shapes and focused selection of prints. And yet, even with a more rigid structure, Lam delivered a healthy amount of desirable looks.
This article was contributed Annette Tang of the Versastyle. You can follow Annette and her fashion adventures on Twitter at @theversastyle.
Tagged in: new york, new york, runway, fall 2012, derek lam, ready-to-wear, new york city fashion week, new york fashion week fall 2012,