New Year's Eve: Eye Make Up Trends
New Year's Eve is the one night, maybe with the exception of your own birthday, that you can go all out glitz and glamour without feeling overdressed no matter how you celebrate. You know you're going to be taking a slew of photos and selfies, so why not bring some extra attention to your eyes with these five NYE Eye Make Up Looks. Play up your eye makeup tonight to ring in a Happy New Year!
Rhinestones and Sequins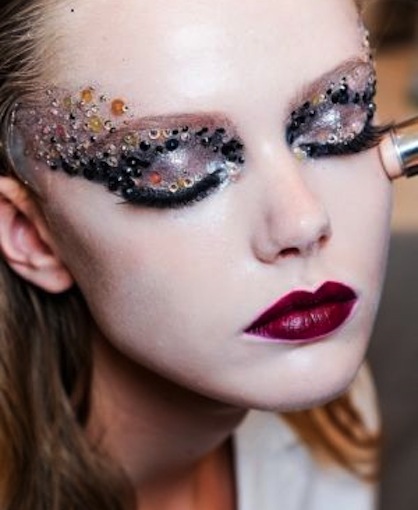 Rhinestones and sequins are not only for party dresses, but can be used to create minimal or extravagant designs on or around your eyes. After applying eye shadow, create a dazzling design with flat back rhinestones, regular sequins, or both (go with the same size or various sizes), eye lash glue, cotton swabs and a pair of tweezers. While holding the rhinestone or sequin with the tweezers, take the cotton swab to dab glue on the back of the rhinestone or sequin then place onto your skin. You can also dab the glue onto your skin then add a rhinestone or sequin on top. Keep it simple by creating a line of rhinestone across your lash line or just on your eyelid, or have a design bursting from the corners of your eyes and towards your temple. Most importantly, have fun with it. Your eye makeup will definitely be a conversation starter at your NYE party.
Colored Eyeliner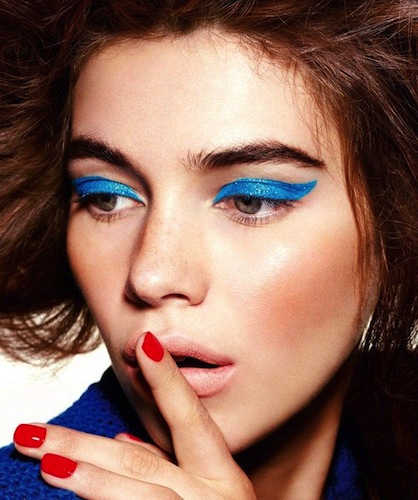 An easy way to bring in a pop of color to your NYE look is a streak of colored eyeliner. Wear the colored eyeliner alone or on top of a complementary or neutral eye shadow, and use black or brown mascara to keep from going color overboard. For a unique look, opt for applying the color eyeliner on your lower lash line.
Gradient Eye Shadow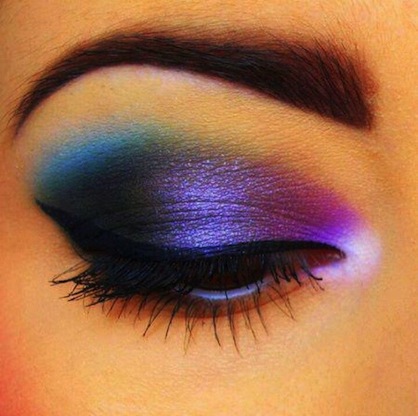 Make your NYE eye makeup vibrant with a gradient of hues on your lids. To achieve an effortless gradual change from one color to the next, start by choosing two to three highly pigmented eye shadow colors. Apply the first color from the outer corner of your eye and work your way to almost the middle of your lid (leaving a smidge of room for a third color if you choose to do so), then select the second color and apply from the inner corner of your eye toward the middle of your lid. If you are using a third color, fill in the remaining center of your lid. Then, with a clean brush or eye shadow applicator, blend both the first and second color with the third for a three-color gradient or blend the first and second colors together for a two-color gradient.
Glittering Smoky Eye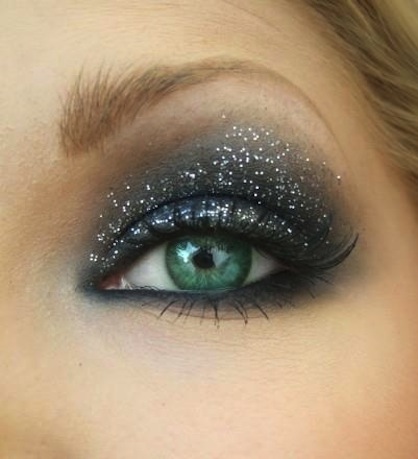 A girl can never go wrong with glitter. For a subtle, but festive eye makeup look, use glitter eye shadow on your lids. For a show stopping make up look, apply a smoky eye look, and finish with a fine to super fine cosmetic glitter and glue base on top of the lids or extending towards the brow bone.
Colored Mascara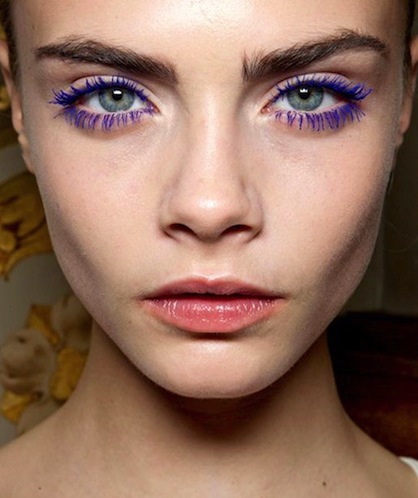 A quick way to add color to your eye makeup is with colored mascara. Give your lashes a break from black or brown mascara and make a statement with bright colors like purple, pink, blue, or red. Apply to just the top lashes, or for a fuller affect, apply to both the bottom and lower lashes. You won't be able to resist batting your lashes at every NYE party guest.
Read more Beauty
Tagged in: beauty, nye, make up, smoky eye, rhinestones, eye liner, eye make up, eye shadow,