NYFW: DVF, ZAC POSEN, CUSTO BARCELONA S/S 14
This weekend, the runways were heating up with over 30 different S/S 14 collections. The trends are unvailing, getting us excited to get our hands on them. Diane von Furstenberg, Zac Posen and Custo Barcelona brought color and confidence to the runways that we couldn't wait to share.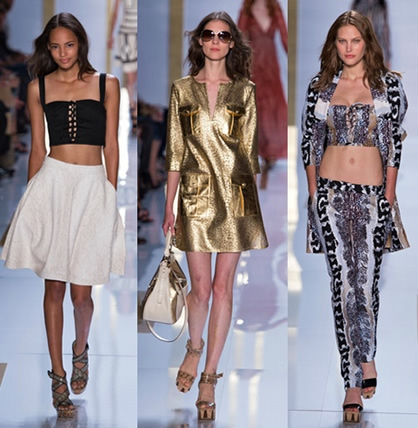 Diane von Furstenberg, known for her heavy play on prints and making the wrap dress popular, took a step onto the wild side with her S/S 14 collection. Her collection spoke of the classy woman who visits the African safari. Both zebra and giraffe prints boldly strutted down the gleaming runways. Geometric prints adorned dresses, giving them an aboriginal, art-inspired feel.
Three trends at fashion week showed themselves through her collection: a-line skirts, crop tops and boxy, shift dresses. She gave a traditional, simple shift dress a vibrant kick with a gold lamé-like fabric. Rich black and white pieces portrayed a confident and empowered woman. Furstenberg took the final walk down the runway, radiating with confidence. She proudly shook hands with front row fashionistas and danced her back to Mary J Blige's "Family Affair" lyrics: "Let loose and set your body free…".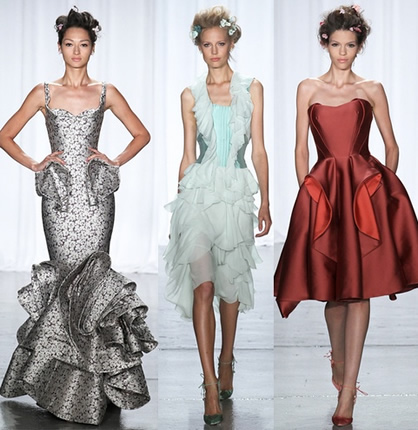 Zac Posen collections always ooze with glamor. His enchanted S/S 14 collection was a modern take on the Victorian woman. The soft assortment of milky blues, greens and lavenders paired well with rich champagne and ruby red gowns. Billowing layers of fabrics created both flowing and sculpted silhouettes. There was an intense balance of structure and ease throughout the entire show.
Posen's collection commanded attention. His pieces confirmed the trending strapless, ruffled and cinched waist trends for next spring. The Zac Posen woman is attended to but not to be mistaken for as helpless. She's bold, graceful and out to make a statement.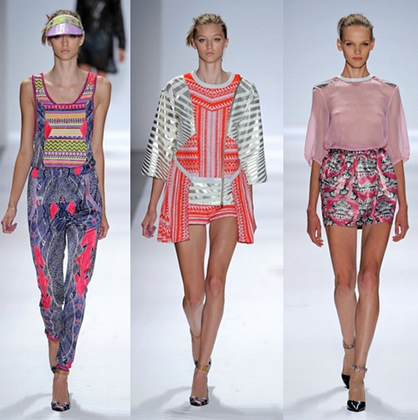 Custo Barcelona, known for their gorgeous graphics and use of color, was out to impress with their S/S 14 collection. This collection is nothing shy of intense punches of color. Keeping with next spring's trend for soft, muted colors, they merged baby pinks with pops of electric magenta and vibrant blues. Metallic gold and silvery sheens gave the collection a luxurious feel.
Each look in the collection posed a unique, boxy style. Structured, oversized sleeves fell over the shoulders with ease. Necklines were high, rounded and let the sheer fabrics expose the collarbones and midriffs. This statement collection portrayed subtle sex appeal with cut outs and short hemlines. We can't wait to put on their excessive amounts of color and prints next season.
As we're half way through fashion week, Diane von Furstenberg, Zac Posen and Custo Bacelona have set the tone for the final days. Tune in for more glamour, fashion and trends as New York Fashion Week continues.
Read more NYFW
Tagged in: trends, spring 2014, nyfw, new york fashion week, runway, dvf, zac posen,