NYFW Fall 2013: Victoria Beckham, Reem Acra and Donna Karan
New York Fashion Week 2013 is almost at a close. As models strut the Big Apple catwalks wearing the hottest designs of fall 2013, the fashion world is a buzz of excitement. Some designers including Victoria Beckham took risks with their collections, creating styles that are pleasantly out of character for them, while other designers such as Donna Karen stuck with their tried-and-true designs, but added a twist. Either way, this year's collections proved that the upcoming fall and winter seasons are going to be great for die-hard fashion lovers.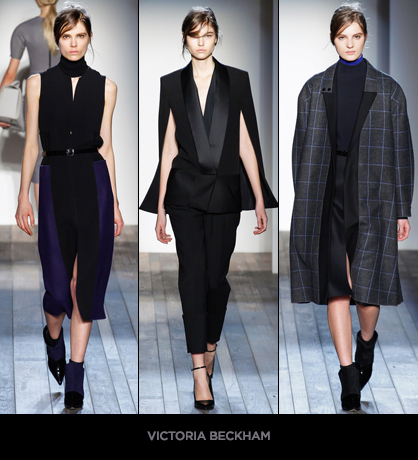 For those following the posh designer, this collection was one to garner close attention from the fashion industry. Victoria Beckham showed a menswear-inspired collection that was linear, disciplined and made for women serious about fashion. Throughout the collection, she played with boxy shapes and tuxedo-inspired blouses as well as coats, making this a must-have collection for those who are intrigued by the simplicity of design.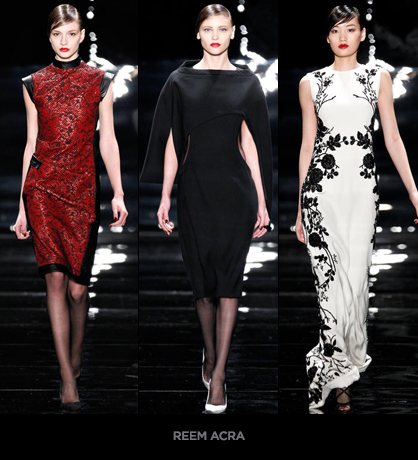 Inspired by her recent travels to Japan, Reem Acra's fall/ winter 2013 collection showcased a glammed-up version of East meets West. Staying true to the opulent dresses she is known for, the designer also added sheath dresses, outer wear and beaded column dresses to this collection. Kimonos, Japanese florals and mandarin collars were prevalent, as was her use of leather and fishnets, which were unexpectedly made chic with Acra's take on sensuous luxe—an inspiration drawn from a set of photographs taken by artist Daido Moriyama in which women in fishnets are featured. Acra's palate was made up of black and white with pops of red for added drama.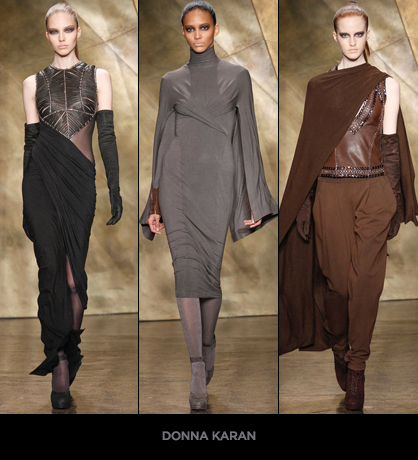 If there's ever been a designer that truly understands a women's body, it's Donna Karan and her latest collection proved it. On day five, she presented her fall and winter 2013 collection which looked to pay homage to women and power by highlighting the female frame to perfection. A motif that made its way throughout the collection, Donna Karan draped and twisted the jersey material—sometimes adding texture with leather or sheer elements—so that it would hug the body flawlessly. The color palate stayed neutral with greys and blacks and only stepped outside of this spectrum to add a touch of brown. The designer also opted to play with the idea of capes, adding a fun finish to her designs. While some pieces in the collection were questionable, her strength really shined in her ability to design for a woman's physique.
Read more NYFW

Tagged in: nyfw, donna karan, victoria beckham, nyfw 2013, mercedes benz fashion week, reem acra,