NYFW: HERVE LEGER S/S 14
It's a beautiful, sunny day in New York, on day three of fashion week. Inside the air conditioned tents, Herve Leger just served a commanding show. Celebrities, stylist and industry-influencers all came to see what's next for the brand. Every season they expect Herve's coined 'bandage dress' with a fresh twist. Come see what's trending and new for Herve's S/S 14 collection.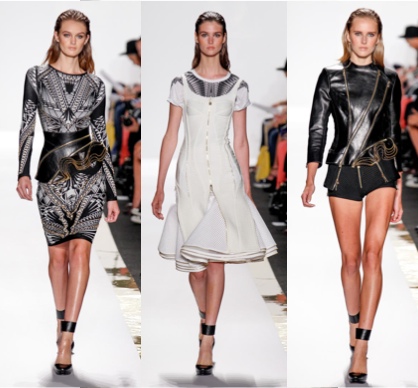 Known for their body-conscious silhouettes, Herve molded their pieces into a look for every woman's style. Ruffles took on a edgy feel accentuating the waist and hemlines. Layers of fabric drew the crowd's eyes into the hourglass silhouettes. Leather bomber jackets and printed dresses alike, were bound up with zipper details. Flirty and edgy exposed zipper details adorned almost every look.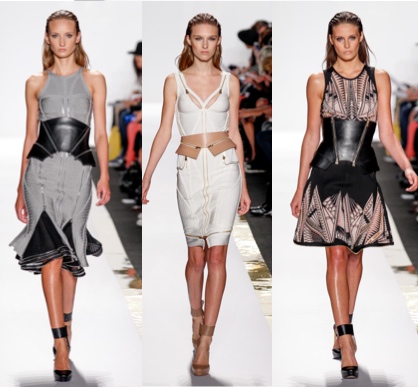 A mix between sophisticated and risque was merged together with bustier belting. Zipped up and cinched in at the waist, each dress portrayed a sense of confidence. This season, Herve focused on giving each look a perfectly tailored feel.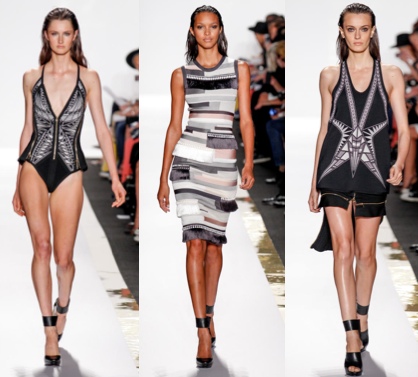 The prints at Herve's show were like candy to the eyes. Perfectly positioned prints engulfed the collection. Mirrored prints, resembling the wings of a butterfly, wrapped the around the curves of the body like a beautiful glove. Geometric prints, embellished with rows of tassels, brushed down the runways with ease. Herve's collection was everything and more that you expect. Can't wait to see these looks on the red carpets and in our closets!
Tagged in: trends, spring 2014, nyfw, new york fashion week, runway, hervé léger, herve leger,