NYFW: Clover Canyon S/S 14
Clover Canyon brought their printed collection to life yet again at their S/S 14 preview presentation. Color, girly silhouettes and textures radiated around the room. Each look was a different print and shape, keeping the attention of everyone at the show. Here are our favorite looks for next spring.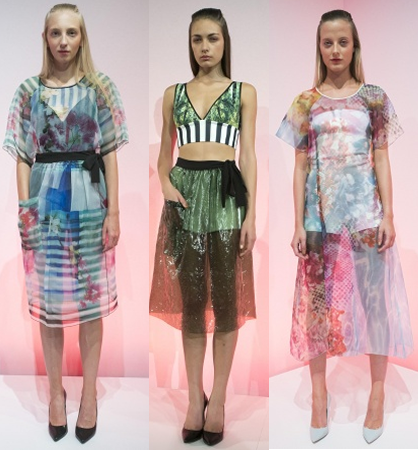 Taking the sheer fabric trend and giving it a playful feel, striped and floral prints created a decorated, screen-like feel over the body. Micro-shorts and bra tops layered under the sheer fabrics. The skirts gathered in at the natural waist, creating an ultra feminine look for the just below-the-knee hemlines.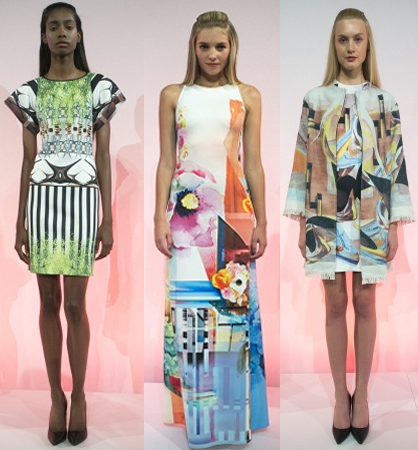 Known for their use of joyful prints, Clover Canyon did not disappoint. Stripes were paired with abstract prints, while flowers met geometrical blocks of color. Each print wrapped around the woman's body, highlighting the silhouettes perfectly. Short sleeves popped off the shoulders and longer sleeves were wide and cropped at the wrist bone. The looks oozed with playful drama.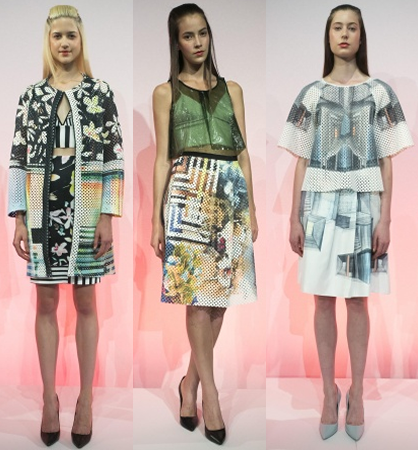 Clover Canyon mixed textured fabrics to give even more dimension to their prints. Perforated fabrics created a dense, yet airy feel and necklines were high, rounded and simple. Portraying the electric California girl, their crop tops resembled a triangle bikini.
Tomorrow wraps up New York Fashion Week. Tune back in to see which trends are hot for S/S 14.
Read more NYFW
Tagged in: spring 2014, ss 14, nyfw, fashion week, clover canyon,