NYFW: Mara Hoffman, Lela Rose & Tracey Reese S/S 14
New York Fashion Week is heating up for S/S 2014 with lots of color. Lela Rose, Mara Hoffman and Tracey Reese were statement makers today with their collections. Come see why everyone was talking after the designers wrapped their shows.
Mara Hoffman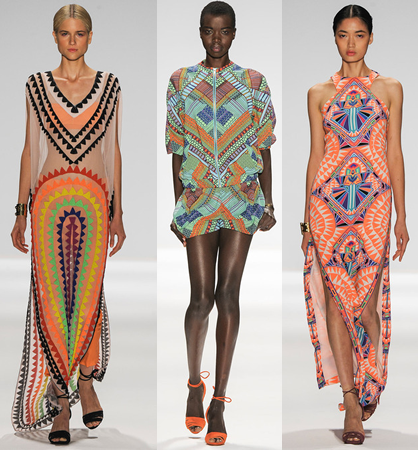 The beloved, vacation-ready, Mara Hoffman collection was out to impress. Hoffman brought out the warrior in every woman. She's bold with her choice in colors and expressive with her triangular prints. Warrior medallions created the centerpiece for her all-over prints. Rainbow colored, printed on serpents wrapped around boxy tops. While a playful serpent belt was cinched in at the high waistline.
The silhouettes draped down the runways effortlessly. Floor length cover ups showed off the legs with dual, thigh-high slits. Hoffman brought back her cropped bandeau tops in a playful tangerine print. Cut outs accentuated the waistlines on swimwear and dresses alike. To add to warrior prints, Hoffman brought an unexpected tie-dye assortment down the runways. This collection is your one stop shop for statement pieces next spring.
Lela Rose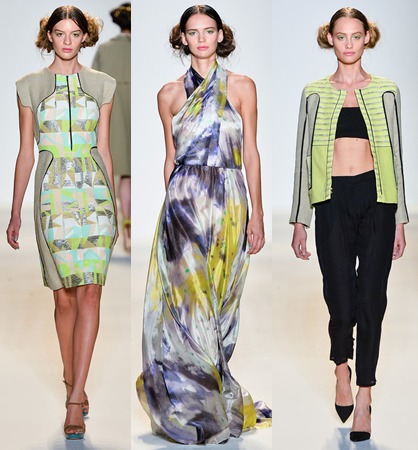 Lela Rose's collections always have a romantic, girly feel to them. Her S/S 14 runway show took her romantic vibe and turned it on high. The traditionally soft color palette had punches of lime greens and electric teals. Rose's prints were modern and geometrical, while some portrayed watercolor art on fabric. The artwork inspired prints resembled tulips, cobblestones and abstract punches of color.
Many pieces highlighted the shape of the body with piping and contrasting fabrics. Princess seams were accentuated, illuminating a perfect hour-glass figure. Sheer inserts of lace fabrics graced the collarbones and shoulders of many pieces. Next season, she's all about romance on fire.
Tracey Reese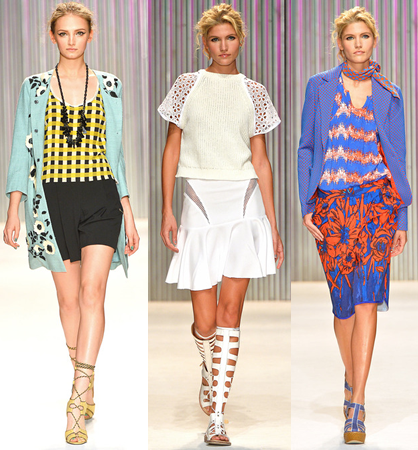 Tracey Reese was inspired by mixing color and prints for an ultra feminine S/S 14 collection. Many of her pieces were adorned with flowers. Stitched on flowers and eyelet floral fabrics touched on the softer side of the line. Colorfully printed on hibiscus flowers and stripes mixed together for a playful feel. Looks were either monochromatic from head-to-toe or multiple layers of colored prints.
Reese took sporty pieces and gave them a girly twist. Pants were accented with piping down the length of the legs and track jackets were adorned in flowers. Knit tops had wide boat necklines, giving little view of the collar bones. Deep necklines graced the every day tops. The trending a-line skirt was a prominent silhouette in her playful collection. This collection is for every woman looking to show off their feminine side.
Stick around for more fashion week recaps to come.
Read more NYFW
Tagged in: spring 2014, ss 14, nyfw, fashion week, runway, mara hoffman, lela rose, tracey reese,