NYFW Spring 2012: Footwear Trends
The past several runway seasons have seen heels and platforms reach sky-high heights and become embellished with all kinds of bells and whistles, but what goes up, must come down. For New York Fashion Week Spring 2012, footwear ran in the other direction with fresh ideas of simple sandals and classic pumps that really proved sometimes less is more.
The days of the '70s platform may be coming to an end as single soles took over the runway this Spring. Heeled sandals were toned down with simple, thin, feminine heels, as seen by Reed Krakoff and Oscar de La Renta.
Yet even though the heel was simplified, the upper wasn't dull. Krakoff's reptilian slingback cuff was accented with metallic straps, Thakoon's strappy cut-out bootie was adorned with simple hardware, and Altuzarra and de la Renta created dainty lace-ups. Narciso Rodriguez chose a mix media route, mixing wide crocodile straps with contrasting spaghetti-thin pieces.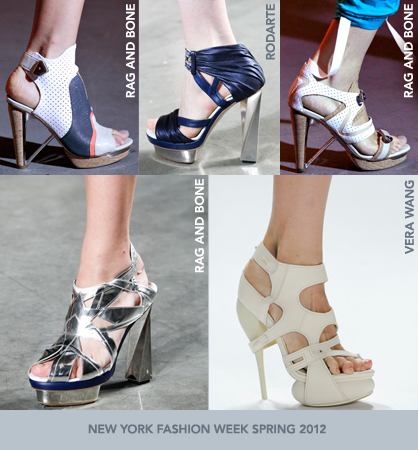 LadyLUX via Style.com
Platforms made a small appearance in New York in Vera Wang's, Rodarte's and Rag and Bone's shows. Vera Wang continued with the intricate hybrid bootie, but freshened up the shorten platform with rounded edges. Rodarte went mirrored metallic with ruched and cutout patterns on a solid column heel. Thin cork platforms by Rag and Bone barely constituted a platform, as defined by the hippies. Rag and Bone's open-back booties and hybrids had an athletic beat to them, featuring perforated materials.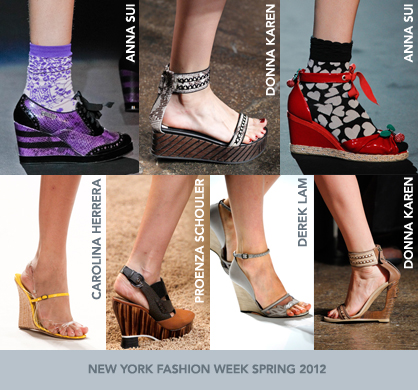 LadyLUX via Style.com
Wedges are still trending, but have also been toned down a couple notches. Carolina Herrera's and Derek Lam's wedges were the simplest of the bunch, with single-sole versions completed with easy vamp and ankle straps. Donna Karen's Haitian-inspired collection had cutout wood-finished wedges and match, and an ankle cuff detailed with tribal stitching. Karen also continued the flatform for another season.
Proenza Schouler had another inspiring set of footwear, with vertical, glossy, wood-strained finished wedges. Despite the Spring season, Schouler's wedges had heavy wide-strap coverage. Ana Sui's kitchy low wedges came both in ruched patent leather accessorized with a cherry embellishment and in a bright lace-up brogue bootie.
Mules remained a popular item walking the catwalk. Derek Lam and Thakoon both updated the mule with a Western flair. Lam designed an open-toe version with an overlay Western design finished with a braided ankle strap, while Thakoon reinvented the cowboy boot into a mule slingback form, metal toecap included.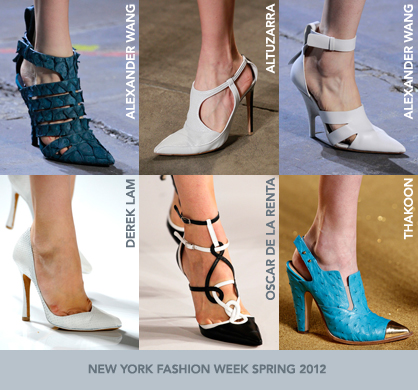 LadyLUX via Style.com
Coming back in full force, pumps came in traditional and new silhouettes. Derek Lam kept it classy with an almond toe pump jazzed up with a sexy, low-cut topline. Oscar de la Renta had a slightly more complicated pump, with intricate looping straps and dual ankle buckles. Taking a hybrid bootie approach, Alexander Wang's and Altuzarra's pumps were choked up and cutout.
This footwear season showed a number of tonal color heels as opposed to last year's contrasting colors and materials. Designers took a minimal route with matching, covered heels.
Reptilian and fish skins carried over from the Fall with Alexander Wang's pumps and Reed Krakoff's sandals being prime examples. Colors, though, were more tonal this time around.
Also continuing to make an appearance, vinyl was displayed in accessories and footwear previously, but Carolina Herrera, Philip Lim and Oscar de la Renta still found ways to use the material in new ways. The clear material makes an interesting illusion with skinny-barely there straps, as cuffs and juxtaposed to white.
Overall, New York's runway showed a wide variety of new footwear options, all with an underlying lesson: simplify.
This article was contributed by Annette Tang of the VersaStyle. You can follow Annette and her fashion adventures on Twitter at @theversastyle.

Tagged in: trends, new york, new york, footwear, alexander wang, rodarte, new york fashion week, spring 2012, runway, proenza schouler, thakoon, derek lam, oscar de la renta, reed krakoff, runway trends, carolina herrera, vera wang, narciso rodriguez, altuzarra, donna karen,