Paris Couture Fall 2011: Column Gowns
Long, flowing, glamorous gowns are what Paris Couture Fashion Week is all about. While there was a fair amount of pantsuits, knee-length dresses and skirts in the collections, floor-length gowns still reined the runways. Designers particularly focused on column gowns this season, creating clean, long silhouettes, plus variations with necklines, skirt types, sleeves, detailing and materials gave each piece its own unique feel, reported Style.com.
Givenchy and Azzedine Alaia chose to bring the halter neckline back, with gowns that showed of sexy, bare shoulders. Givenchy went with a thicker choker halter, while Azzedine Alaia incorporated a thinner, lighter look. Many designers avoided plunging V-necklines and opted for a classy boat neck instead.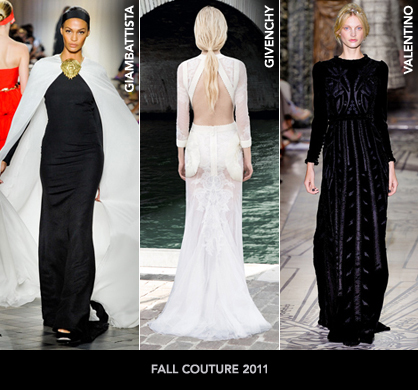 via Style.com
Long sleeves appeared in nearly every collection, from Valentino's velvet textured number to Elie Saab's flowing, sheer tulle gowns with embroidered beads. These long sleeves provided a sexy alternative to showing skin, pairing nicely with the boat necklines.
Designers played around with the skirts of the gowns, opting for everything from slim to slightly flared. Giambattista Valli maintained sleek, narrow skirts yet also played with flared skirts, as did Givenchy and Valentino, producing a more flowing sensation.
Borrowing from ready-to-wear, cutouts made an appearance in Alexis Mabille's, Azzedine Alaia's and Givenchy's collections. Mabille's design integrated cutout shoulders and a keyhole, reminiscent of the '90s styles, whereas Alaia worked cutouts into the waistline, allowing the sexy waist to peek through the tulle.
Givenchy's subtle cutouts were smaller slices at the waist and shoulders, showing just enough skin for contrast. Givenchy's Riccardo Tisci also utilized cutouts to create backless, long-sleeved gowns.
Column gowns proved to be an elegant, classy option for the upcoming fall season and perhaps will even launch the next red carpet moment.

This article was contributed by Annette Tang of the VersaStyle. You can follow Annette and her fashion adventures on Twitter at @theversastyle.

Tagged in: trends, dresses, paris, fashion week, runway, fall, gowns, couture, fall 2011, column gowns, couture 2011,