Paris Couture Fall 2011: Footwear Wrap-Up
Paris Couture Fashion Week is always more about the gowns, intense detailing and endless embroidery, but that doesn't mean you can forget about the shoes. This runway season, designers still stayed true to some current footwear trends, but have added their own twists, reported Style.com.
Platforms have been dominating the runway for countless seasons, but recently, single soles have been making a comeback. Several couture collections, including Givenchy, Maxime Simoens and Christian Dior, paired their glamorous looks with low-key, single sole sandals.
Simple, classic white sandals peeked from underneath the sheer, long hemlines in Givenchy's collection, a sharp contrast to his usual detailed work. Maxime Simoens' single soles were less traditional, embracing the cutout trend with a slight Western-influenced pattern.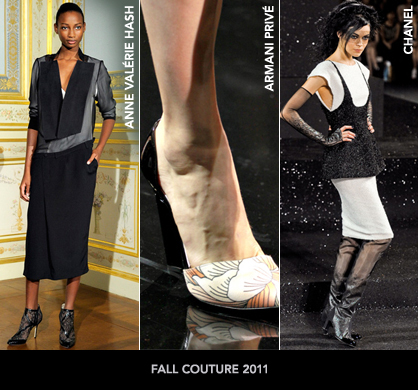 via Style.com
The footwear styling worked well with dresses, skirts and pants alike. Christian Dior took it a step further with single soles, adding the drama of Dior and craziness to what we've been seeing in past footwear trends. Dior's single sole sandal wedges were inspired by the Memphis movement, as was the entire collection. The wedge heel was constructed of creative, colorful blocks and balls, while the upper was a playful, geometric zigzag pattern.
Boots and booties have been on-trend for quite some time now. To update this staple footwear, Chanel and Anne Valerie Hash both played with mesh. Chanel worked the over-the-knee boot with classic patent toecaps in single-sole fashion. Karl Lagerfeld kept his word from last season, when he said platforms and stilettos were over. Anne Valerie Hash not only went mesh with her boots, but also selected pointed-toe and single sole styles. The combinations looked fresh and classy against the couture dresses and suits.
Gaining momentum once again is the pointed-toe pump – minus a platform, of course. Valentino and Armani Prive both paired their collections with the classic pump, altering details using their own individual style. Valentino's pumps had contrasting underlays, an asymmetrical topline and an ankle cuff made of several thin straps. Armani Prive chose classic black and flirty prints on pointed-toe pump with choked-up toplines. There was no toe cleavage in sight.
For the most part, footwear in Paris couture carried on the minimalist trends of the 1990s: classic single soles, pointed-toe and easy boots. After all, classic really never goes out of style.
This article was contributed by Annette Tang of the VersaStyle. You can follow Annette and her fashion adventures on Twitter at @theversastyle.

Tagged in: trends, footwear, shoes, paris, fashion week, runway, runway trends, 2011, couture, fall 2011, fall couture,