Paris Fashion Week Fall 2012: Balmain
Balmain's new designer Olivier Rousteing is on a roll. Fall 2012 is Rousteing's second official collection – he has a few more if you include Resort and Pre-Fall – and he's already created an aesthetic of his own and found his groove. And that groove is working for the Parisian fashion house. Rousteing embraces a menswear sensibility with a high level of refinement, as demonstrated in the Pre-Fall 2012 collection. He understands the fine balance of making apparel interesting yet wearable enough to be a wardrobe staple, and he has accomplished exactly that for Fall 2012. This season, Rousteing picked up where he left off in the interim season with the Fabergé egg-style pearls, baroque prints and, of course, menswear styling.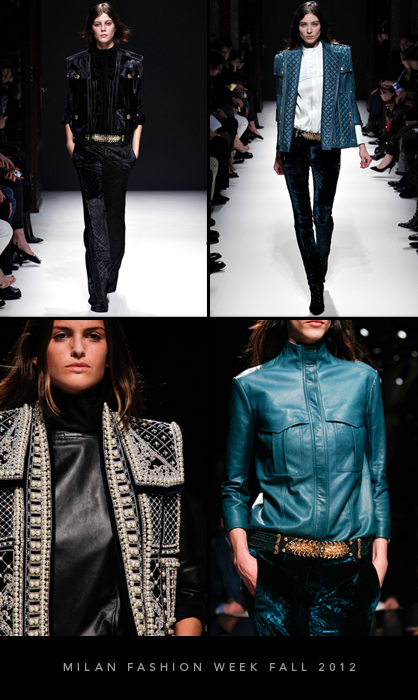 LadyLUX via Style.com
Presented at Paris Fashion Week, the collection of fitted, boxy silhouettes were clean and subtle in a low key palette of white, black, navy and pastel pink with pops of emerald and mint. Rousteing began with a foundation of dresses and basic separates that included pants, jackets and knit tops and tailored them with his impeccable detail and fit. Matching suit sets with lean trousers were adorned with an all-over pattern of the Fabergé egg-style pearls or boasted a chic grid print. Flared, wide-leg pants that have been seen in his previous collections were updated with lush burnout velvet and paired with leather button downs. Simple, slim-fit crewneck knits were made chic in cashmere and paired with embellished trousers.
Easily the masterpiece of the collection was Rousteing's reinvented jacket. Boxy, oversized and with a military essence, he created powerful outerwear that focused on strong shoulders. Motorcycle jackets were crafted in quilted leather and were almost box-like, as the shoulders seemed extended. Double-breasted tuxedo blazers were lengthened and completed with brass buttons. Military overcoats were structured and streamlined.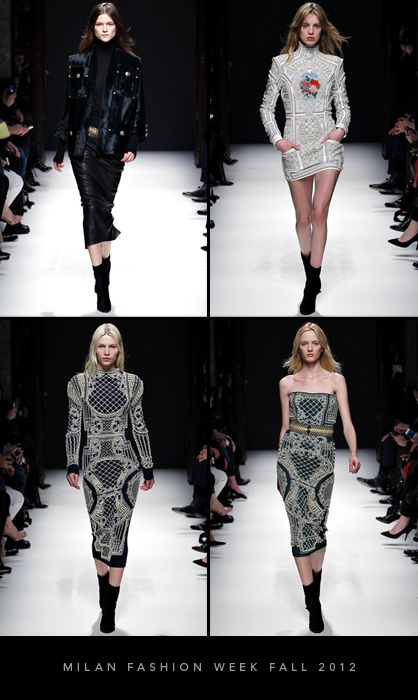 LadyLUX via Style.com
There was plenty of toughness to go around in this collection from the materials to the silhouettes, but Rousteing wisely cut through it with feminine notes, making it more palatable. Embellished long-sleeve, body-conscious minidresses were added to the mix as well as refreshing, slim mid-calf skirts.
It is quite exciting to watch Rousteing grow and develop as a designer, especially because he is doing it with such grace and ease. In his few seasons as designer, he's given Balmain an impressive makeover that has fans applauding while still staying true to the brand. If this is him just getting started, we have a lot to look forward to.
This article was contributed by Annette Tang of the VersaStyle. You can follow Annette and her fashion adventures on Twitter at @theversastyle.
Tagged in: paris, runway, fall 2012, balmain, ready-to-wear, olivier rousteing, paris fashion week 2012, paris fashion week fall 2012,