Paris Fashion Week Fall 2012: Chanel
Each season is a reinterpretation of tweed for Chanel and somehow Karl Lagerfeld consistently creates a sense of freshness each time. A true innovator, he is one of the best. Pre-Fall saw an India-inspired version infused with pearls while Couture was a spacey voyage through 150 shades of blue. Lagerfeld impressed yet again this season with a collection inspired by crystalline excrescences he encountered in a Czech cubism exhibit in Prague. "Nature's the greatest designer," he said, referring to the spectacular shapes of the crystalline, as reported by Style.com. And in typical Lagerfeld fashion, the concept worked its way onto the runway stage, resulting in a magnificent display of giant crystals.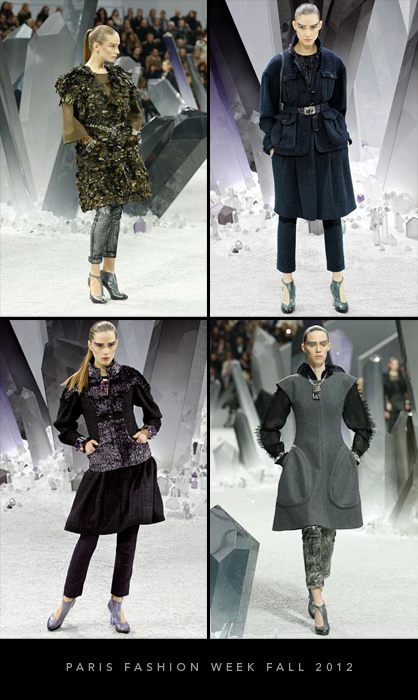 LadyLUX via Style.com
The crystalline-themed Fall 2012 collection was presented at Paris Fashion Week and, for the first time in awhile, Lagerfeld showcased a rich profusion of colors. After seasons of muted palettes, he went all out with teal, fuchsia, purple, red and even a multi-tone abstract print. Aside from color experimentation, Lagerfeld also played with new silhouettes and shapes. His big idea was the three-piece suit, which involved a jacket, skirt and pants. Worn with the attitude of jeans, the pants were a slim, cropped-stovepipe style that was worn under skirts and paired with intarsia sweaters or sheer blouses and topped with three-quarter length sleeve jackets or A-line coats.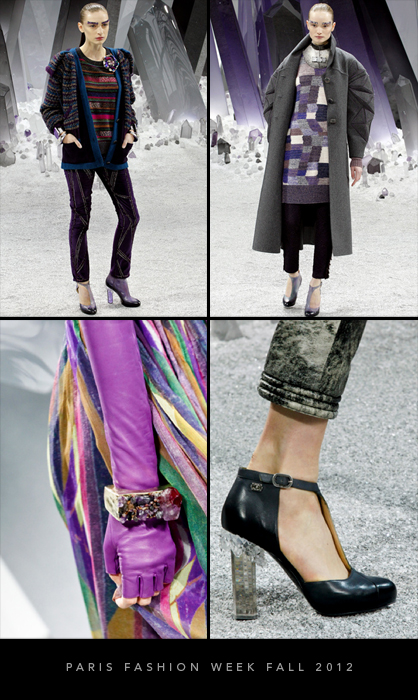 LadyLUX via Style.com
The designer infused the crystalline in several creative ways. In an obvious yet lavish manner, crystals embellished cuffs, hems, sleeves, shoulders and even appeared on the heels of shoes. Sparkles of crystal were sprinkled into dark tweeds and created rock formation designs on jeans. Dresses received a splatter of moonstones or "fractal" paneling from minerals and feathers. Chunky bracelet cuffs featured a city skyline of crystals, clear clutches were cut in shapes of gems and, more obscurely, knits were colorfully striped to reference layers of sediment. Perhaps the favorite creation in the collection was Lagerfeld's coat with oversized polyhedron sleeves.
It was a magical collection that explored every crevice of the crystalline. Thorough as he was, Lagerfeld also managed to create pieces that were wearable and desirable for young, stylish women. Chalk up another success for Lagerfeld.
Tagged in: paris, runway, chanel, fall 2012, paris fashion week, karl lagerfeld, ready-to-wear, paris fashion week 2012,