PFW: Dries Van Noten and Rochas S/S 14
Paris is the fashion week platform for high-fashion and glamour. Both Dries Van Noten and Rochas' collections were impressively feminine. Each designer translated floral and ruffled looks in two different ways. Rich fabrics and sultry colors filled their collections.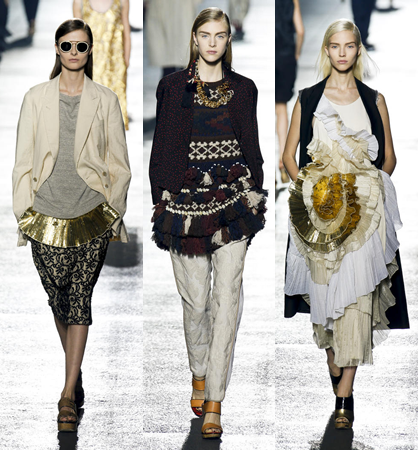 The highly anticipated S/S 14 show by Dries Van Noten was nothing less than a major statement. Each look expressed its own sense of volume. Gold leafy fabrics wrapped around the waistlines, creating oversized flower-like appliques. Embroidery and tapestry weaves gave a luxurious feel to tops. Dries' silhouettes were relaxed and draped effortlessly onto the body. Jackets were either oversized and cropped or sleeveless and sweeping down the back of the legs. The collection was both rich in fabrication and color. Liquid gold, rich reds, soft whites, deep blacks and cement greys merged together in this sultry collection.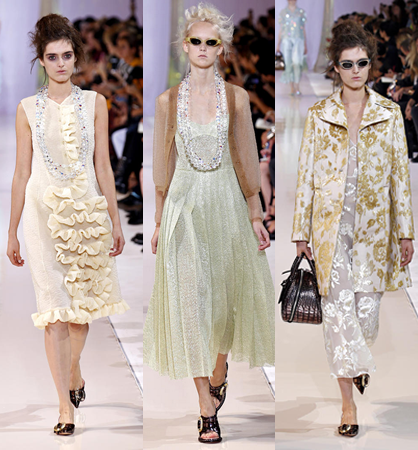 Rochas brought an airy, glam collection to the S/S 14 runway. There was a heavy play of floating silhouettes with girly details. Ruffles, crystals and dots embellished each piece of the collection. Rochas used an ultra-lightweight brocade fabric to give texture and depth to pale white and gold looks. Channeling the feminine A-line silhouette, sweaters and full silk chiffon skirts flowed gracefully down the runway. Rochas brought the perfect balance of structure and ease with each shirtdress and long jacket. We're excited to get our hands on these royalty-turned-modern-girl looks next spring.

Read more Fashion Week
Tagged in: trends, spring 2014, ss 14, pfw, fashion week, runway, rochas, dries van noten,