Paris Fashion Week Spring 2012: Chanel
Chanel created a luminous underwater-inspired world, with corals, shells, seahorses, stingrays, abstract sea shapes and even Florence Welch in a clamshell performing "What the Water Gave Me" coming together for a unique runway show. Paris Fashion Week Spring 2012 showed a different side of the Parisian fashion house: a lighter, simpler side. Always one step ahead in design, Karl Lagerfeld wanted to avoid crafting items that were "too Chanel" because the fashion world is saturated with Chanel styles that have been endless replicated, reported Style.com.
In creating the Chanel line without being overly "Chanel," Lagerfeld kicked off with minimal boxy tweeds suits, continuing on to make the underwater theme pop. Ruffled dresses and skirts resembled ocean waves and sea sponges, an iridescent streamer overlay on dresses re-created seaweed, and shimmering sequins on blazers and drop-waist dress evoked rainbow fish scales. Lagerfeld also used sheer nude mesh in layered pleats for abstract, 3D-like sea silhouettes with perhaps a hint of fins.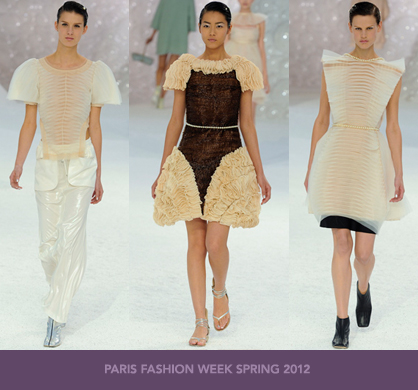 LadyLUX via Style.com
The materials chosen were a departure from Chanel's usual style. Of course, there were the typical leathers, tweeds, chiffons, watercolor prints and sweater knits, but to really capture the essence of the ocean, Lagerfeld enlisted a slick, shiny, off-white laminated textile with a mother-of-pearl shimmer. The long, slender skirts fashioned from the opalescent material conjured up a futuristic mermaid.
The seasoned designer left no shell unturned when it came to details – literally. Models carried clutches featuring pearly mollusk shells and coral reef-inspired bags. Pearls were encrusted on hairpins and exhibited in strands on belts. Seashell rings and earrings, iridescent chain bracelets, and pearly painted nails completed the underwater motif.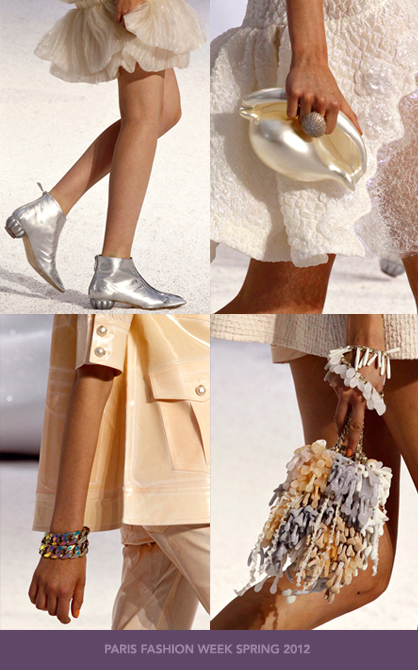 LadyLUX via Style.com
Lagerfeld steered clear of the usual footwear trends and instead styled the avant-garde looks with mod flat ankle boots in silver, black or white, and laced-up, ankle-wrap sandals. Heeled sandals boasted a low, round heel with an elongated T-strap.
Overall, the collection pulled off a cohesive theme and clearly displayed the talent and mentality that makes Lagerfeld one of the most progressive designers. Not every piece may translate into street style, but that is what runway art is all about.

This article was contributed and photographed by Annette Tang of the Versastyle. You can follow Annette and her fashion adventures on Twitter at @theversastyle.
Tagged in: paris, spring 2012, runway, chanel, paris fashion week, karl lagerfeld,