Pavonine: Modern yet edgy designs
Jessica Solomon wasn't the child who always knew she wanted to be a designer. It all started when she began to lust after her neighbor's Vivian Westwood purse.
"It was the first time I had coveted a fashion item, and I started learning about Vivian Westwood and I fell in love with fashion and started to understand the difference between clothing and fashion and the art behind it," the designer explained.
Solomon initially found herself drawn to the industry because it meant creating something that people could wear and use.
"I liked the idea that it is tangible," she declared. "Somebody gets to use it every day. And that's where I started to want to do fashion design and then it really kind of kicked into place."
With her clothing line Pavonine, she aims to create a sense of emotional beauty that the wearer can feel. Her ability to find beauty in unexpected places takes her line to the next level.
"Beauty is such an emotional thing. There is beauty in so many things. Whether it is a person or an actual object, I think (it is) anything that gives you a strong emotional reaction. I feel with my clothes, I try and incorporate the beauty of colors or the flow of a line or certain details and when you wear it, how it makes you feel," she said.
Being an LA girl, Solomon has absorbed the chill atmosphere and laidback attitude of California, and those vibes infuse her collection, which is also fun and relaxed.
Her designs are a reflection of her personality: playful and polished. She seeks a balance between edgy and soft, perfect for the modern working girl.
"I wanted the clothes to be playful but also modern and a little bit edgy and a mixture of myself. I didn't want it to be just one thing, I wanted it to reflect all these things that I'm about," she revealed.
She touts fashion as a way for designers to express their personalities. Different kinds of people lead to different collections with different perspectives, and it is up to the wearer to find the style she loves.
"I think it is nice everyone can create what they want and there is a market there for everything," she said. "I make playful clothing, but there might be somebody who hates being playful … I think it's good that you can be what you want to be."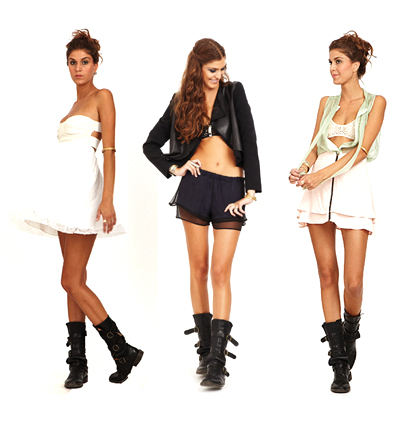 via Pavonine
While design wasn't inbred, entrepreneurship certainly was. Starting her own line was a chance to do things her way.
"As I started working for different companies, I kind of always had my own point of view and never really got to express it fully and it finally came to a point that I wanted to do my own," she said.
And that is precisely what Solomon did, launching her own business in 2009.
With her background in business, economics and accounting, choosing to attend design school at FIDM was somewhat of a leap. However, her experience studying apparel manufacturing and visiting international vendors turned into a valuable asset when she started her own line.
"Knowing how each step of the process works and not only how to construct a garment but also how to get it produced really helped me create a strong, practical business," the designer maintained.
It was at a natural history museum in Los Angeles that inspiration for her Spring 2012 collection struck. Wandering through the halls of the mineral and gem display, she found herself stimulated by the incredible beauty of the colored rocks.
"When I walked in, I was amazed by all the colors of the minerals," she said. "They were colors you never associate with nature. You don't think of hot pink as coming from nature, and the way those were juxtaposed against the hard gray rocks was just really beautiful."
She added a twist of '70s rock 'n' roll girls and free-spirited women, and her Spring 2012 collection was born.
One of the main selling points is the versatility. Solomon's pieces can be used for an around-the-office look and then be perfect for a dive bar when it is time to play.
"(The clothes) really do let you reflect your own individual style rather than putting ours on you. You can wear it wherever you go. It lets you be you in each different environment," she said.
Solomon recently branched out into patternmaking, which she had studied in school. One day, needing a simple pattern adjustment, she decided to take charge and try to figure it out herself.
"I did that one and that led me to another design I wanted to do and then another one, and all of a sudden, I wanted to do a lot of the patterns," she said. "It was really interesting to see how designing changed for me because as I was doing the pattern, I'd be like 'oh it would be so great if it had a different seam here or a different pattern here,' and it just changed the way I was designing from thinking of it as a sketch to being able to think of it as a finished product."
Her must-have pieces in the collection include a two-tiered, draped leather and tropical wool jacket, which appears like a deconstructed blazer.
"I always want to pose in it," she said. "I want to stand and pretend I'm being really cool because I love the way it looks and the way it makes me feel. I always feel super cool when I wear it."
Another of her top picks is a black chiffon wrap dress with spaghetti straps and asymmetric cascades of chiffon. Inspired by the colors of the desert, the gown "makes you feel you are walking into a cinematic moment."
At the end of the day, Solomon likes to keep it fun.
"You always want to be enjoying as many moments in life that you can," she said. "I like how things feel fun and full of energy and I want each piece to have those feelings behind it because everything else is hard enough, our clothing should feel fun."
Be sure to check out her newly revamped website with e-store.
Tagged in: lux exclusives, designer, clothes, jessica solomon, pavonine,