PFW: Akris, Celine & Chloe S/S 14
A mix of the bold and the not-so-bold were seen on the Paris runways, with everything from street art to nature being the focus of various collections. Next season will bring forth a new way to wear prints and stripes together to give an updated look to any wardrobe.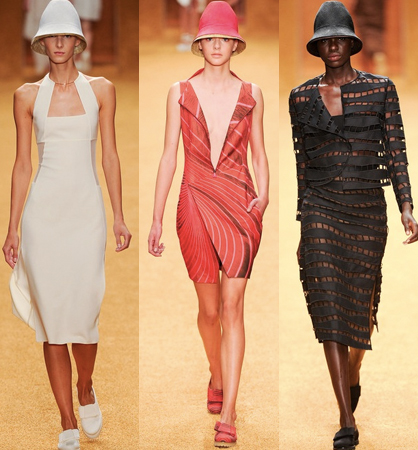 Nature was the muse for the Akris S/S 14 collection, with images of sandstone lines, algae, honeycomb and granite printed on cotton voile, chiffon and leather. There was an abstract feel to these prints, and they made for lovely shirtdresses, breezy skirts paired with sweaters, and suits. Deep V-neck dresses and midriff-baring frocks had a conservatively sexy vibe, and a simple bandeau top was worn under a pantsuit. An architecturally styled jacket offered the same flowing lines as the limestone prints but in solid white. Akris knows how to make the best of nature, ending in a flourish with honeycombs of lace and metallic embellishments.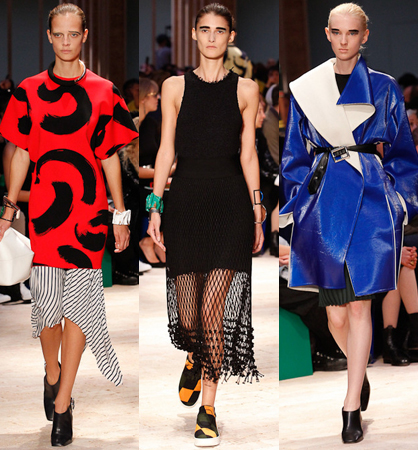 Bold street art was the theme at Celine's S/S 14 runway, with high impact graffiti-style prints giving a graphic look to trenches, elongated slim tops and pleated below-the-knee skirts. Standouts included a red-and-black short-sleeve tunic-style top with a black-and-white striped asymmetrical skirt and vibrantly colored trenches. Simple tank dresses were given a new look with the addition of a mid-calf-length mesh skirt. Overall, the Celine woman will learn to wear colors and prints in new ways next season, with the combo of jacquards and knits worn with prints and stripes.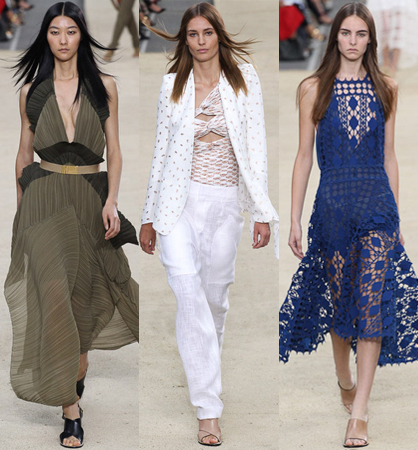 Calm and pretty were the mainstays on the Chloe S/S 14 runway, with summery crinkled pleated silk dresses, rose-dot printed tops knotted in front, and sheer knit, floaty dresses tied at the arms. Loose, off-white shorts were paired with a thin, oversized sweater for the ultimate in casual summer sportswear. A pair of tapered-leg trousers in khaki green sported ankle ties, and pleats were featured on many pieces. Neutral tones of olive, sand and white dominated, with touches of a rich blue and, of course, black. Transparency was key, with sheer, geometric lace and matte georgette giving a delicate sensuality to the collection.
Read more Paris Fashion Week
Tagged in: trends, spring 2014, ss 14, pfw, fashion week, runway, chloe, chloé,