Pre-Fall 2011: Michael Kors
As Michael Kors is known as the king of American sportswear, the patriotic palette wasn't a far cry from his roots at Kors' Pre-Fall 2011 show on Dec. 2.
Instead of furs, sweaters and outerwear, Kors hummed a different tune at his New York show. Stripes, a style that has been trickling down to retailers in the past few months, were a mainstay in the collection. Black and blue, always a classic combination, were offset by grays and reds. A cow-print pattern spiced things up toward the end of the presentation, appearing on pants, boots and a pleated skirt.
While other Pre-Fall presentations were bundled up, Kors kept it cool. The opening model donned a pair of sunglasses, perhaps living vicariously in California weather. Skin was just as prevalent as fabric; models walked barelegged in cocktail-length dresses and shorts were a staple.
The color-blocked collection also featured knits in warm weather cuts such as sleeveless and quarter sleeve. Construction was key. Trousers and oversized coats kept an easygoing, sophisticated look.
Kors finished off the line with some tougher gear: leather trench coats and shiny suits. Dramatic Grecian-styled gowns in red and black were made modern with crisscross belts and leather elements. A sexy black number, with a slit up to the hip, closed Kors' show.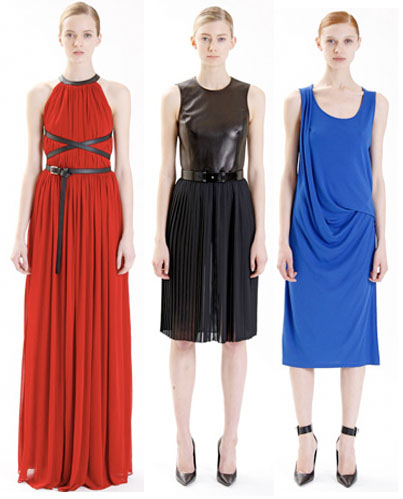 Tagged in: michael kors, 2011, sportswear, american, pre-fall,