Pre-Fall 2011: The Working Woman
Without reading the designers' names, a glance at the Pre-Fall runways and presentations would leave many women visualizing their own closets. Luxury designers such as Fendi, Diane von Furstenberg and Ports 1961 showed off classic separates that were worth the investment. Perhaps a reaction to the economy, even designers such as Michael Kors left their designs simple and fresh, and easy for everyday wear.
The always-glamorous Fendi revealed a casual side with light neutrals and a pair of trousers that resembled jeans in its Pre-Fall. Sassy separates – brown suede skirts or cropped tweed jackets – filled the small collection of only 16 looks. Special occasion wear, which is usually associated with the Italian powerhouse, was traded for every occasion wear. Fendi fit a couple showstoppers in: a blue silk gown and an off-the-shoulder black number that looked as if inspired by classic film sirens.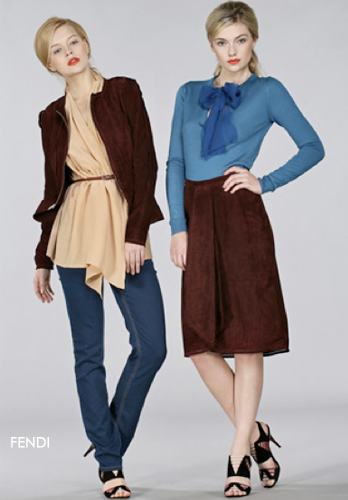 Women first got busy in the workplace in the '70s, and what better way to celebrate our independence than to channel the decade? Diane von Furstenberg did just that in her Pre-Fall show. Colors such as mustard, turquoise and chocolate mixed and matched with psychedelic print shift dresses.
"Diane's focus, then as now, is on the working girl, and easy clothes to go to work with," DVF creative director, Yvan Mispelaere, told Style.com.
Celebrating 50 years in the business, Ports 1961 commemorated its work in womenswear with a cohesive collection that realistically portrayed the wardrobe of today. Suits, cocktail dresses, oversized trousers and a couple of gowns made the list of 28 ensembles. Although every lady wishes she could wear a silk mini 24/7, Ports 1961 dominated Pre-Fall with what working women really need: a great suit. Whether it's monochromatic or an eclectic look, Ports 1961 had a million ways to glam up a day-to-day wardrobe using beautifully textured coats, silk blouses, interesting knits and modern construction.
Tagged in: michael kors, luxury, fendi, diane von furstenberg, ports 1961, working woman, pre-fall 2011,