Pre-Fall 2012: Lanvin
When you think of Lanvin, you may imagine fairy-tale ball gowns and some red-carpet glamour. But for Pre-Fall 2012, designer Alber Elbaz moved in a fresh, modern direction. The collection still exhibited the Lanvin opulence, but this time around, it also featured a progressive, ladylike vibe. According to Style.com, Elbaz explained the new direction by saying, "This collection is about new fabrics, new technologies and new volumes."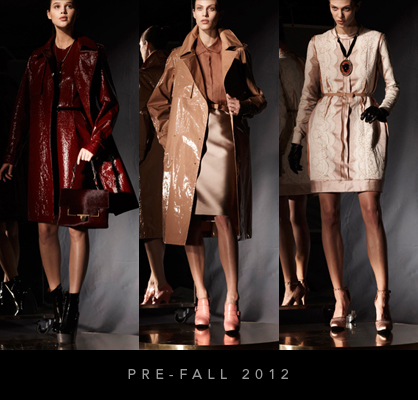 LadyLUX via Style.com
Since Elbaz's mind is likely on building the new Madison Avenue menswear store, this may explain the constructed looks. Elbaz produced molded, boxy silhouettes with his full skirts, cocoon coats, T-shirts and hourglass dresses made from spongy polyester. The rigid lines continued with an oxblood red trench coat and a matching shift made of an innovative plastic material that fell somewhere between patent leather and rubberized wool. Without a doubt, it had an instant cool factor.
Progressive or not, Elbaz still didn't abandon eveningwear. It was just sassier than we last remembered, featuring ruffled silk dresses, sharp minidresses with a sculpted look and a memorable, long-sleeved lace number. The lace, though, was not your ordinary ivory lace but was bonded to a nude wool for a contemporary feel. Elbaz gave a bit of shimmer to the cocktail dresses by adding shiny rhinestones with pinpoint precision.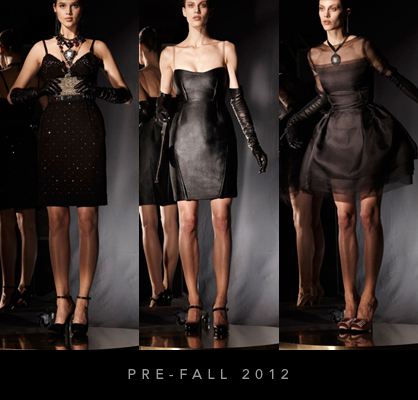 LadyLUX via Style.com
Accessories and footwear always play a heavy role in any Lanvin collection. This season, to coincide with the edgy vibe, dresses and coats were cinched with wide leather belts and completed with long leather gloves. Knee-high leather boots, ankle boots and pumps brought additional attitude to the already avant-garde styles. And for extra eye candy, Elbaz styled the looks with oversized cameo pendants on silk ribbons.
This year marks Elbaz's 10th anniversary at Lanvin, and with this impressive Pre-Fall collection, it's not a bad way to celebrate. If this is his kind of modern, we're onboard.
This article was contributed Annette Tang of the Versastyle. You can follow Annette and her fashion adventures on Twitter at @theversastyle.
Tagged in: new york, new york, runway, lanvin, alber elbaz, pre-fall, pre-fall 2012,