Pre-Fall 2012: Thakoon
Thakoon Panichgul's Spring 2012 was a spectacular cross-cultural Bollywood Western theme with more than enough vibrancy. But for Pre-Fall 2012, the designer turned a 180 with a modern collection of soft pastels, shades of gray and cozy materials. It was the perfect collection to start the new autumn season and get you in the mood to bundle up, but still allow you enjoy what's left of summer. Panichgul crafted an easy balance that he knew his fans needed even before they did.
The New York designer also had other balancing acts up his sleeve for Pre-Fall. With a palette of baby pink, icy blue, lemon citron, nude and cream, the colors were a bit on the dreamy side for Pre-Fall – especially since most designers turned to darker shades – but Panichgul didn't jump on the band wagon. Instead, he added a dose of sweetness through blanket-printed wool, fuzzy Mongolian lamb and cable knits, then played all the delicacies against extremely constructed silhouettes. Exaggerated puffed sleeves, widened shoulders and some oversize patch fur pockets for good measure all made an appearance. He even worked the cable knits into rigid shirtdresses and leather motorcycle jackets. This season, Panichgul obviously had a way with the materials.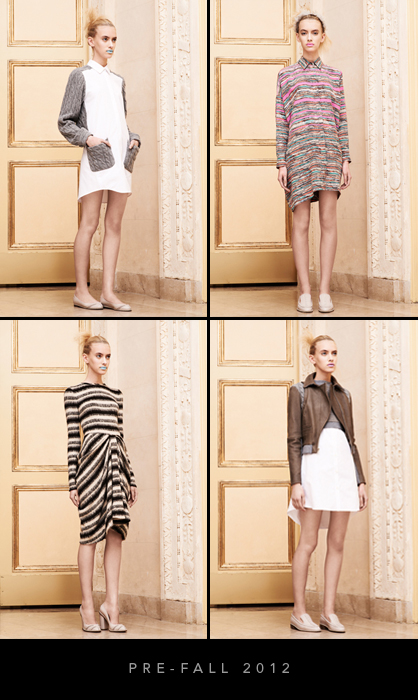 LadyLUX via Style.com
And, of course, no one makes a dress quite like a Thakoon dress. Panichgul has created stunners with the most flattering details season after season. This time around, he focused on full-skirted sleeveless dress silhouettes that were nipped at the waist, striped silk shirtdresses, drop-waist numbers with a deep V-neckline and long-sleeved, knee-length dresses with cascading skirts. The designer abandoned the notion of over-the-top eveningwear for this interim season, replacing it with black short gathered-waist skirted dresses worthy of any cocktail party. As the Thakoon woman is a modern woman, the move definitely worked in his favor.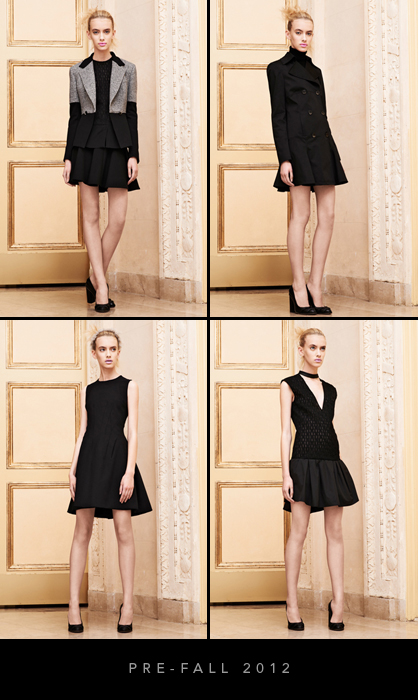 LadyLUX via Style.com
Taking a cue from his dresses, he took a modern route with footwear. Stacked heel pointed pumps completed about half the looks. For the other half, Panichgul chose understated nude slip-on leather loafers, one part borrowed from the boys, one part stolen from a uniformed schoolgirl and all chic.
The Thakoon collection delivered a refreshing and whimsical Pre-Fall that hasn't really been seen by any other designer. Maybe it's because Panichgul's been around the block a few times now and has developed a modern feminine style that's signature to his brand. Whether he expands this theme for Fall or dives into another, it's likely going to be good.
This article was contributed Annette Tang of the Versastyle. You can follow Annette and her fashion adventures on Twitter at @theversastyle.
Tagged in: new york, new york, runway, thakoon, thakoon panichgul, pre-fall, pre-fall 2012,