Pre-Fall 2012: Yves Saint Laurent
If Yves Saint Laurent had anything to say about Pre-Fall 2012, it was leather and leopard. The new collection from Stefano Pilati was a 180-degree change from Spring's parade of vibrant colors – and rightfully so as it is kicking off a whole new season. And as it kicks off, along with a fresh take on leather and leopard, the assortment of ensembles resurrected some of the fashion house's best classics for a modern update.
YSL's Pre-Fall was a brilliant array of slick, tailored silhouettes in an uncomplicated palette of black, camel, white, gray, blue and green. Pilati didn't hold back when creating flawless lines of crisp wide-leg pants, short-sleeve fitted dresses with collars, drop-waisted dresses with pleated skirts and – an updated piece from Spring's collection – sleek jumpsuits that now featured plunging necklines and matching blazers.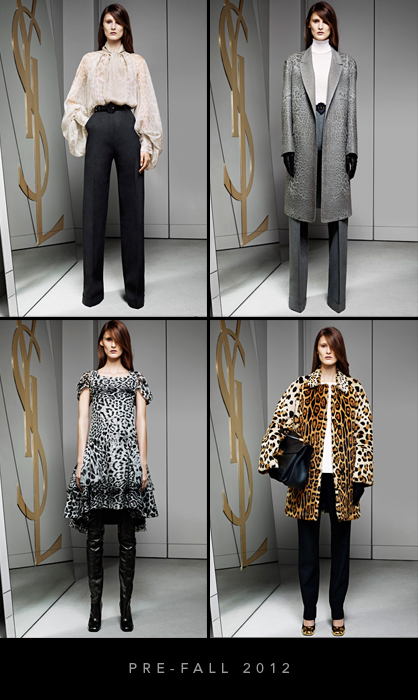 LadyLUX via Style.com
The story continued with a union of leather and leopard separates. Usually known for edgy styling and an obvious rocker chic vibe, the two materials polished up this time around. Pilati extended leather into new territory: a mix-media trench coat with a wool-cashmere upper and leather skirt; a tan motorcycle jacket with contrasting black sleeves and collars paired with an A-line skirt; boxy, long-sleeved shirts; and a green sleeveless dress that landed right at the knee.
Leopard print found new life in its own chic way. The spots made its way to a faint nonchalant print found on dramatic sleeved blouses and rigid trench coats. In contrast, leopard also made a bold mark on a tiered dress and stunning, lush fur coat.
LadyLUX via Style.com
The collection was styled with clean accessories, with a few styles referencing Spring. Solid color pumps and leopard-print, thigh-high boots maintained the thick gold metal toecaps of the previous season. Pilati also included flat loafers, black square-toe boots and an open-toe cutout bootie option. Models held structured clutches – some with the leopard print – and proper tote handbags.
Pilati's methods were spotless this season. Even after seeing countless shows over the past year or so featuring the two widely used materials, he managed to revive a sense of desire for them. Perhaps it's the power of YSL, or maybe it's just brilliant design.
This article was contributed by Annette Tang of the VersaStyle. You can follow Annette and her fashion adventures on Twitter at @theversastyle.
Tagged in: paris, runway, ysl, yves saint laurant, pre-fall, pre-fall 2012, stefano pilati,