Project Ethos Proves Fashion is Art
Fashion is more than clothes; it's art. Proving this point during LA Fashion Week was Project Ethos. In collaboration with Downtown LA Art Walk, up-and-coming, LA-based designers showcased their work alongside artists, musicians and DJs at Exchange nightclub in downtown LA.
The event was hosted by a variety of fashion players including celebrity stylists from Chic Little Devil Style House, buyers from LF Stores and the Doneger Group, and curators from Art Pic Gallery and Altered Space Gallery. Festivities started with a meet-and-greet in the downstairs art gallery as hundreds of music, art and fashion enthusiasts mingled and rocked out to DJ Rob Rockwell.
The fashion show opened with the designs of Jose Galeana, who presented a retro-inspired collection of bright and vivid colors in his line, Galeana Designs. Next up, Marialia Pacitto presented Marialia, a Barbie and Rock Star inspired collection including many fun, flirty designs. Jennifer Krischer and her line, Linden, had a classic and vintage feel with high-waist shorts, tight pants and 50s styled bra tops. Andre Myers' line, Nine Menswear, featured a casual yet cool collection. To finish off this group of designers, B. by Aperie showed off its collection of eclectic footwear.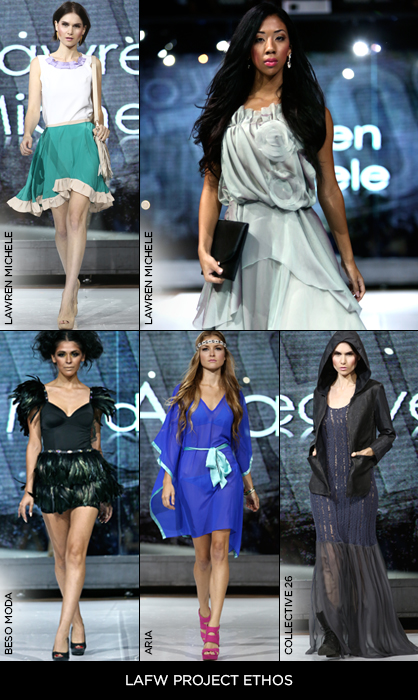 During the break, attendees enjoyed live painting and a pop-up gallery with Tanina Jackson, INDEPTH, Max Neutra, Mark Jacobs and James Rhodimer while Icelandic pop group, The Charlies, performed.
To open the second half of the show, ARIA by KiKi Resort Wear, Kiki Hasija's collection, walked down the runway showing colorful tunics and cover-ups. Claudia Gonzalez Pruitt, Columbian designer and creator of Beso Moda, showed off her newest collection titled "Vanity," which included dresses for every occasion. Next up, Lawren Michelle displayed her classic, feminine, romantic and fun designs. Closing out the show were the designs of Felicia Barth-Aasen in Collective 26, an urban contemporary line of bohemian-meets-grunge style. Though the fashion shows finished, the celebration wasn't over.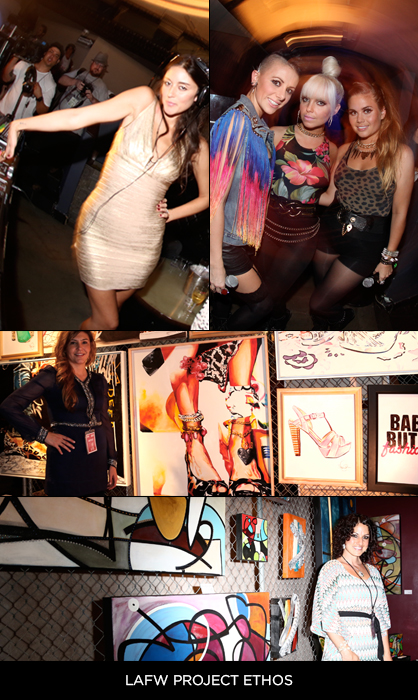 Starting off the "Synthesis" after party was a fashion show by the iconic Goorin Bros. with their latest collection. Artists Steven Michael O' Connor and Jhydyn Levi also took to the stage with two forms of live art. O'Connor completed an oil-on-canvas piece and Levi's paint-splattered 3-D creation spelling the words "Project Ethos" gave the audience a feast for the eyes. Electro-club duo Oliver and celebrity DJ Caroline D'Amore also lent their skills to the celebration. When all was said and done, the Project Ethos was a successful presentation of all things fashion and art.

Tagged in: fashion, events, music, art, los ángeles, designers, los angeles, downtown la, la fashion week, fashion show, project ethos, downtown l.a. fashion week, fashion shows, downtown art walk,