RA Sushi hosts 8th Annual Nicky's Week
RA Sushi will host its eighth annual "Nicky's Week" fundraiser to benefit St. Jude Children's Research Hospital. The fundraiser will begin this Sunday, May 27, and continue through Saturday, June 2.
The restaurant and bar will donate one hundred percent of the proceeds from a variety of menu items and beverages to St. Jude to help support their mission to save children's lives. In the last seven years of fundraising, Nicky's Week has raised over $943,000 for the St. Jude Children's Research Hospital. RA Sushi hopes to surpass the $1 million mark this year.
The Nicky's Week fundraiser was created in memory of St. Jude patient Nicholas "Nicky" Mailliard from Scottsdale, Ariz., who lost his battle to brain cancer in February of 2005 at the young age of 13. As nephew of a RA Sushi founder, Nicky and his memory are honored to raise awareness and funds for St. Jude, where no child is ever turned away because of a family's inability to pay for medical treatments.
"RA Sushi is honored to continue to support St. Jude and help them with their life-changing mission," said Scott Kilpatrick, co-founder and vice president of RA Sushi, in a release. "We want to help ensure their services remain available to children and families battling serious illness."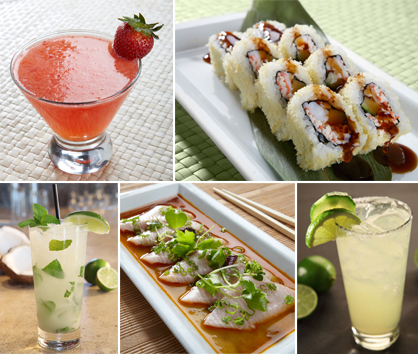 via RA Sushi, Beach House PR
The Nicky's Week special menu includes Edamame, Tootsy Maki, Shrimp Nigiri, Pork Gyoza, Chicken Yakitori, Garlic Citrus Yellowtail Tapas and a variety of select beverages.
All 25 RA Sushi locations will participate in the fundraiser. The two Orange County locations are:
• The Strand in Huntington Beach: 155 5th Street; 714-536-6390
• The District at Tustin Legacy: 2401 Park Avenue; 714-566-1700
To learn more about RA Sushi's menu and Nicky's Week fundraising event, visit www.RAsushi.com and their Facebook page.

Tagged in: orange county, restaurant, fundraiser, bar, 8th annual, ra sushi, nicky's week, st. jude children's hospital,