Rachel Roy shares perspective on fashion and where she is today
There are women who dress by the rules, and then there's Rachel Roy, who writes her own rules. For Fall 2011, Roy abandoned the typical American uniform in exchange for tie-neck leopard blouses; boat-neck, leather-top dresses; patterned cardigans; button-up, faux suede wrap dresses; and intricate little black dresses with A-line skirts.
These perfectly feminine pieces were showcased at Neiman Marcus Fashion Island in Newport Beach, Calif., on Oct. 6 when Roy – who looked gorgeous in her own print blouse and textured pencil skirt – made a special appearance. Mingling with her loyal fans, she paused from the chaos to share her thoughts on how she got to where she is and where she is going from here.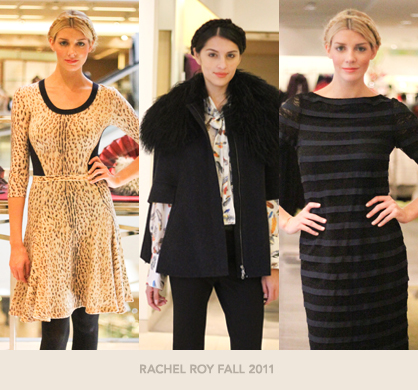 LadyLUX via Annette Tang
The humble contemporary designer may not have gone to design school, but she always knew what she loved and that was, without a doubt, fashion. Growing up in a small town in Northern California, Roy felt high school never taught practical skills, such as how to be an entrepreneur or how to have a creative career. So instead, she found inspiration in working retail, reading Vogue magazines and watching vintage movies.
After graduating from Columbia Union College, she moved to New York City to continue retail and worked as a stylist. From there, Roy obtained an internship with the urban brand Rocawear and worked her way up to creative director. In 2005, the persistent creative launched her eponymous Rachel Roy line.
Sharing her secret to success, Roy said, "You can do whatever you want to do if you teach yourself, or do what I did and surround yourself with people smarter than you so you can always learn from them."
It was evident that her tactics had steered her in the right direction when she received an invitation to show her collection to the very influential Editor-in-Chief of Vogue Anna Wintour.
"The first time was so surreal. I was over the moon about even being invited," she gushed. Editing her collection countless times over before the presentation, Roy took the opportunity as a learning experience on how to be yourself and have a solid point of view.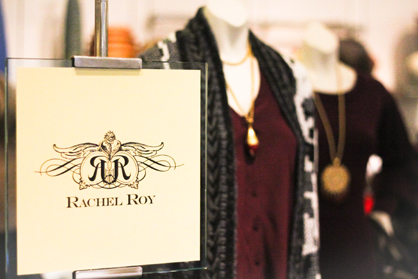 LadyLUX via Annette Tang
Over the years, the Rachel Roy collection has focused on what Roy knows best. Like many of her customers, she has a career and a personal life, and wants to look chic no matter what she is doing.
"Why don't we all wear statement necklaces, cocoon dresses and smoky eyes at 9 a.m.? It doesn't mean you are not smart. It means you know how to have fun with fashion," Roy stated.
Fond of bright colors, animal prints, monochrome dressing, textures and colorblocking, she always insists on making playful statements, wanting to change the boring standards of dressing.
Drawn to inspiration of all kinds, currently Roy finds Kayne West's recent debut collection, shown at Paris Fashion Week, intriguing. From the actual design elements to the critiques, she appreciated how he pushed boundaries.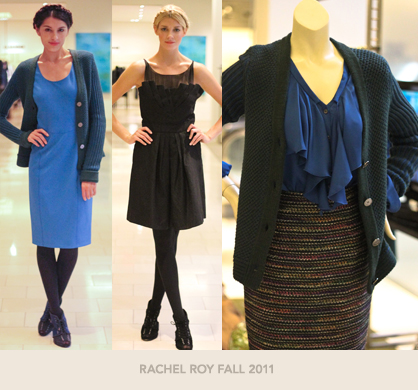 LadyLUX via Annette Tang
A few months ago, while designing her Spring 2012 collection, it was the 1992 movie "The Lover," a romantic tale of a French girl and an older Chinese man, that sparked Roy. Her Spring collection, recently showcased at New York Fashion Week, was therefore based on styles with a masculine touch.
"I like the idea of her wearing his clothes and what would that feel like for today. It's a gentlemen's look, and there is something very proper about it," she explained.
With the incredible success of her contemporary apparel line, the talented designer shared plans to expand with a footwear collection in the near future. The latest line is shaping up to have sexy but strong styling.
Roy disclosed, "I like sexy for strong and powerful. There will be bright colors and certain silhouettes that I am always drawn to for the core line."
One day, the Rachel Roy brand will also include a home and lifestyle division that focuses on quality of life.
At the end of the day, Roy constantly strives for success because she feels the more she accomplishes, the more she can do the things that really matter to her. These passions include helping women find jobs and providing aid to children in Third World countries.
"I want to share what has to come to me. I've had a difficult life myself, but I can get through it by having fun with fashion and giving back," she declared.
This article was contributed by Annette Tang of the Versastyle. You can follow Annette and her fashion adventures on Twitter at @theversastyle.
Tagged in: lux exclusives, neiman marcus, designer, fashion island, newport beach, rachel roy,