Resort 2013: 3.1 Phillip Lim
Phillip Lim knows what the cool kids want. Between Fall's monochromatic and minimal assortment and Pre-Fall's comic book "ka-pow" knits, the New York designer does "pretty yet effortless" so, well, effortlessly. Delighting the 3.1 Phillip Lim urbanite girl, he proves himself once again with Resort 2013's floral theme collection that steers clear of the typical sweetness thanks to utilitarian silhouettes.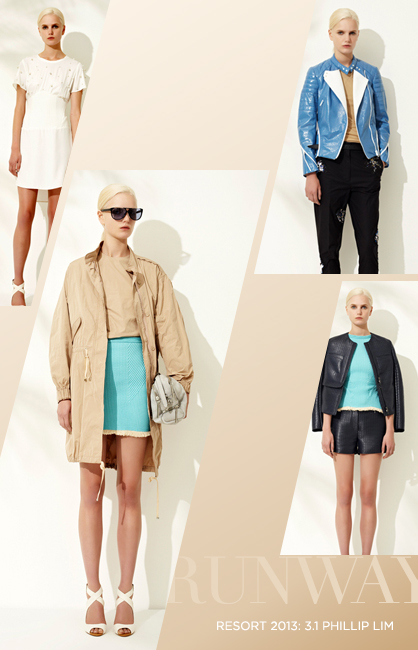 LadyLUX via Style.com
Aside from the sprinkle of color in the florals, the collection stuck with the basic colors of tan, black, white and grey with hints of cyan blue, giving the collection more edge than the vacation season is used to. The utilitarian motif appeared in khaki tan Mao suits with tapered pants, rigid high-buttoning tops, crisp pleated knee-length skirts, detailed button-up shirts and leather overalls. Short skirts took on a cocoon shape similar to petals of a flower, but were crafted in laminated pigskin, which recalled slick, hot pavement in the city.
"It's a pseudo vacation," he said, as reported by Style.com. "Our make-believe staycation. How do you take a vacation when you're in the studio all night?"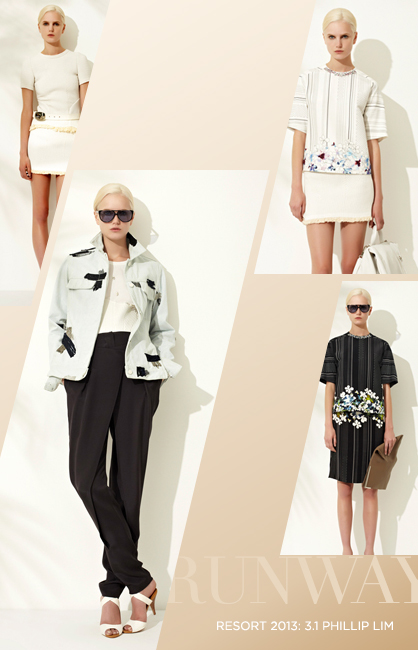 LadyLUX via Style.com
Lim injected a dose of sportiness into the collection with soft shapes that blended well with the stricter silhouettes. Anoraks layered over skirt and T-shirt looks, drawstring windbreaker style pants were relaxed with mock neck jackets and a floral-leopard knit suit was reminiscent of thermals.
The no-fuss Resort collection indeed proved to be more of staycation for the city girls – not that they mind.

Tagged in: new york, new york, runway, 3.1 phillip lim, apparel, resort 2013, resort collection, phillip lim,