Resort 2013: Alexander Wang
As fashion's reigning Prince of Cool, Alexander Wang was feeling light and delicate for Resort, but don't be fooled into thinking that means sweet and frilly. The New York designer's idea of "light and delicate" meant athletic elements, plenty of crocodile stamped materials and lug sole boots. It was vacation for the Wang girl, with no beach in sight.
The opening monochrome black look set the tone for the Alexander Wang Resort 2013 collection with its cropped leather top, high-waisted trousers, paneled sports jacket and boots. Gone were the lacquered and laminated looks from Fall 2012. The interim season presented ribbed knit sweaters held together with lingerie straps, sheer mid-calf button down and T-shirt dresses, elastic waistband crocodile stamp shorts and midriff-baring vests. Of particular interest was a puffer vest crafted from transparent nylon, exposing the down feathers inside. Silhouettes were loose, relaxed and comfortable, almost casual by Wang's standards but chic nonetheless.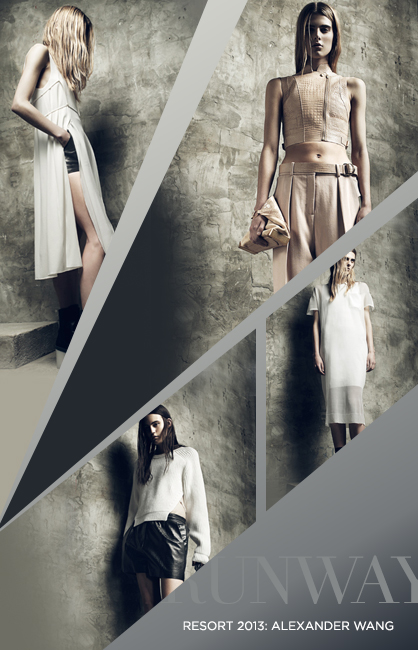 LadyLUX via Style.com
As accessories and footwear are some of his strongest categories, the boots and handbags are no-brainers for the season. The boots had lug soles dipped in white for a blatant contrast and reached just over the ankle. The rugged, futuristic styles were laced up or buckled. In the models' hands, structured clutches were luxed in stamped crocodile, matching the apparel, and deconstructed sacks were slouchy almost like a gym bag.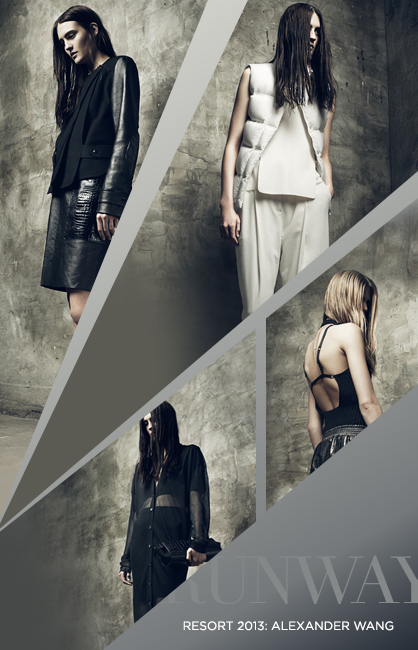 LadyLUX via Style.com
It was perhaps a non-traditional resort collection in black and white, but then, Wang has developed his own traditions. He is the Prince of Cool, after all.
Tagged in: new york, new york, footwear, accessories, alexander wang, runway, resort 2013, resort wear, resort collection,