Resort 2013: Helmut Lang
It's always exciting when a designer switches up his or her usual aesthetic. It's even more exciting when the new aesthetic is good. For Resort 2013, Nicole and Michael Colovos showcased a different side of Helmut Lang – a more boyish side. The design duo abandoned the predictable draped styles that have been the core of the collection for seasons and embraced a boxier, fuller silhouette that felt ultra-modern in comparison.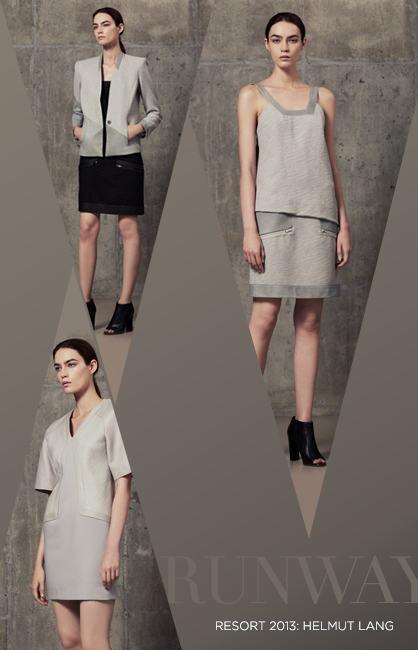 LadyLUX via Style.com
While the shapes were updated, the Colovos stuck with their basic color scheme of black, white, grey and olive with punches of abstract graphic prints. The fresh design was exhibited in jackets with squarish, cropped constructions combined with full trousers that tapered at the ankle. It also appeared in structured mini skirts with zippered slant pockets and thick, contrasting trim. Knee-length dresses with slanted hemlines found a similar feel with sharp lines further emphasized with graphic overlaid patterns.
There were still hints of draping throughout the Helmut Lang Resort collection but it was subtler than before. Blouses displayed twisted front panels while a graphic print dress featured a draped asymmetrical layer. The looks maintained the collection's new direction with accentuated shoulders.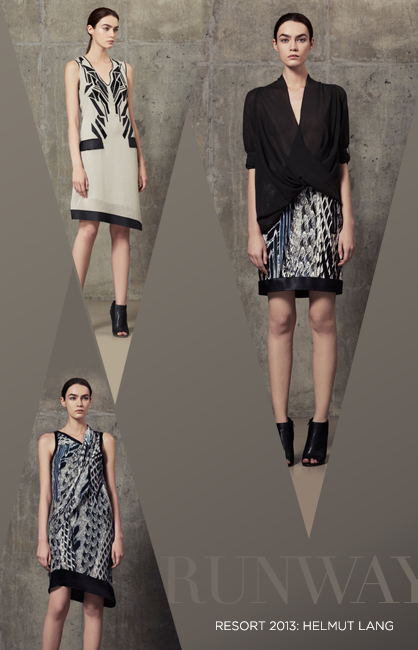 LadyLUX via Style.com
The Colovos may have been testing out the new styling for Resort, but it's a welcome one that hopefully carries into the next season.
Tagged in: new york, new york, runway, apparel, resort 2013, helmut lang, ready-to-wear, michael colovos, nicole colovos,