Runway Wrap: NYFW Spring 2014 Beauty
While fashionistas who attended NYFW 2013 got an eye full of gorgeous and exciting apparel trends, beauty mavens experienced a whirlwind of colorful makeup trends and haute hairstyles. These ten prime backstage beauty looks were invented to offer each collection an even better impact on fashionistas. Read on to see some unforgettable ready-to-wear collections of NYFW Spring 2014 RTW and what beauty looks were featured!
Michael Kors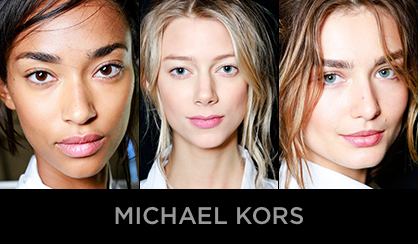 Known for his modernly elegant designs, Michael Kors kept his beauty looks clean and simple. The minimalistic makeup of mascara and rosy lips accompanied by loosely-pulled back and tousled hairstyles gave the collection an easy-breezy feel.
Marc Jacobs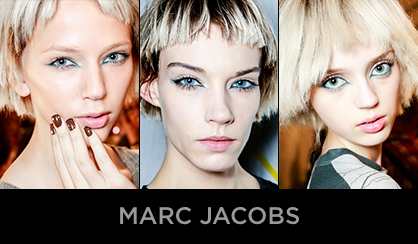 Marc Jacobs set the bar high for memorable NYFW beauty with his fun and punky rendition of Spring 2014 beauty. Hair was kept short with platinum and choppy wigs displaying dark roots at the crown. Makeup was kept matte with porcelain tones, electric blue cat-eye liner and chocolate brown nails.
Diane von Furstenberg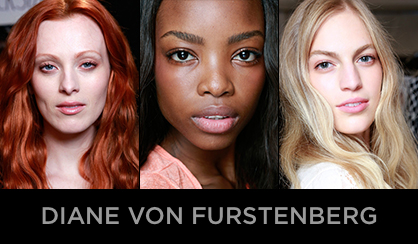 Wavy, long-flowing locks and perfectly primped faces graced the runway during the Diane von Furstenberg show. Makeup exposed bronze-tinted liner on the eyes, sun-kissed cheeks and sweet pink lips for a glowing look.
Ralph Lauren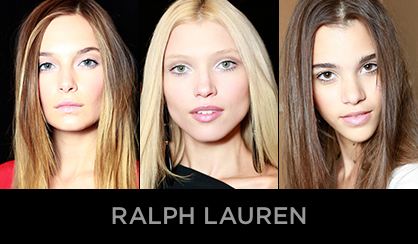 Ralph Lauren's spring collection was brought to life even more with pastel-hued makeup and bone-straight hair. Models' eyes were painted with icy lavender shadows and light pink lipstick while their hair was straightened, sprayed to perfection and parted down the center to complete the look.
3.1 Phillip Lim
Phillip Lim's newest collection featured glam grunge looks coming down the runway in full force. Models were enhanced with stringy, wet and messy hair, high shine lip gloss and gold metallic nails for a rocker vibe.
Rag & Bone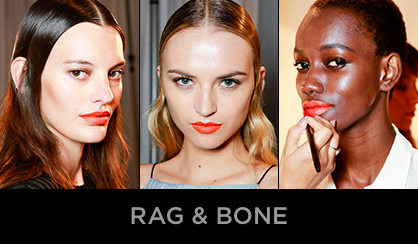 Attendees of the Rag & Bone show got an eye full of bright colors accompanied by modern hairstyles. Models' lips stood out in a bold blood orange hue while hair was slicked down with strands placed in front of the ears and parted down the middle for a solid look.
Prabal Gurung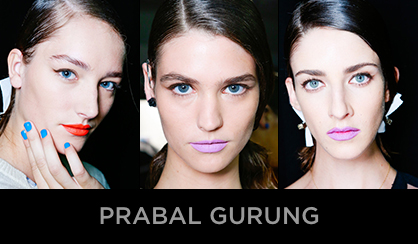 The Prabal Gurung collection exhibited eye-catching colors and ladylike hairstyles. Lips were applied with high pigmented lavender, hot pink and dark orange hues, nails were painted with bright blue polish and hair was slicked back into buns and ponytails with a side part.
Helmut Lang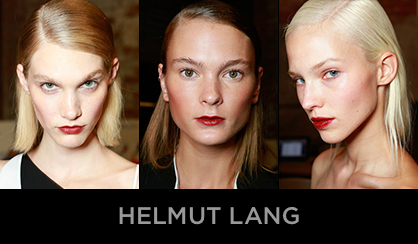 Demonstrating doll-like looks, the beauty of the newest Helmut Lang collection demonstrated primped, feminine and modern styles. Terra cotta-hued blush was applied to the cheekbone while burgundy lip colors were slicked on. Hair was parted to the side and tucked behind the ears for a no-fuss look.
Jason Wu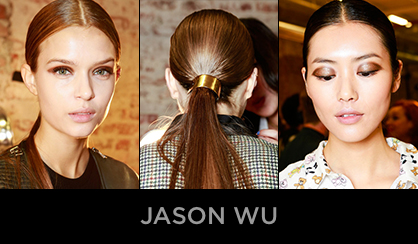 Jason Wu's collection was highlighted by the models' sexy beauty looks. In addition to sleek ponytails wrapped with gold plates, models wore dark bronzed, metallic eye shadows that exuded an amplified glamorous while still springy appeal.
Calvin Klein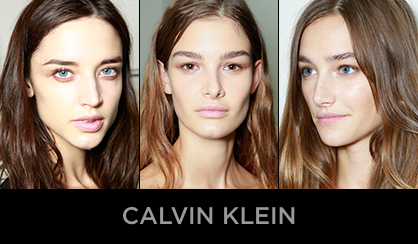 Models from Calvin Klein were styled in a laid black manner for sweet and simple appeal. Naturally long and wavy hair and lightly-bronzed shadows used for contouring were displayed during the runway show.



Read more LUX Beauty
Tagged in: guides, lux beauty, spring 2014, nyfw, beauty, beauty trends,