Save money while giving back with Sharing Spree
People love the satisfaction of getting a great deal, but they love giving back to charities even more. Why not do both at the same time? That is now possible with the daily deal site, Sharing Spree, where buyers can go on a shopping spree and giving spree at once.
"We set ourselves apart by donating 10 to 15 percent of every deal sold to a school or non-profit organization … Every deal goes back to charity, every time, while buyers enjoy a sweet discount," Dana Free, Sharing Spree's national director of community relationships, told LadyLUX.

Sharing Spree is simple. Buyers sign up to receive the daily deal for their city or region. Monday through Friday they receive an email is sent offering special discounts at local businesses, each featuring a different non-profit organization that receives at least 10 percent of the proceeds of the daily deal. Buyers can also visit the company's website, Facebook or Twitter to see the deal of the day.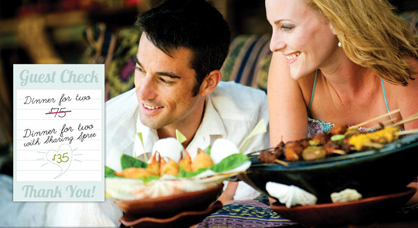 via Sharing Spree
Buyers save 50 to 90 percent on restaurants, spas, salons, retail shops and sporting and theater tickets. From around 150 participating non-profits, they also choose an organization that receives 5 percent of every deal that they buy. This site is a way to save big and give back even bigger. To save even more, buyers can refer their friends and receive a $10 discount on their next Sharing Spree purchase when their friends buy a deal.
"Our studies show that Sharing Spree customers buy more often than the customers of our competitors. This means that although our database is smaller, we have customers who are invested in raising funds for both the featured non-profit, as well as their affiliated non-profit. These customers also have a commitment to helping their communities thrive by supporting local merchants in this tough economy," said Free.
Since January of 2011, Sharing Spree has been providing deals that give back to buyers' communities. Before that, the site could have taken a different route.
"Prior to Sharing Spree, we operated under the MyEZdeal.com name and website. The site built up quick momentum … it donated more than $30,000 to schools and non-profits during roughly six months as MyEZdeal.com. It was time to make small changes with potential for big impact on our charitable dollar amount," said Free. She explains, "The first step was rebranding to make the company and its message known to an even larger and more receptive consumer audience … Our website became Sharing Spree, the currently thriving daily deal site with a big heart," said Free.
Since the site has taken off, so has the potential to raise more funding for its non-profit partners. On April 3, Sharing Spree made its single largest donation ever of $17,500 to the University of Oregon Alumni Association.

"We currently support non-profits and schools in Portland, Ore., Nashville, Tenn., Birmingham, Ala., and Seattle, Wash. Schools and education, primary all the way through university alumni associations, are our main priority," Free said. Other non-profits benefitting from the deals are child-related organizations like the Children's Cancer Association and Make a Wish Foundation.
To date, Sharing Spree has given over $293,400 in donations to non-profit organizations through their daily deals. And with a charitable donation goal of $500,000 this year, Sharing Spree is certainly on the right track. Deals are currently only offered in a few cities, but buyers should be on the lookout for expansion into other cities.
According to Free, "We plan to open Dallas and Austin, Texas, in the next couple of months. Our expansion will be done very methodically and thoughtfully, giving attention to the characteristics in a city that work well with our model of offering deals to communities with a high amount of philanthropy … It has to do with looking outward and seeing the bigger picture in terms of supporting each other in these trying economic times, buying from local merchants and giving back to local non-profits," she said.
To learn more about the daily deal site and to sign up, visit www.sharingspree.com.
Tagged in: charity, causes, online, non-profit, online shopping, daily deals, sharing spree, donations,