Seduction 101: Learn the Art of Burlesque
The glamour and sensuality of burlesque is a way to tease and slowly seduce without revealing too much. Burlesque does not necessarily involve nudity, and if done correctly, can be far more enticing than hardcore stripping.
So, get your burlesque on this Valentine's Day. Buy some va-va-voom lingerie and learn some moves to impress your sweetheart on Valentine's Day, as modern-day burlesque dancers share their tips.
Burlesque dancer Lola Montgomery, who is known as Lola the Vamp and is a burlesque dancer, teacher and student, said that the history of burlesque is fascinating. "In the Victorian era, female troupes such as Lydia Thompson and her British Blondes came out of the emerging European Cabaret millieu (satire, can can, etc.) and toured Broadway with huge success. The form became very popular with troupes emerging over the US. It comprised of risqué text-based parody of popular plays with women playing men but still wearing corsetry and feminine apparel. Gender confusion was key," Montogomery explained.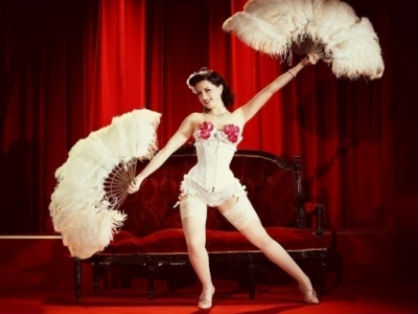 She added, "Burlesque moved to the working class music halls and striptease was added in the 1920s. Women's fashions had become briefer and burlesque upped the ante with striptease. Various stories abound such as a performer accidentally shimmying off her clothing or a dancer stripping off one piece per night to keep the audience coming back. The Golden Age existed until the late 1960s with legends such as Gypsy Rose Lee and Sally Rand touring with their extravagant shows. In the late 1990s, burlesque revival emerged and it going strong today, with a resurgence to rival the past golden age."
"Burlesque can help a woman use her body confidence, sense of humor and sensuality to keep a relationship hot. Burlesque relies on learning how to tease, how to entice and make your audience or lover want more. It's a combination of mystery and reveal," Montgomery said.
To better understand the essence of burlesque, Montgomery said, "Burlesque is the moment when reality takes flight into fantasy. It is wearing a garter under your office clothes, it is performing your ultimate self."
Barbara McNally went from housewife to burlesque pro, as chronicled in her memoir, Unbridled. McNally explained that there are many elements to burlesque.
"Burlesque is the art of the tease. For many people, the idea of sensuality is associated with sexuality. We think of sensual touch, sensual kisses, and sensual moments between the sheets. Being sensual is living in your senses as opposed to your mind. It means connecting to your physical body, as it exists. While being more sensual will make you a better lover, it will also make you more present, creative, vibrant person in general," she said.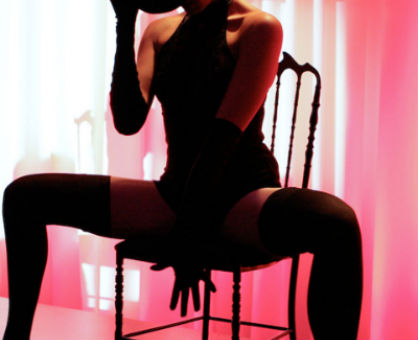 "The art of the tease, whether eating an orange or stripping for your lover, is to move deliberately and slowly. Instead of quickly devouring your orange in the morning, turn the process into an anticipatory experience. When you approach your life in this manner even the most mundane activities take on a heightened level of pleasure and satisfaction," McNally said.
Gorgeous lingerie can make burlesque dancing flow more naturally, as McNally explained, "If we as women feel great about ourselves it's easier to enjoy sexual pleasures."
And you don't have to be model thin, or model young, to successfully seduce with burlesque. "Sexuality is in our mind. That's why I love burlesque--it celebrates a woman's sexual energy at every weight, age and height," McNally said.
Marissa Farrarin, owner of Duane Park in New York City, said it's important to not confuse burlesque with exotic dance. Duane Park is an upscale restaurant with burlesque dancing. "Burlesque is miles away from erotic dance. Exotic dance is meant to evoke a sexualized response, whereas burlesque is meant to entertain and entice the audience. It's meant to be enjoyed by all races, genders and sexualities, whereas erotic dance is generally meant to lead the client to a champagne room," Farrarin said.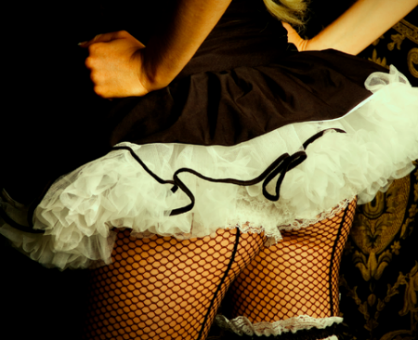 McNally offers five tips for anyone wanting to learn a few simple burlesque techniques in time for Valentine's Day:
Live sensually: experience all your senses, and let your turn off your judgmental mind a few hours. What do you taste, hear, touch, see and smell?
Turn on your favorite music, wear your favorite scent and lingerie, pour a glass of champagne.
Get present: A sensual person experiences each moment totally--and knows that a simple, complete, fully present, deep inhale can evoke as much ecstasy as anything.
Find the sensual energy in everything, your foot rolling through a step, your fingers pulling off your glove, your eyes moving from yourself to your lover. No action is too small to ignite your senses.
Put on a silly costume, get your hair done, wear the red lipstick and live out your inner diva!
McNally also suggests watching videos of Kitten de Ville, who is known as "The Embodiment of Burlesque." Another useful site is the School of Burlesque, run by headmistress Jo Boobs, who has also written a guide, The Burlesque Handbook.
Tagged in: romance, dance, seduce, valentine's day,