Shamila Jiwa reflects on her design inspiration
Growing up in Tanzania, Shamila Jiwa would accompany her father to the local goldsmith, who would design one-of-a-kind jewelry for her mother and her siblings. Little did Jiwa know that years later, her fascination with jewelry would manifest itself in her own collection, aptly named Shamila.
Up until a couple of years ago, Jiwa spent her days working for nonprofit organizations and her spare time making jewelry.
"About eight or nine years ago, I would just make jewelry," she said. "Even though I was a hobbyist, it sold."
Long hours and low pay in her career, however, made her reconsider her path.
"I wasn't satisfied, and it wasn't creative," the designer said. "I took a chance. I built this amazing collection in the last year and a half. All of this coincided with the recession, but I've been doing well."
Her luxury line of jewelry is unique in design and materials. Jiwa has access to some of the highest quality semiprecious stones in the world, and her settings allow them the attention they deserve.
"Some of the stones… I don't know anyone else that's using them," she said.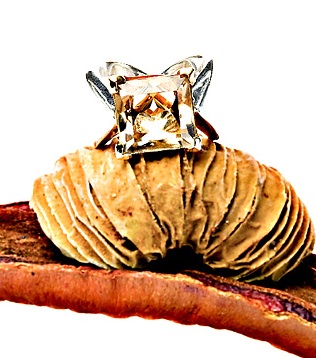 Her upbringing and passion for the world manifest themselves in her design. Whether it's inspired by a Turkish mosque or the tail of a mermaid, each piece tells a story.
A world traveler, Jiwa credits an impromptu trip to Turkey for the creation of her first collection. In March 2009, a friend invited her to Istanbul. She was supposed to be in Thailand the following week and didn't know if she could pull off both trips, but something inside her told her to pack her bags early.
I was like 'There is no way I can go,'" she said. "I went, and I was extremely floored by that city. It's a walking museum. Istanbul feels like home to me."
Noticing the minarets – the slender pillars that decorate mosques – Jiwa decided she would have stones cut to match the design. Thus, the Minaret Stacking Rings.
Storytelling rings very true to the jewelry designer. When she's not traveling the world, she's pondering the past, using her curiosity to inspire her designs.
"I wonder what a maharani in 17th-century India wore? Of course I can go to the library and look up books, but I want to think about it from my perspective," she said. "In the harems, there were all these women… Who got the best jewelry? How did the emperor decide who got the best jewelry?"
Besides enlightenment from history, Jiwa has a constant connection to her trade through her father. Although he died in a car crash when she was young, Jiwa is linked to him through the jewelry he created for her and her mother.
"It's a way to remember him…almost like a tribute," she said. "It's a way to tie my history with him."
She described the pieces, which she mixes with her own, as rich in solid gold yet timeless.
"I'm wearing some jewelry that's 30 years old that he made for us… so when we were older woman, we would have beautiful jewelry to wear," she said.
While in Turkey, Jiwa met a goldsmith and promised him she would come back to work with him. In August 2009, Jiwa returned and so began the initial stages of Shamila.
"I subleased my apartment and got a place on the Bosphorous (river). I barely knew these people and didn't speak Turkish," she said. "I was just going on extreme intuition."
Although it wasn't easy, Jiwa produced an incredible amount of jewelry in two-and-a-half weeks. When she boarded her plane, en route to New York for fashion week, Jiwa had created 50 one-of-a-kind rings.
Due to her connection to charity work, Jiwa has infused the sense of "giving back" into her ware, donating about 10 percent of her proceeds to charity. Her website lists the various organizations she has worked with, including the American Red Cross, Charity Water and the Fred Hutchinson Cancer Research Foundation.
"I like to keep things real," she said. "I want to be able to give back through my work, and I don't want to wait until I'm super-successful to do that."
For more information about Shamila jewelry, visit her website at shamila.com.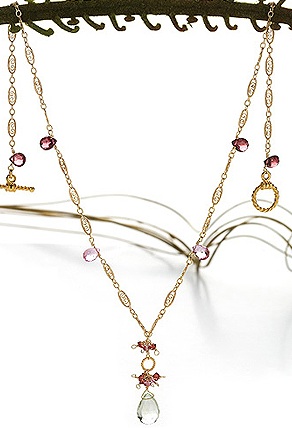 Tagged in: lux exclusives, lifestyle, jewelry, accessories, luxury, travel,