Shopbop launches redesigned site and new user experience
via Shopbop.com
Fall is often thought of as a season of change. The weather starts to cool, leaves change colors and fashion get edgier. Always in sync with trends of the season, it makes perfect sense that Shopbop.com — the originator of fashion e-commerce — would undergo a series of changes to be unveiled throughout Fall 2012, beginning with the site's recent redesign in late August.
Since 2000, Shopbop.com has created an opportunity for newly launched brands to cultivate a global customer base on the web and has interpreted fashion for the customer by showcasing daily editorial features and presenting new trends and designers. Now, the e-commerce site seeks to take its services a step further by creating the ultimate fashion experience with a new look and additional features. By taking the best elements of the old Shopbop.com and adding new and improved ideas, the new design will maximize the user's experience.
"Shopbop is at the center of the convergence of editorial and commerce. The site redesign is an output of the belief that we serve as much as an editorial destination as a commerce destination," said Jeff Yurcisin, president of Shopbop.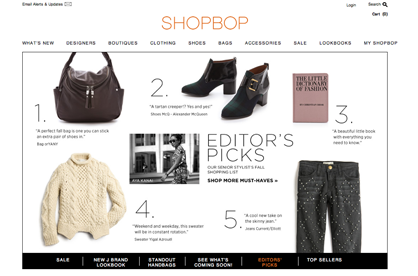 The fresh design will include a homepage of six rotating editorial features and daily editorial content with fashion messages driven by Shopbop's new fashion director, Treena Lombardo. The editorials will include: "Currently Coveting" highlighting mini-trends in apparel, accessories, bags and shoes; "Treena's Top 5/ Fashion Director's Favorites" showcasing a monthly edit of must-have items from Lombardo; "Look We Love Now/Runway to Real Life" with noteworthy runway looks styled in three wearable ways; "Workweek Wonder" featuring key workweek pieces styled in three inspired ways; and "Rediscover a Classic," a classic item styled how the coolest girl would ever wear it.
The site makeover also incorporates a new logo and a more minimal design aesthetic with 60 percent larger product images; a modernized product detail page experience with an auto play video for apparel that allows the customer to virtually touch and feel merchandise; and an upgrade of social media platforms and mobile sites, making it easier and more convenient to share favorite looks with family, friends and followers.
While the website has undergone a series of transformations, perhaps chief among its new features is a humorous video featuring a cast of fashion notables including Rachel Zoe, Thakoon, Rachel Roy, Chris Benz, Staecy Bendet, to name a few. The video will be accompanied by a social game with a fun fashion twist. Players are able to launch designer, stylist or blogger avatars toward target piles of handbags or heels to unlock three levels of achievement. The video and game will be available to watch and play on September 5 on the Shopbop website, Facebook page and Shopbop Youtube Channel.
"The customer today is more sophisticated and educated in fashion. Our objective is to show the product to the customer in the most compelling way," explained Yurcisin. "The adjustment in the background and the addition of video allows us to offer a virtual in store experience on sire, while enhancements in our social media and mobile sites create a holistic brand experience across platforms."
Tagged in: shopbop, rachel zoe, thakoon, e-commerce, rachel roy, site relaunch, jeff yurcisin, chris benz, staecy bendet, treena lombardo, video campaign, redesign website, e-commerce games,