Six ways to style the Little White Dress
The start of the season is always exciting – especially when it's summer. There is something about the warmth of the sun, longer days, endless outdoor activity and relaxing vacations that tickles our fancy. Yet, the best part of the season is perhaps finally being able to flaunt those legs! And there's no better way to show them off than sporting the Little White Dress. It's a must-have summer staple that is versatile enough to be styled in numerous ways for a range of occasions. Get inspired by six ways to dress up or dress down a Little White Dress from James Perse!
Indulge the Little White Dress with prints! Starting with James Perse's darted cami dress, add some excitement by topping it off with Sass & Bide's strong foundations floral jacket. The bold colors of the blazer play well against the white dress, creating a glowing appearance. Accessorize with additional colors from CC Skye's neon multi chain necklace and Rebecca Minkoff's mini 5 zip clutch in bright orange. Finish the ensemble by pulling it together with L.A.M.B.'s Iowa platform wedges in black and Yves Saint Laurent's cat eye sunnies.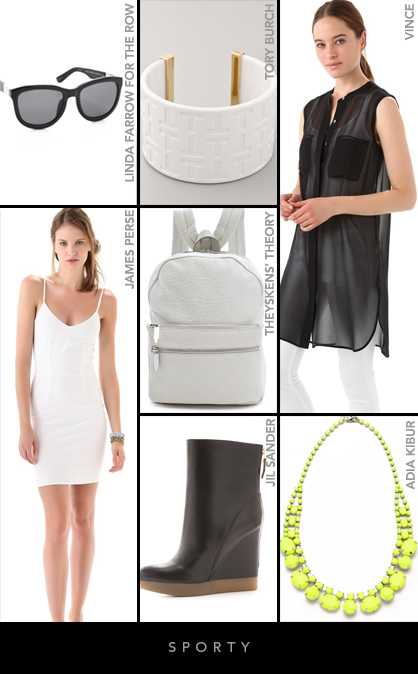 Get sporty with the Little White Dress! Take the dress from the gym to the city streets – or at least create the illusion that you did! To give it that athletic vibe, layer the James Perse cami dress with a sheer tunic by Vince, letting the white peek through for a cool contrast. Combine the look with Jil Sander's wedge booties with a rubber platform and Theyskens' Theory's vera backpack – because nothing says modern sport more than a white backpack. Add on a lucite cuff by Tory Burch, shades from Linda Farrow for The Row and, for a little flair, a neon yellow stone necklace from Adia Kibur.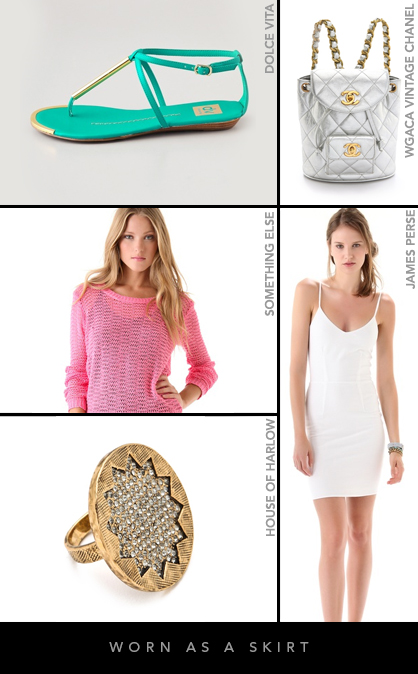 Transform the Little White Dress into the Little White Skirt! The LWD isn't just an easy canvas to style different trends; it can also double as a skirt. Enjoy relaxed, sunny days in a casual chic ensemble that couples the James Perse cami dress with Something Else's string sweater in highlight pink. Toss the sweater over the dress and get comfy in Dolce Vita's archer flat sandals in mint green. Go a little Boho with House of Harlow 1960's sunburst pave ring and a little glam with WGACA Vintage Chanel's silver backpack.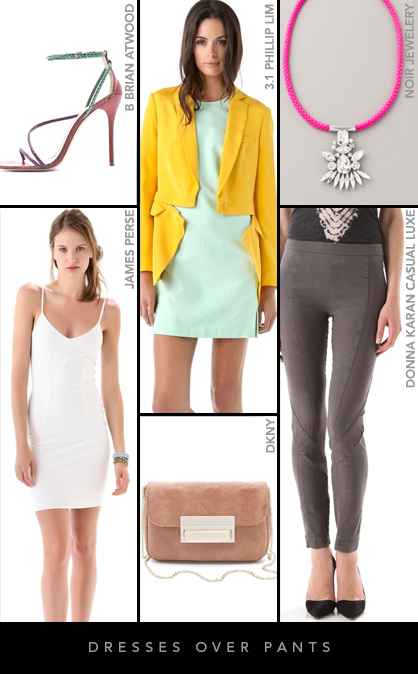 Layer the Little White Dress over pants! With the same bold attitude that transforms the LWD into a skirt, layer it over pants as seen on the Fall 2012 and Resort 2013 runways. The fashion-forward styling can be accomplished by teaming up the James Perse cami dress with slender second skin pants from Donna Karan Casual Luxe. Keeping in line with the fitted silhouette, step into B Brian Atwood's Labrea stiletto sandals and give the outfit a little finesse with 3.1 Phillip Lim's yellow blazer with detachable panel. Finish the look with Noir Jewelry's neon pink crystal pendant necklace to complement the yellow and a Lauren Merkin Handbag.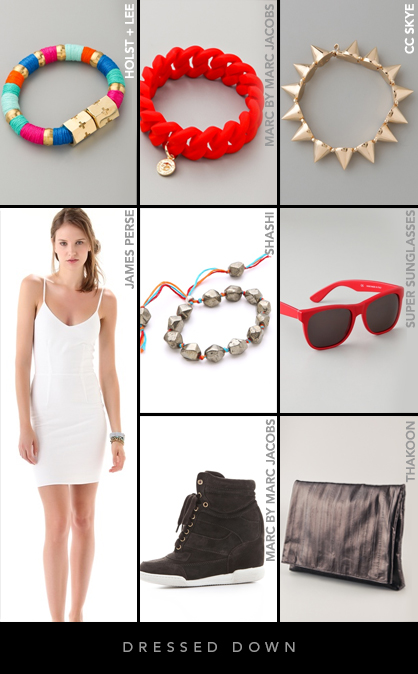 Dress down the Little White Dress! As exciting as it is style the LWD up, it is equally satisfying to dress it down. No need for fuss here with the James Perse dress, just get your pumped up kicks with Marc by Marc Jacobs Standard Supply suede wedge sneakers. Deck out your tanned bare arms with a soiree that includes CC Skye's mercy gold spike bracelet, Holst + Lee's secret garden bracelet, Marc by Marc Jacobs' shock red rubber turnlock bracelet and Shashi's Rosanna pyrite bracelet. Put you Super Sunglasses on, throw your daily essentials into Thakoon's large eelskin fold-over clutch and you're good to go!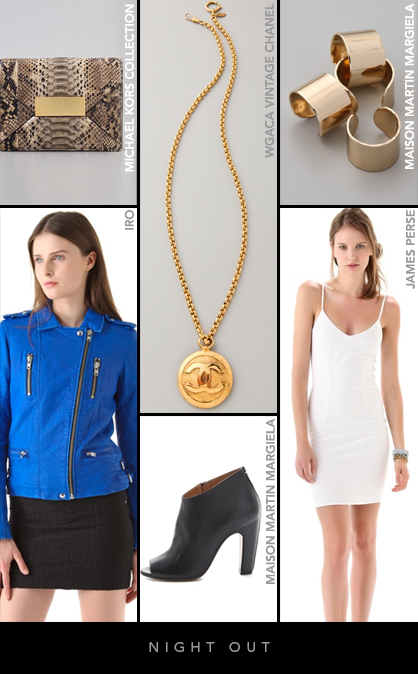 Take the Little White Dress for a night out on the town! There is always the go-to little black dress, but for summertime, replace it with the LWD. Make a statement by pairing the James Perse number with a brilliant blue IRO Anabela leather jacket and extend those legs with Maison Martin Margiela's open-toe heeled booties. Gussy it up with a WGACA Vintage Chanel long necklace and Maison Martin Margiela's gold four-finger rings. Complete the nighttime outfit with some texture from the Michael Kors Collection Quinn python envelope clutch.
Tagged in: guides, shopbop, rebecca minkoff, thakoon, yves saint laurent, style guide, tory burch, cc skye, outfit inspiration, marc by marc jacbos, how to wear, vince, l.a.m.b., wgaca vintage chanel, summer 2012 trends, super sunglasses, little white dress, james perse,