Spring 2012 Apparel Trends: The Spring suit
Creating spectacles of bright colors and exciting prints, suits dominated the Spring runways. Lady LUX noted in Runway Trends that whether in monochrome color, print ensembles or even short options, being matchy-matchy is right on trend this season. It may be a rather bold choice of attire, but, if done right, it could also be pretty darn cool. Don't hesitate; add a Spring suit to your wardrobe for maximum effect.
In a zesty yellow, Rachel Roy's fitted draped jacket and cuffed cropped pant makes for a fun statement. The textured material gives the ensemble extra interest. Play with the color by adding a neutral printed blouse or, to stay on the safe side, pair with a grey and white colorblock tee.
Rachel Zoe's wine set is incredibly chic and the stylist/designer wouldn't have it any other way. The suit jacket boasts a tuxedo flair with padded shoulders, an elongated tail and tonal piping, while the skinny pant is cropped just at the ankle. Let the color take control of the outfit and match with a chic blouse or stylish striped knit. Complete the look with sleek pumps.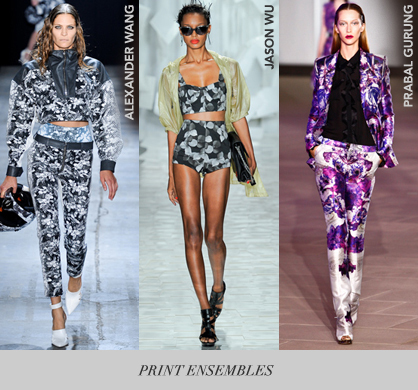 LadyLUX via Style.com
Subtle and sweet, 10 Crosby by Derek Lam's suit look is easily palatable in a light blush. The pants feature a classic bootleg cut with slant hip pockets, while the blazer is simple with a notched collar and single button. With the soft, neutral color, don't hold back on the possibilities. Add more color with a bright minty green pocket tee, or keep the apparel minimal and pair with a neon shoe.
Thakoon is always a source for prints and doesn't disappoint with a chevron print skirt suit. The blazer is infused with solid panels and wing lapels. Sweetening up the look, the matching tulip skirt is flirty and flouncy. Take the matching concept to the next level with the chevron tee and pair with an open toe bootie.
For the casual and effortless crowd, Dolan's knit short ensemble is an easy option. The textured "sunset" knit showcases layers of thin, colored stripes and is contrasted with solid colored sleeves on the open front jacket. The pajama-ish shorts are relaxed with a drawstring and frayed hem. Toss on a semi-sheer white tee and rugged booties to keep it cool.
Roses may usually be red, but in Thakoon's case, roses are black and white. Skinny cotton pants embodying the print are paired with the complementing top. The rose print blouse features a scoop neck and contrasting black sheer chiffon yoke. Add a poetic note with red velvet heeled sandals.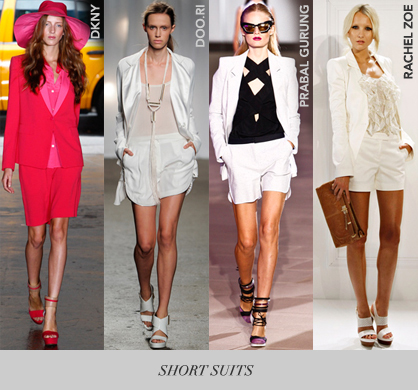 LadyLUX via Style.com
Ombre, floral print and matching? Alexander Wang nailed the best of Spring with his botanical matching set. The jeans are a classic fit with slant hip pockets, while the printed silk button-up is breezy with short sleeves. Contrast the inky blues with a tan clutch infused with a highlighter yellow stripe.
Sophisticated in satin but playful in fuchsia, Bec & Bridge's monochrome suit is the best of both worlds. The blazer is chic with its classic silhouette and pairs seamlessly with the cropped skinnies with ankle zips. Neutralize the vibrancy with a subtle knit top and a simple sandal. Switch to black pairings for nighttime.
Tagged in: trends, guides, shopbop, alexander wang, rachel zoe, thakoon, rachel roy, spring 2012 trends, print ensembles, apparel trends, 10 crosby by derek lam, dolan, spring suit, monochrome suit, bec & bridge,