Spring 2012 Color Trends: Green
As tomorrow is St. Patrick's Day, it only seems fitting to highlight the color green, which also happened to appear on nearly every Spring 2012 runway. Lady LUX noted the hue in Runway Trends as a major color of the season as designers utilized shades from deep forest to mint to sea foam to grass green. The color is quite versatile and lends itself to bright, vibrant ensembles as well as sultry looks. Make sure to wear green while celebrating St. Patty's and continue it through the whole season!
Pleated, black leather skirts are too predictable, so why not change it up with a bold green? Parker's version features an unfinished hemline and a contrasting elastic waistband. The flirty style can be paired with a graphic sweatshirt for a casual affair. To glam up the green, pair with black tights and a unique embroidered cutout shell top. Don't forget the pumps!
To add a dose of excitement to all outfits, Botkier's Leon satchel is the perfect choice. The leather handbag boasts a contrasting blue buckle closure and a zip pocket at the front flat. The boxy handbag can be hand-held or worn with the shoulder strap. Don't try to get matchy-matchy with the bag. Play it up by coupling it with oversized floral prints or an orange blouse or let it steal the spotlight in neutral ensembles.
Blazers are a key item for the season and are even better when colored in Kelly green. Alice and Olivia's Elyse blazer features a classic cut with padded shoulders for a menswear appeal. The tailored number looks sharp against navy tones, striped blouses or shorts. To go effortless, combine with white skinnies and a white slouchy top.
Wedges are the must-have footwear of the season, which makes L.A.M.B.'s deep teal green style irresistible. This wedge is no ordinary wedge, though, boasting a double-stacked platform that towers at an impressive six inches. With simple criss-cross straps, these Spring sandals can be teamed up with your favorite jeans or taken Boho-chic with wide-leg pants and a dolman blouse. Stomp around all season in these!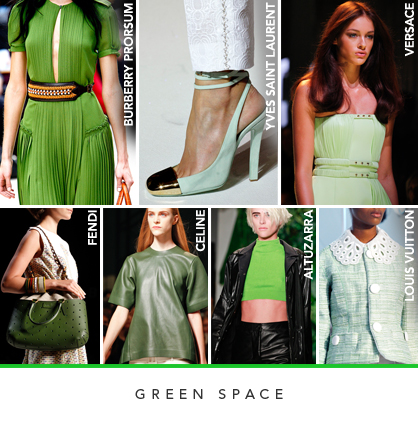 LadyLUX via Style.com
Torn by Ronny Kobo's open knit sweater is the essence of Spring with its beach-to-dinner potential. The top presents rolled edges and long sleeves. Toss it over a playful scroll-print bikini and denim cut-offs for relaxing days on the sand. For dinner, style with taupe sateen skinny pants and nude wedges to balance the color.
Blending favorite trends of prints, sport and a shade of grass green, Roseanna's hooded outerwear is an instant hit. The parka adds interest with elbow patches and flap pockets. Maintain the athletic vibe with a varsity tank or mesh honeycomb knit. Layer over black minidresses for a cool, unexpected twist.
Sweet and simple, Parker's racer pleat dress is an easy look for casual afternoons or to celebrate St. Patrick's. The chiffon piece reveals a scoop neckline and elastic banding at the waist. Top the dress with a denim jacket and gold flats or go classy with a trench coat and cork platforms.
Green isn't usually a go-to color for eveningwear but Yigal Azrouel's maxi dress definitely challenges that idea. The piece embodies elegance with the sleek silhouette and thigh-high slits but adds a hint of athleticism with a drawstring waist. Navy insets emphasize the vibrant tone. Pile on a few chunky gold bracelets or a sleek collar necklace to complete the look and step into single sole sandals to stay minimal.
Tagged in: trends, guides, green, color trends, torn by ronny kobo, parker, spring 2012 trends, yigal azrouel, l.a.m.b, roseanna, botkier, alice + olivia,