LUX Beauty: Spring 2013 Beauty Trends
Spring 2013 is all about eye-popping colors and modern beauty looks. Take your Spring beauty routine to the next level when you master fruit punch lip colors, emerald hues, nude nails or a strong brow. Seen in Spring RTW collections on the runway, these six beauty trends are anything but boring and will offer you a cool and refreshed look for Spring in a flash!
Fruit Punch Lip Color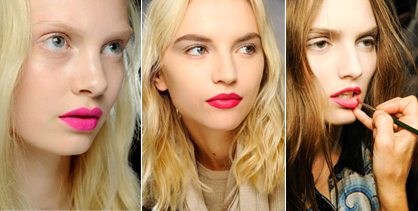 Pump up the volume in your main lip color for the season. Flashy fruit punch shades of fuchsia, watermelon and coral will do the trick of bringing just the right amount of attention to the lips. Wear your bright lipstick matte for a look that is less harsh and messy but still fun.
Emerald Hues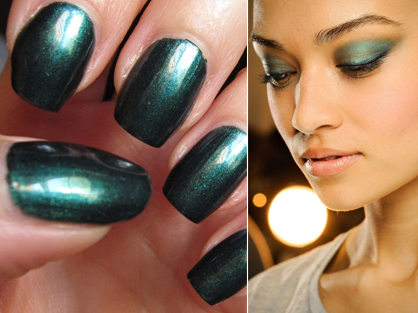 Although emerald is a darker jewel tone hue, this 2013 Pantone shade can definitely be incorporated into your Spring beauty routine. Paint the sparkling green color on your eyes, lashes or nails for a rich shade that will complement any skin tone.
Far Side Parts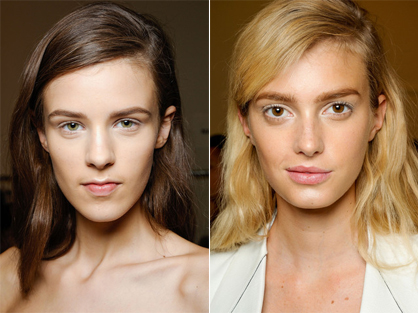 Just when the 90s middle part was making a comeback, designers created an edgy hairdo that stands out from the crowd. A part on the far side of the head makes it appear that you have more hair and voluminous hair. Use a good styling gel and hairspray so your side part and hair swoosh stay intact.
Nude Nails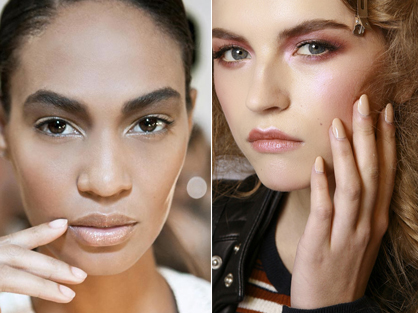 Spring can call for the craziest or most subdued of all nail colors of the year. Tone down your nail beds by going neutral throughout the season with nude shades. Beiges, mochas and khakis work well for a subdued color. But if you're still craving a bit more color, use pale pinks and light greys.
Strong Brows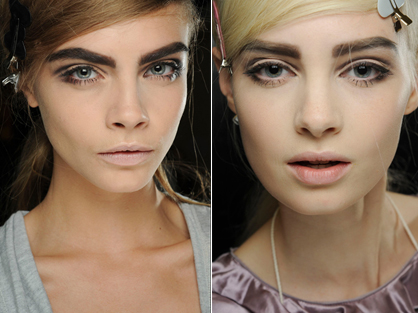 Maybe a bit more appropriate for Winter but still trending during Spring, strong eyebrows made a statement on the runway. Stand out with eyebrows shaded dark with thick, angular arches. Pair your bold brows with a fruit punch lip color to rock a haute couture beauty look every day.
Messy Buns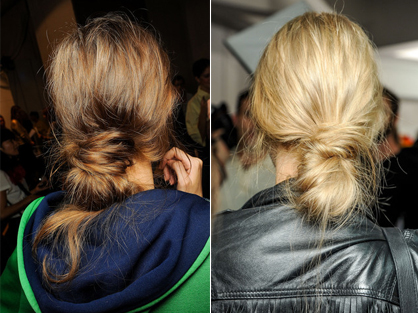 The chignon bun has been all the rage lately, so designers and hair dressers decided to turn in the other direction completely. Worn low, loose and messy on the nape of the neck, this modern take on the bun will be the easiest go-to hairstyle of the season. For extra girlie appeal, stick a small flower in it to exude more of a Spring-time feel.
Tagged in: trends, guides, makeup, beauty, spring 2013, nails, beauty trends, hairstyle,