Spring 2013 color trends
In Spring 2013, color takes over. If designers were aiming to offer a sense of rebirth to the season with a new range of shades, they nailed it. Explosive colors of bright pink, yellow and blood orange quickly dominated the early fashion weeks, and were followed by vibrant green and tones of aqua. But these vivid stunners didn't get all the fun. Soft shades of light lilac and iced blue were worked into collections, evoking thoughts of tranquility and sophistication. In a more futuristic arena, metallic silver as well as colored metallics have progressed further into apparel, offering interest on classic silhouettes. It was a season of freshness with colors to prove it.
Aqua picked up where sea foam green left off last Spring. The fun shade was seen in head-to-toe looks on Gucci's suits, Cushnie et Ochs' dresses and Oscar de la Renta's unexpected evening gowns. Accessories and sandals made a splash in reptilian skin and metallic shine versions.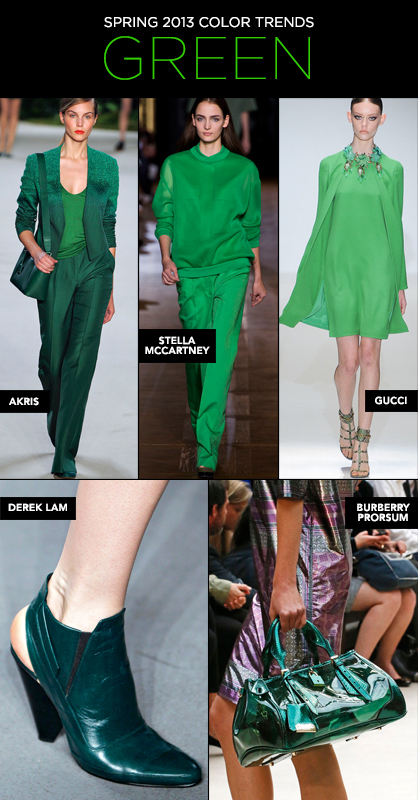 In vibrant tones, green was a standout. From punchy to forest, the color appeared on monochrome ensembles, easily displaying its versatility with workwear looks from Akris, a sporty feel from Stella McCartney and romantic polished dresses by Gucci. Green handbags and booties added on a surprising element.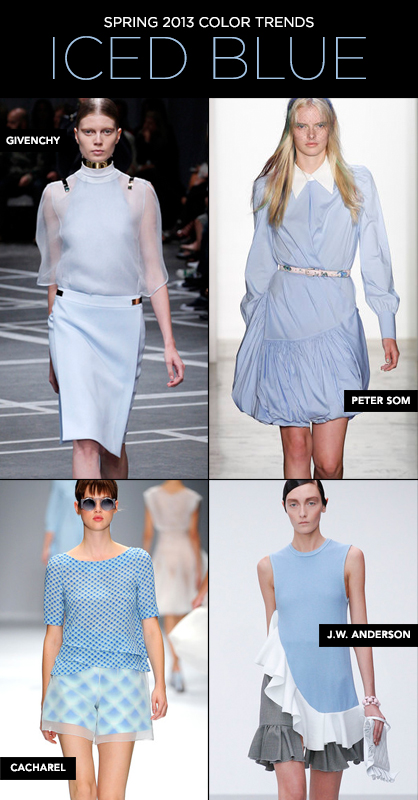 Iced blue discovers a soft, calm essence that lends sophistication to apparel. Daydresses and skirts felt simple yet stylish all at once. Givenchy's pencil skirt and sheer blouse ensemble was made modern with gold accents while Cacharel's prints were playful and Peter Som's went prim and proper with a collared ladylike shirtdress.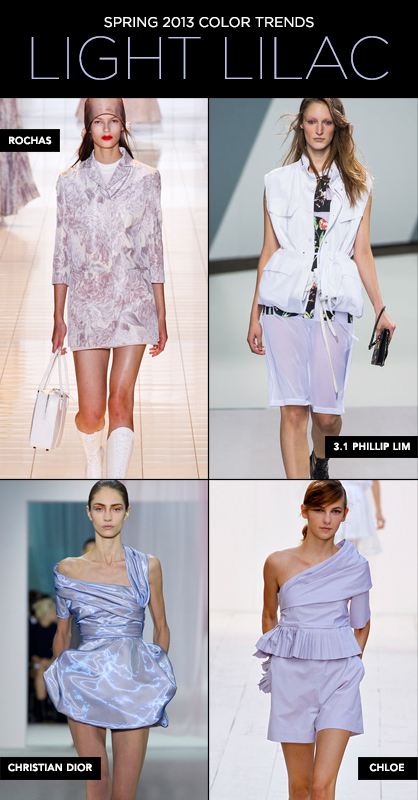 Light lilac ventured down the same road as iced blue, except it veered more towards girliness. The color was delicate in pleats or prints, as seen by Chloe and Rochas, respectively. Christian Dior added some sheen and iridescent shine to give the light tone sassiness. 3.1 Phillip Lim gave lilac attitude with sheer '90s grunge knee shorts styled with a drawstring vest.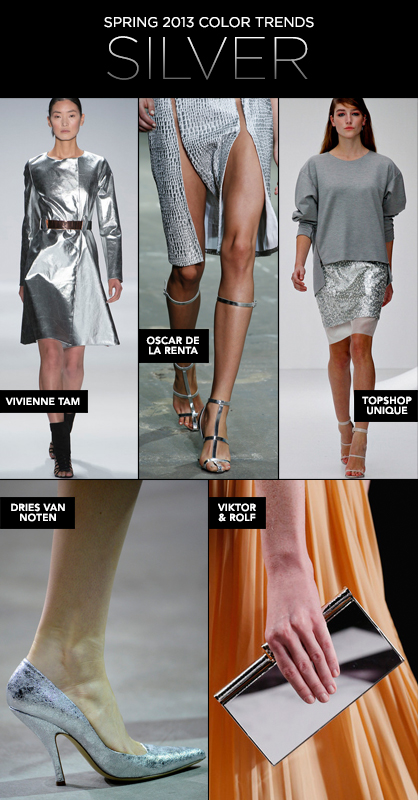 In Fall 2012's era of opulence, gold reigned supreme, but Spring is a different story. Silver beats out gold with its futuristic space-age edge. Previous seasons have seen silver pants and now the metallic works its way into skirts, coat dresses and an assortment of accessories and shoes. The color gives Alexander Wang's floating cutouts and gladiator sandals the revolutionary feel they need while lending an athletic note when combined with grey as achieved by Topshop Unique. Vivienne Tam's slick long-sleeve dress feels astronaut chic with its extra shine.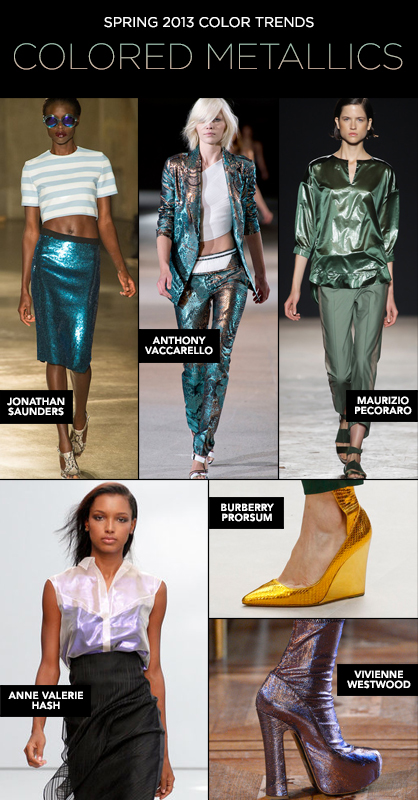 While silver works as a neutral metallic, colored metallics have all the fun. Purple, teal, green and yellow find iridescence and high polish finishes that are reminiscent of cellophane. Anthony Vaccarello shook up the classic pantsuit with teal and bronze reptilian materials; Maurizio Pecoraro and Anne Valerie Hash gave simple blouses a unique touch with a bit of luster; and Jonathan Saunders mixed preppy iced blue stripes with a blast of glimmering teal. Boots and wedge pumps are reenergized with all-over shimmer.

Tagged in: trends, stella mccartney, alexander wang, givenchy, gucci, spring 2013, runway, color, chloe, oscar de la renta, chloé, runway trends, cushnie et ochs, color trends, spring 2013 trends, rochas, topshop unique, vivienne tam, metallics, akris,