Spring 2013 must-have footwear trends
Sandals usually reign in this season, but that wasn't the case for Spring 2013. While they weren't completely absent, designers seemed more focused on pumps and spring cutout versions of boots, which also lead to the resurgence of gladiator sandal boots – easily the most talked about footwear trend of the season. Extreme style aside, designers including Burberry Prorsum, Balmain and Gucci were still in consensus about classic single soles. Platform heights were once again only raised for wedges, a category that continues strong. Also carrying on, yellow, last spring's color du jour, has progressed into shoes as a must-have shade along with silver.
The revival of the gladiator shows it is, without a doubt, fit for a warrior. The new runway versions utilized intricate looped straps, panels, hardware and buckles. Versace, Alexander Wang and Altuzzara crafted styles that were just about knee-height while Rick Owens chose mid-calf. Gladiators discovered modern territory when paired with Proenza Schouler's boxy oversized vests or tailored looks with a lingerie edge as Versace demonstrated.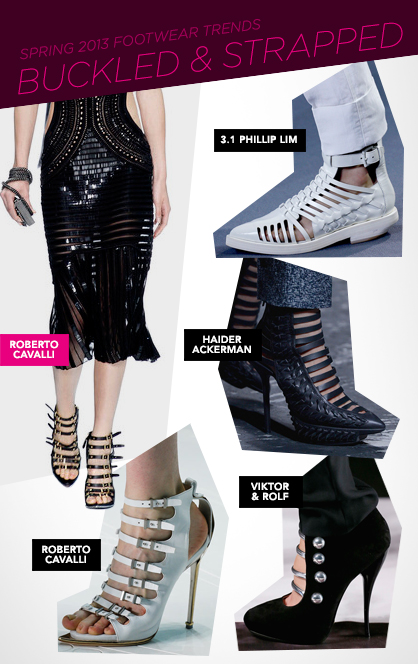 Riding the myriad of straps and buckles theme, Spring sandals were more like booties. The hybrids were both open and closed toe with skinny straps as coverage. 3.1 Phillip Lim took on a huarache-inspired look with his flat sandal. Haider Ackermann and Roberto Cavalli opened up booties with straps from the ankle to the toe. Viktor and Rolf's two-tone opened boot had a similar effect with silver bands.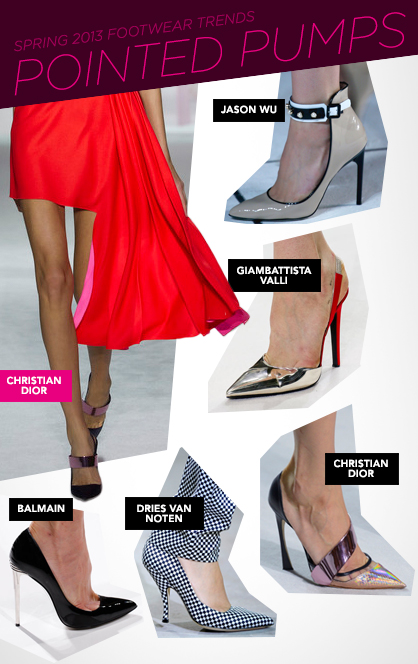 Designers still remained on the classic side with pointed toe pumps. The sharp toe silhouette was matched with thin stiletto heels this season and received small updates. Balmain jump-started the traditional patent style with an etched silver heel and a faceted toe, while Giambattista Valli and Christian Dior played with mixed materials. Ankle straps by Jason Wu offered interest while Dries Van Noten went graphic all-over to grab attention.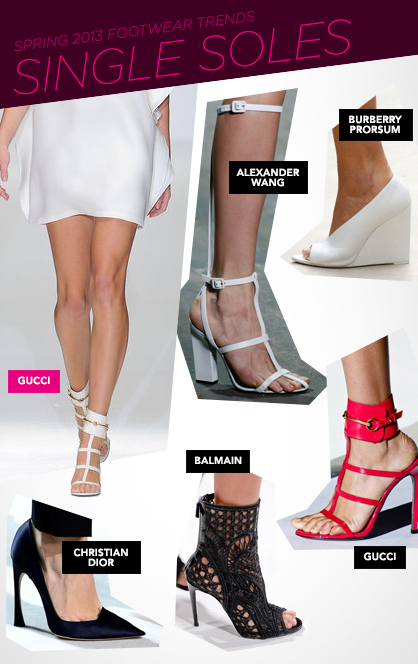 The single-sole continues in popularity as it dominates the runways and every category. From boots to wedges to pumps and sandals, the thin sole was the sole of choice. The simple style was teamed up with understated uppers by Burberry Prorsum and Christian Dior, as well as complex options, as shown by Balmain and Alexander Wang. Results were clean, chic and modern.
Minimalist wedges may have seen single soles, but designers went sky-high with platforms for over-the-top carved wedges. The season's showstoppers were reminiscent of statues and sculptures from history. Dolce and Gabbana had a Sicilian woven-basket theme that translated into a colorful kitschy heel with raffia straps. Donna Karan etched floral designs into her wedges while Emilio Pucci crafted dragon figures and Prada's illusion style was adorned with flowers.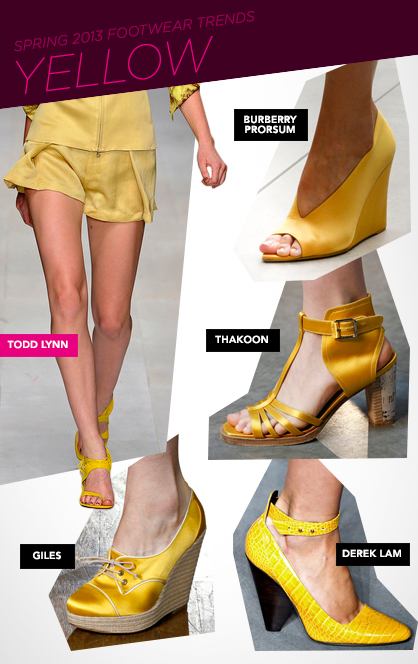 Yellow was a prominent color for 2012 and it looks like 2013 will be a similar story. The sunshine color offers a pop of brilliance on footwear creating an unexpected vibe. Shades of yellow appeared on wedges, pumps and sandals in various materials. Derek Lam brightens crocodile, Thakoon and Giles Deacon zinged up satin and Burberry Prorsum made leather more vivid than ever.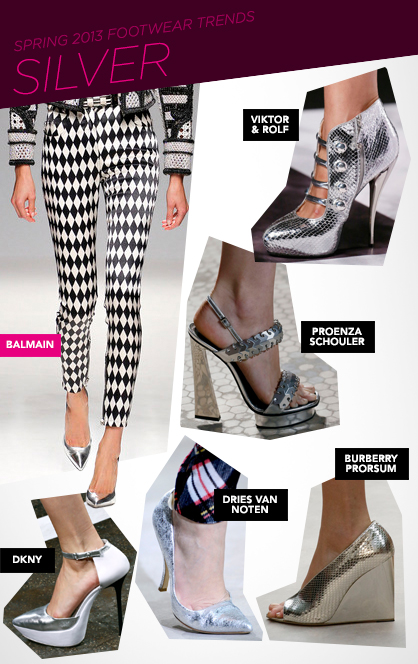 On the other end of the spectrum, silver shoes were the new neutral. The metallic color was seen in every category from hybrid booties to heeled sandals to wedges, presenting an effortless chicness. Silver easily paired with Balmain's black and whites or colorful prints as Dries Van Noten suggested. Designers went with matching tonal heels, DKNY being the exception with its sporty silver, white and black ankle strap pump.

Tagged in: trends, footwear, alexander wang, prada, spring 2013, runway, 3.1 phillip lim, proenza schouler, jason wu, burberry prorsum, emilio pucci, thakoon, versace, christian dior, runway trends, dkny, wedges, balmain, spring 2013 trends, giambattista valli, roberto cavalli, donna karan, giles deacon, dries van noten, footwear trends, gladiator sandal boots,