Spring 2013 must-have handbags
Spring 2013 had an exciting outing of spectacular footwear and handbags were no different. Designers had a fun season updating classic styles including the top handle bag and the classic shoulder flap bag while also adding some new ideas into the mix. Plastic vinyl appeared as a must-have material while yellow was the color du jour. Smaller, more compact options like the miniaudiere and flat bags continued to trend over the oversized silhouettes of previous seasons. As Spring is the time for new beginnings, it's also the time for a new handbag selection.
The top handle bag has been gaining traction since its Fall 2012 appearance on the runways and for Spring, the ladylike style is refreshed with new materials and interesting shapes. Boxy structures were an easy favorite as shown by 3.1 Phillip Lim, Marc Jacobs and Marni. The latest versions saw an entertaining dose of prints from floral to striped variations. Burberry Prorsum's doctor bags saw shiny reptilian skins as well as plastic vinyl and Giorgio Armani went with a retro shape modernized with a metal handle.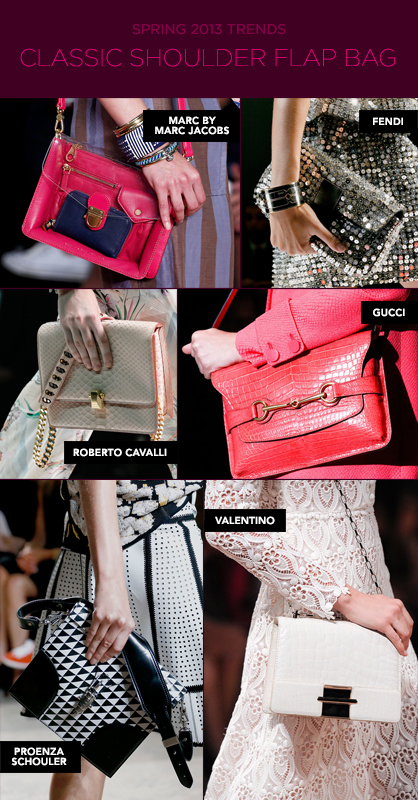 Reviving another timeless look, the classic shoulder flap bag emerged to replace the crossbody bag that has been popular for multiple seasons. The chic bag has a shorter shoulder strap and squared proportions. Buckle hardware is a key to the style, adding a touch of lux as demonstrated by Valentino, Gucci and Roberto Cavalli. Proenza Schouler and Fendi amped up their renditions with graphic materials and sequins, respectively.
Designers also looked to vinyl plastic in clear or colors to lend an upbeat vibe. Burberry Prorsum rejuvenated the typically serious doctor's bag with a ray of yellow sunshine and Holly Fulton juxtaposed bright pink vinyl with snakeskin. Designers Jenny Packham and Valentino went the clear route with see-through clutches while Marc by Marc Jacobs used the material for a cool illusion in his classic shoulder flap bag.
Small and convenient, miniaudieres move forth for evening or daytime options. Rounded cases are adorned with embellishments as Bottega Veneta illustrated. Burberry Prorsum, Chanel and Jason Wu modernized the idea with squared cases in plastic or metal. Lanvin went playful by creating a silhouette inspired by the perfume bottle.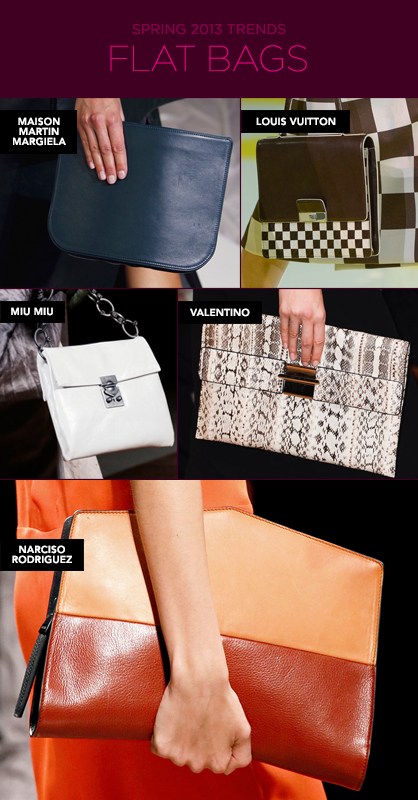 Flat bags maintain the minimalist theme with a modest use of space. In clutch form or as a shoulder flap bag, styles were thin with just enough room for essentials. Louis Vuitton crafted the top handle flap bag with a retro appeal; Narciso Rodriguez and Valentino had a more present day interpretation with colorblocking and snakeskin; and Maison Martin Margiela was plain and effortless in a dark shade of blue.
Shades of yellow caused a stir with footwear in Spring 2013 and have also taken over handbags. The vibrant color punched up clutches, top handle bags and totes alike. From light shades at Gucci and Louis Vuitton to orange hued at Akris and mustard at Derek Lam, the popular color appeared in monochrome ensembles or complementing prints. Smooth leathers and crocodile embossed were among the textures found in yellow.
Tagged in: trends, louis vuitton, gucci, spring 2013, runway, fendi, 3.1 phillip lim, proenza schouler, chanel, valentino, jason wu, derek lam, runway trends, maison martin margiela, spring 2013 trends, roberto cavalli, handbag trends, marc by marc jacbos, marni, narciso rodriguez, top handle handbags, flat bag, classic shoulder flap bag, lavin, miniaudieres,