Spring Couture 2011: Chanel
While couture shows are usually a time to advocate over-the-top evening wear, Chanel surprisingly served up a mix of looks during its Spring Couture 2011 show on Tuesday that boasted even—dare I say—cocktail casual?
Mixed in between the classic tweet suit and sheer shifts were button-up pants that appeared to be constructed from faded denim. Yup, jeans on the Chanel runway.
If you're going to spend thousands of dollars on couture clothes, should you opt for once-in-a-lifetime or everyday wear? There's an argument to be made that the latter would be more cost efficient. But I don't want to get a hole in my Chanel jeans, if you know what I mean.
I digress.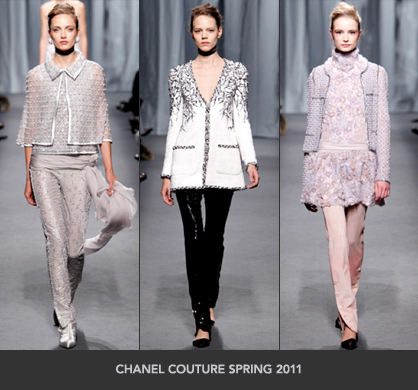 Nevertheless, the collection was lengthy and cohesive. Sequins were the embellishment of the season, adorning blazer lapels, sleeves and, of course, trousers. Classic trousers were traded for a glittering sequin pair, which were seen with conservative tweed coats or used like leggings with a skirt.
Although black was occasionally incorporated, most of the collection's palette was in shades of baby blue, pink, peach, lavender and gray.
There were an array of evening looks, from frilly frocks to sheer, impeccably detailed separates, such a silver capelet with a matching blouse atop an embroidered pant tied with a silk sash.
Femininity oozed from the flirtier pieces, such as billowing skirts, which were embellished with fur or fabric that resembled feathers.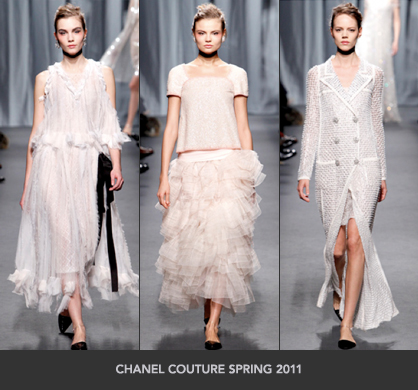 Designer Karl Lagerfeld surprised the show, saying goodbye in a navy suit. Lagerfeld has said in interviews that he's moving away from black since it doesn't always look the best in photographs. So, you see, not just couture is changing.
Tagged in: spring, chanel, karl lagerfeld, 2011, couture,