Spring Couture 2012: Versace
It's been some time since Versace has created a couture collection – since 2004, to be exact. After eight years of absence, Donatella Versace has finally addressed the industry with a Spring Couture collection that takes inspiration from a futuristic warrior mindset, but an alluring one nonetheless. As Style.com reported, backstage at the show, Donatella said, "I call them my warrior women." These warrior looks were designed specifically to take the red carpet head-on. After all, it is a battle to the top of the best-dressed list.
The Atelier Versace story began with soft gray lace looks but quickly switched gears to a more daring note. The futuristic warrior collection was not the traditional couture Paris is used to seeing. While the gowns may still be body-accentuating hourglass silhouettes, tulle was traded in for gold metal insets, creating an exaggerated sculptural effect at the hips and shoulders. Versace also opted for loud neon green, yellow and orange instead modest palettes, and replaced extravagant beadwork with plastic paillettes.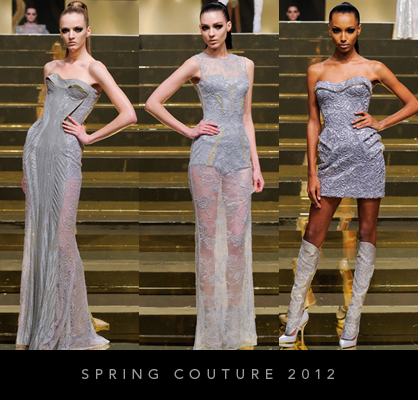 LadyLUX via Style.com
Donatella clearly was after a different kind of glamorous this season. It was an obviously sexy collection with a bold, in-your-face attitude. The pieces made use of the new elements in one-shoulder or bustier-top gowns that further raised the bar with thigh-high slits and intensely short, encrusted, strapless cocktail numbers. A vibrant yellow playsuit with gold metal accents was mixed in among the gowns – a serious look that only an over-the-top fashionista could pull off without harsh critique.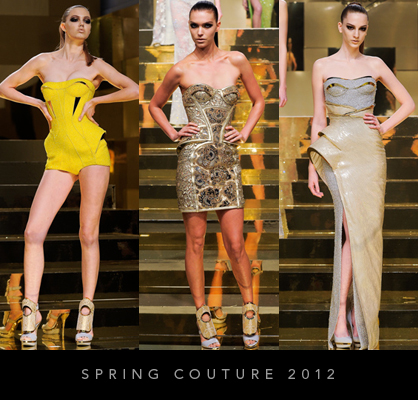 LadyLUX via Style.com
The collection in its entirety had mixed reviews. Perhaps the deviation from the usual standards of couture is to blame. Or perhaps Donatella has been so focused on the other end of the spectrum with an affordable H&M line that her couture is a bit rusty. It has been almost a decade, after all. But whatever the reason, given the right actress, it's possible that any of the 15 ensembles could deliver a golden Hollywood moment.
This article was contributed by Annette Tang of the VersaStyle. You can follow Annette and her fashion adventures on Twitter at @theversastyle.
Tagged in: paris, runway, versace, couture, donatella versace, atelier versace, spring couture 2012, donatella,