Spring/Summer 2012 Trends: Animal face tees
From the runway to the streets, tigers, lions and Rottweilers have been stampeding through to mark their territory. The fierce animals have appeared on t-shirts and tanks since Christopher Kane's legendary gorilla tee from his 2009 Spring ready-to-wear collection inspired by "Planet of the Apes," and more recently, Givenchy's Rottweiler revival in Pre-Fall 2012 made a big impression. But the territorial takeover doesn't stop there. The beasts have quickly gained in popularity as designers like Stella McCartney, Emma Cook and Philipp Plein created growling versions of their own. The bold trend will easily carry into the Fall as a staple layering piece, so stock up on animal face tees now!
Wildfox White Label snow leopard tee is a special edition shirt inspired by the designer's personal photos, paintings and inspiration. The semi-sheer jersey top displays ribbed banding at the crew neck and a white leopard graphic across the front. Pair the top with white pants for a monochrome look or with colored skinnies for summer.
Stella McCartney roars with a leopard blazed across a grey organic cotton t-shirt. The feline's piercing eyes shine through with a hint of aqua. Dress up the tee with a black flared skirt and booties.
About as lux as you can get, Philipp Plein's ferocious tiger is studded with crystals. The black tee reads, "unleash your beast" on the back. Get in touch with your inner wildcat and pair the top with leather pants.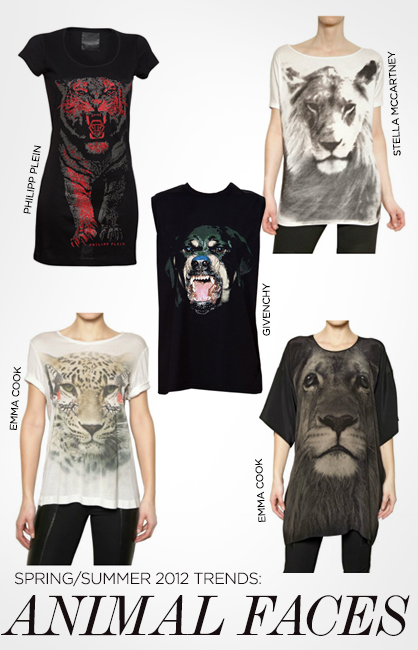 And if clear crystals aren't fierce enough for you, try Philipp Plein's red version. The tiger is accented in red crystals to create a striking image. Try combining with unexpected wide leg pants and a leather motorcycle jacket for a chic style.
In a black and white image, Stella McCartney's lion has strength yet gentleness to it. The printed organic cotton t-shirt could easily be styled with your favorite jeans or matched with a blazer for a power look.
Possibly the most coveted of them all, Givenchy's Rottweiler comes to women after initially being created for menswear. The Rottweiler print jersey tank top can be pre-ordered just in time for Pre-Fall ensembles. Imagine the top with a military jacket or paired with red pants or even layered over a long-sleeve shirt. Go edgy with it.
Emma Cook joins the prowl with a printed leopard modal jersey t-shirt. The white style with the leopard face makes a wild statement. Team up the shirt with a pencil skirt for a unique contrast.
Doubling up as an elongated shirt or a dress, Emma Cook's lion print crepe de chine dress has a chic, dark feel. You don't need anything other than black leggings and killer heels.
Tagged in: trends, stella mccartney, givenchy, apparel, christopher kane, philipp plein, springsummer 2012 trends, emma cook, springsummer 2012, animal face t-shirt,