Style Week OC concluded with Finale Fashion Show benefiting FIDM Museum Fashion Council
After four days of celebrating fashion with exciting events, Style Week OC closed with the Finale Fashion Show and Cadillac: Couture Design Competition at Fashion Island, Newport Beach, Calif. The sold out runway event and cocktail party was a combination of style and charity as proceeds benefited the nonprofit FIDM Museum Fashion Council in its philanthropic quest to acquire the Helen Larson Historic Fashion Collection.
The presentation kicked off after cocktails and hors d'oeuvres with the Cadillac: Couture Design Competition that challenged FIDM students to design innovative evening gowns that incorporated parts of a car. Stunning looks graced the runway as the carmaker's stimulating commercials played on a big screen. The excitement continued as Kevin Jones, the curator of FIDM Museum, introduced the latest Fall 2012 trends from Neiman Marcus, Nordstrom, Rebecca Taylor, Vince, American Rag Cie and Gary's. There was a plethora of leather pants, fur vests, knee-high boots, snakeskin prints and cocktail dresses to thrill fashionistas.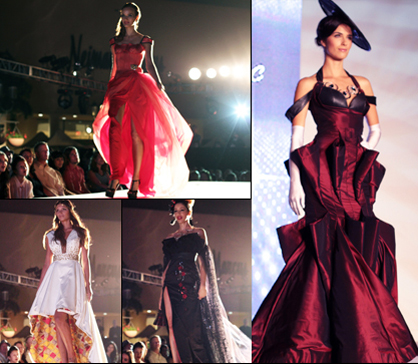 Jones was thoroughly pleased with the successful turnout of the Style Week OC event that contributed to the FIDM Museum's $2.5 million goal to purchase the historic fashion collection. Gathered over a fifty-year period by Los Angeles-based historian Helen Larson, the impressive compilation would be impossible to duplicate today. The assortment includes women's, men's and children's clothing dating from 1600 to1950 with notable garments associated with Queens Victoria, Alexandra and Mary of England and haute couture pieces from Chanel, Vionnet, Doucet and more.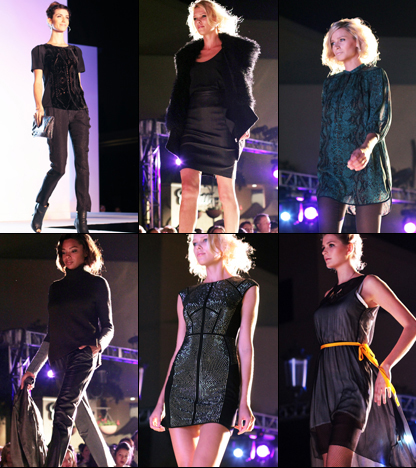 "This is an amazing event! This is actually the first time I have been to Style Week OC and what an amazing introduction. The mere fact that they chose the FIDM Museum Fashion Council to be the charity of the evening and all the funds tonight goes towards the incredible Larson collection that we are working to raise 2.5 million dollars for that is going to benefit all of us. So, thank you Style Week OC!" shared Jones.
The acquisition of the 1,100-piece Helen Larson collection will launch the FIDM Museum into the international realm of European fashion studies. Currently, the museum's collection ranges over 200 years, from 1800 to the present day. The collection would increase the timespan to 400 years. The capital campaign will continue to seek help over the course of four years.

Tagged in: neiman marcus, causes, fashion island, philanthropy, fidm, fidm museum fashion council, style week oc, fashion show, cadillac, helen larson historic fashion collection, chairty, kevin jones,