Summer beauty tip: Meet the new tinted moisturizers
Bringing together the best of both worlds, tinted moisturizers are a great way to be fresh and dewy while hydrating your skin. With summer around the corner, tinted moisturizers provide a lightweight alternative to foundation for sheer, natural-looking coverage.
While running around in a tank top this summer, you don't want a heavy, caked-on make-up face. Tinted moisturizers give a light look and are better for your skin than foundation, as they don't clog your pores. Whether you are advancing in age and have more wrinkles, are a young teen not wanting a heavy look or just want a softer glow for your skin, tinted moisturizers can do it all. (So be sure to read below for which products we recommend.)
Carina Lindgren, owner/makeup artist/esthetician of Flawless Faces Makeup & Skincare Lounge in Costa Mesa, Calif., is a big fan of these products. Tinted moisturizers are one of her favorite ways to create coverage. "It gives great coverage for just being a tinted moisturizer versus having a foundation look," Lindgren said.
Lindgren reports it is quick and easy option. "If you don't want to layer on other moisturizers underneath, you don't have to … If you are someone who is on the go and not a big makeup person, it can still give you coverage to even out the skin tone without all the extra layers."
The only downside, says Lindgren, would be if you need strong coverage, perhaps to conceal dark circles or acne. For those with relatively good skin, tinted moisturizers often cover enough even as a stand-alone product. For an evening out on the town, however, she recommends foundation.
Today's batch of hydrators go beyond concealing, they protect skin with anti-aging, anti-acne, SPF, antioxidants and brightening properties. With just one product, you can nourish and protect your skin with invigorating ingredients.
When it comes to selecting your tinted moisturizer, Kim Magenheim, esthetician/skin care specialist at Euro Day Spa in Laguna Niguel, Calif., said it really depends on the brand and ingredients. She advises going natural rather than chemical.
High on her list to look for are antioxidants, which fight free radicals -- the main cause of skin aging -- and minerals, which draw moisture to your skin. She recommends only buying products containing SPF.
"If I was looking for tinted moisturizer, I would absolutely make sure it offered an SPF … Especially when you are looking for anti-aging properties, you want to make sure you are wearing an SPF. The quickest thing that will age us is the sun," Magenheim said. She recommends wearing SPF daily.
She believes people should go with one product with everything (i.e., the tinted moisturizer) rather than a number of products to achieve the same effect. You may use serums underneath, but most tinted moisturizers, she said, are a "one stop shop."
And one application is all you need. "Once in the morning and you are pretty much set to go," Magenheim said.
Makeup, she says, can hurt your skin by clogging your pores, leading to breakouts and blackheads. "With tinted moisturizers (unlike makeup) you wash your face at the end of the day and it all comes off," Magenheim said.
To apply the tinted moisturizer to your face, you can use your fingers and massage it in like moisturizer, said Lindgren. If you desire more coverage in one area, put a drop at the place and pat – not wipe, as the product is light – where you want more coverage. Alternatively, you may use a brush or sponge.
TINTED MOISTURIZERS TO CONSIDER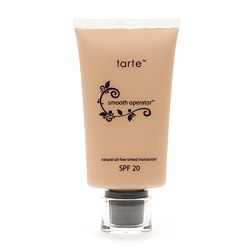 Tarte's Smooth Operator Tinted Moisturizer
Give your skin a healthy glow with this Amazonian clay-tinted moisturizer with SPF 20. It really packs a punch, full of "skinvigorating" ingredients such as chamomile extract, ginseng, lemon extract, orange extract, mineral pigments and vitamins. The weightless formula will keep your skin smooth and looking its best.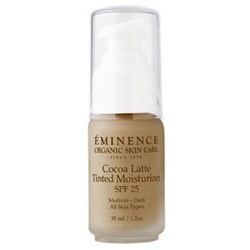 a href="http://www.eminenceorganics.com/products/index.php?paid=1#532">Eminence Organics Cocoa Latte Tinted Moisturizer SPF 25
This moisturizer comes with a medium to dark tint for good coverage, leaving you even, and SPF for protection from harmful rays. Not only that, it contains natural ingredients, such as shea butter to repair and moisturize, aloe to soften and calm the skin, and linden tea to supply bioflavonoids. Perfect for dry skin.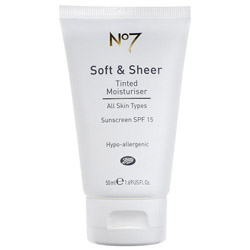 Boots' Soft & Sheer Tinted Moisturizer
This tinted moisturizer enhances your skin with translucent color to even out your complexion. The built-in sunscreen hydrates and protects against aging. Suitable for all skin types – even sensitive skin -- the product deserves note as hypo-allergenic and dermatologically tested.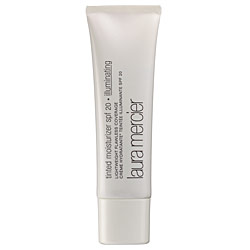 Laura Mercier Tinted Moisturizer SPF 20
Multitask with one product. Laura Mercier Tinted Moisturizer offers SPF 20 to guard against sun damage, along with a lightweight moisturizer to nourish the skin. Adds a healthy glow, giving you a flawless complexion without heavy foundation. Available in oil-free for those concerned over too oily skin.
By Terry's Éclat de Rose Sheer Tinted Moisturizer
Both smoothing and comforting for the skin, this tinted product mixes a hint of color with skincare active ingredients, freshening your complexion. Musk Rose extracts inspire tissue regeneration and keep skin hydrated for suppler and plumper skin, while Rosa Canina extracts (rich in antioxidant flavonoids) provide strong protection and Rosamine creates a radiant look.
Let us know if you have used one of these and which tinted moisturizer you recommend!
Tagged in: lux exclusives, makeup, skin care, summer beauty, beauty tips, foundation, expert advice, tinted moisturizers,