The Best Subscription Boxes
Subscription boxes have taken the e-commerce world by storm, and it's no wonder. Who can say no to treating yourself once a month? Whether you'd like to try more beauty products, become more fashion savvy or find new lifestyle items, there is something for everyone. We've rounded up the top three beauty, lifestyle, fashion and men's subscription boxes.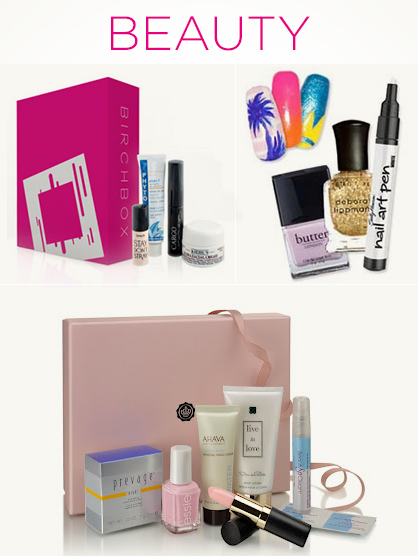 The beauty world has been abuzz for some time about subscription boxes. There are even YouTube channels dedicated to "unboxing." With so many newbie boxes popping up, we selected a few we think are the industry leaders.
Birchbox
● Birchbox offers consumers a unique box each month, focusing on a specific theme and curating items around it. You can even customize your boxes by filling out a questionnaire. No need to worry here about receiving an unflattering shade!
Nail Art Society
● Nail art is currently one of the hottest trends, so it's no wonder there's a box for subscribers to receive the latest tools, polishes and nail accessories. The box even includes a how-to card so you can achieve your very own look.
Glossybox
● This box may be a bit on the pricier side; however, this is the only one that delivers mostly deluxe samples and often full-sized products. Glossybox is known for more luxury-driven beauty products so we're definitely on board!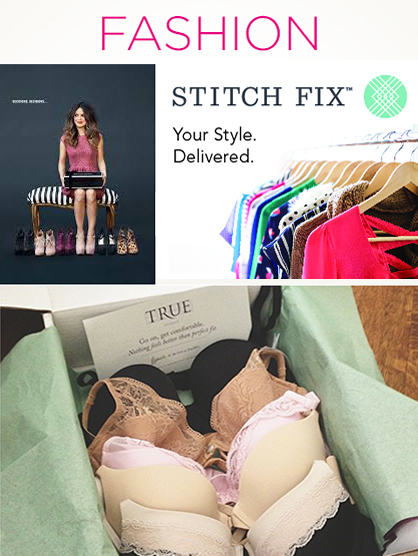 Fashion subscription services are gaining popularity as well. These boxes offer unique and convenient ways for customers to shop.
Stitch Fix
● This is not only a subscription box service, but it's also your very own stylist. After you fill out a very thorough questionnaire, a stylist from the site selects five items based on your answers. From there you have the option of signing up for a monthly subscription or scheduling a one time box. Once the box is sent, you keep what you like and send back the rest.
Shoemint
● Rachel Bilson is behind this monthly shoe service. Customers can get started by taking Shoemint's Style Profile quiz. Each month stylists will select shoes based on your answers. You can buy whichever shoes you like or opt out for that month at cost.
True & Co
● True & Co is a new box that offers a creative service, selecting the perfect bra for you. Women have a lot of trouble finding a comfortable and stylish bra, and who likes shopping for them, anyway? True & Co becomes the middleman. While not exactly monthly subscription based, for a refunable $45 the service selects five bras, ships them, and you choose your favorites! It's that easy.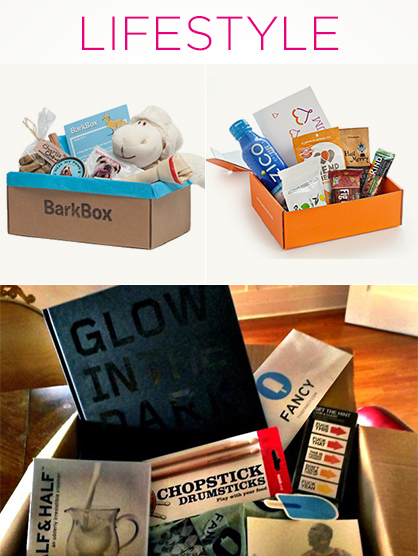 Lifestyle boxes are great because they are amazing at introducing customers to unique and trendy items. We're always on the lookout for new products, and lifestyle boxes offer an easy way to stay in the know.
Barkbox
● We love spoiling our furry friends, and what better way to do this than through a subscription box with new treats every month? This box suits those with a dog or two, and we think it's an adorable concept.
Bestowed
● If you're anything like us, you do your best to stay fit and eat right. Enter Bestowed - a subscription service that delivers healthy snacks. Celebrity nutritionist Heather Bauer personally selects each item featured in the box.
Fancy
● The Fancy Box is another great subscription service. Featured items all pertain to lifestyle and vary from box to box. (Don't miss the great kitchenware and tech gadgets!) They even have several celebrity curated boxes curated from Pink, Jennifer Love Hewitt, Ashton Kutcher and more.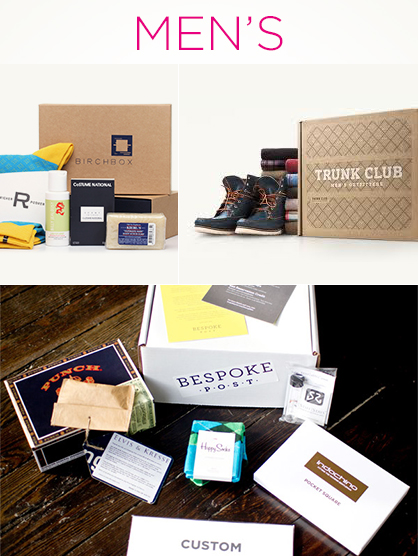 While subscription boxes may have initially been marketed toward women, that isn't the case anymore. Men now have their pick of boxes that cater to taste (gourmet food), grooming and fashion.
Birchbox
● Birchbox isn't only for women; they also feature a monthly box for men! Much like the women's box, the Birchbox for men brings grooming samples each month as well as lifestyle products.

Trunk Club
● This service allows men to work with an online stylist who selects pieces based off an online style quiz. Perfect for the guy who hates stepping foot in the mall, items are shipped each month and guys have 10 days to decide what they want to keep. Designers such as Jack Spade and Theory have been featured in the past.

Bespoke Post
● Bespoke Box features products just for men. Each month has a theme and the boxes often include cocktail items. What man doesn't enjoy a good drink?
Have you tried any subscription boxes? Let us know your favorite!