Eye on Oscar: The Fashionable Starlets of Hollywood
One of the beauties in living so close to Los Angeles is having access to Tinsletown and its diverse culture. As 2012 winds down, the race to the Oscar heats up as 2013 marks the 85th Annual Academy Awards. Live from Hollywood and Highland on February 24th at the Dolby Theatre, formerly the Kodak, viewers will tune in to see who and what this year's leading ladies are wearing.
On January 15, 2013, the Academy will announce its nominations. Until then, we'll just share our favorite well-heeled and talented starlets we think will be 2013's Oscar nominees.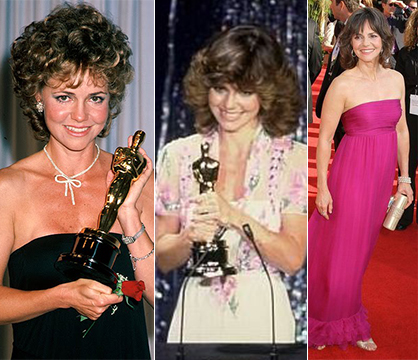 A Southern California native and Hollywood icon, Field was made famous in her role as Gidget in the television series. Her acting career was followed by noteworthy films including "Norma Rae," "Forrest Gump" and "Steel Magnolias." Field has captivated audiences since her early days with her likable personality and girl-next-door look.
Keira Knightley, "Anna Karenina"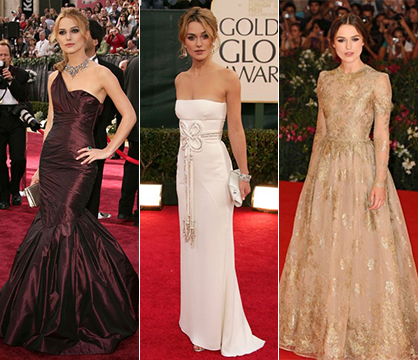 Beautiful as an English rose, Knightley gained widespread recognition for her co-starring role in "Bend it Like Beckham" and international fame from her role as Elizabeth Swan in "Pirates of the Caribbean." Her most famous roles came from her brilliant acting in "Pride and Prejudice" and "Atonement." Perhaps drawing inspiration from the English and royal characters that she plays, her red carpet looks are jam packed with regal, high fashion style and couture gowns.
Anne Hathaway, "Les Misérables"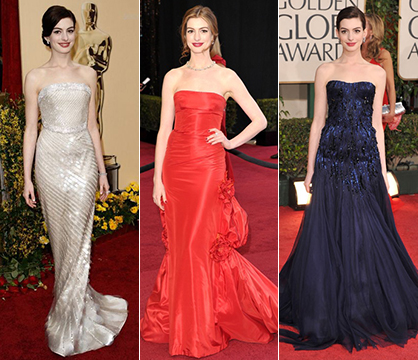 Hathaway climbed up the Hollywood ladder after showing audiences her wide range of acting abilities in beloved films such as "The Princess Diaries," "Brokeback Mountain," "The Devil Wears Prada" and "Rachel Getting Married." Like her career, her style has also progressed as she has chosen high fashion gowns of old and new Hollywood drama always combined with glitz and glamour.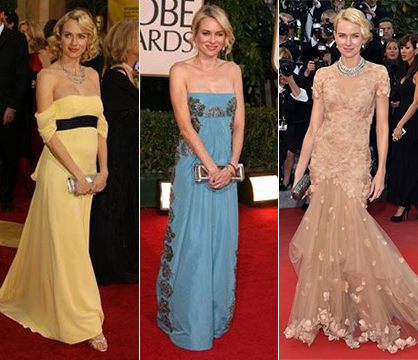 With roles in well-known films like "Mulholland Drive," "21 Grams," "I Heart Huckabees," "King Kong" and "J. Edgar," Watts is considered one of Hollywood's most versatile performers. The British-Australian actress has go-to dresses for red carpet events from top designers like Marc Jacobs, Roland Mouret and Zac Posen in tight silhouettes and flowing fabrics that accentuate her thin frame.
Jennifer Lawrence, "Silver Linings Playbook"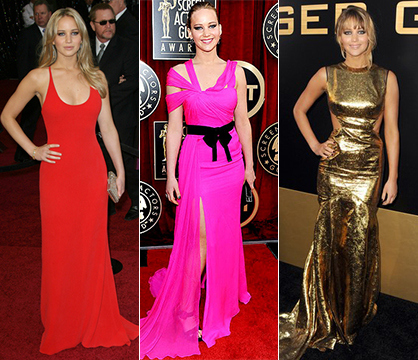 As a newer starlet on the Hollywood scene, Lawrence came to fame after her Oscar nominated performance in "Winter's Bone" and the blockbuster movie "The Hunger Games." She has certainly stepped into the spotlight for her fashion sense as well, donning modern and sexy red carpet gowns that hug her curves and help her outshine some of the top actresses in showbiz.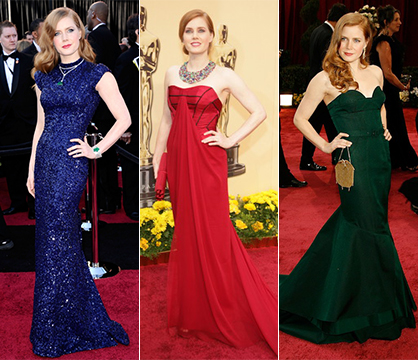 Adams has charmed the film world with her cheerful roles as mostly optimistic characters. She was made famous for her Academy Award nominated performances in "Junebug" and "Doubt," and her lighthearted performances in "Catch Me If You Can," "Enchanted" and, more recently, "The Muppets." Adams tends to parade jewel-toned gowns with structured silhouettes on the red carpet that highlight her long strawberry blonde locks.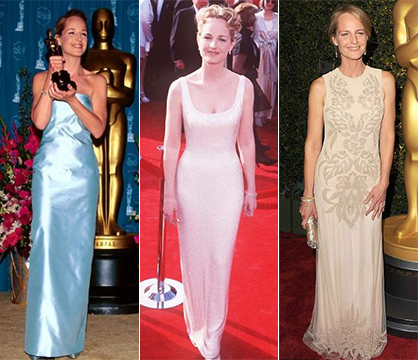 Best known for her comedic television sitcom role on "Mad About You," Hunt has also had a long run in the film industry as an acclaimed actress for her roles in "Twister," "Cast Away," "Pay It Forward" and especially her Oscar-winning role in "As Good As It Gets." Through the years, Hunt has worn simple and classic red carpet attire of straight silhouettes with minimal embellishments.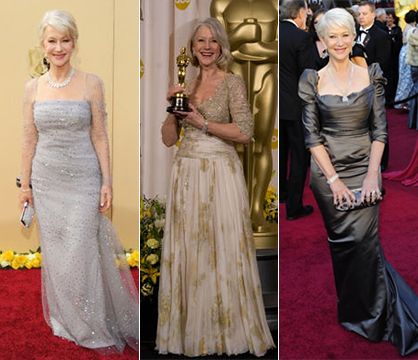 Mirren's successful performances in "Gosford Park" and "Calendar Girls" earned her much fame in addition to her title role in "The Queen," which awarded her an Oscar. As an actress in her 60s, Mirren's self-confidence still shines through in her red carpet fashion with low-neckline gowns in metallic fabrics paired with bold statement jewelry.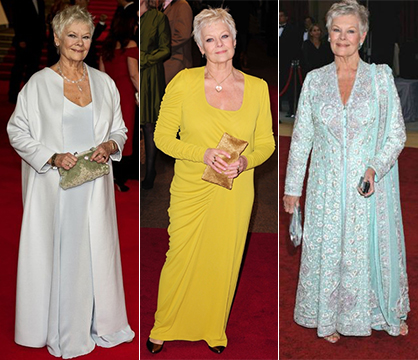 Since a young actress and singer in her Cabaret musical days, Dench has been acclaimed as an actress for her stunning roles in "Mrs. Brown," "Shakespeare in Love," "Chocolat" and "Notes on a Scandal." Dench has been known for her short pixie haircut, which she still rocks even in her 70s. Viewers may see her at this year's awards flaunting a regal outfit of shimmering separates or a more demure red carpet look in a loose-fitting, long-sleeved dress.

Tagged in: hollywood, red carpet, gowns, oscars, academy awards, oscar fashion, 85th annual academy awards, oscars 2013, oscars predictions,